IU's renovations on the south end of Memorial Stadium won't be open to the public until the 2018 season, but football fans will soon have an unconventional way to catch a glimpse of the field.
Game design students and Mark Cuban Center for Sports Media and Technology interns Alex Van Halen, Griffin Park, Devin Good and Joshua Smith have developed a virtual reality game to capture the new stadium.
"I think the game appeals to people who love old IU, because it's an experience that they probably didn't get to do, to stand on the field. But then they also get to see that this is what IU is doing now, currently, and we have the new stadium in the game," Good said. "It's kind of a selling point, that people get to see it before it's built."
The football game features four modes for players: a target practice mode, a "receiver rush" mode involving receivers and defenders, a tire toss mode and a quarterback simulator.
The team has developed a similar game for baseball simulations, featuring Bart Kaufman Field at IU. The baseball game features a similar format and involves swinging a game controller as the player's "bat."
"So far it's been a smash hit," Park said. "We've had a lot of fun with it."
The students are working with virtual reality technology at the Cuban Center to develop the games. The center, funded by IU alumnus and businessman Mark Cuban, offers student opportunities in video, broadcasting and technology. It became fully operational following Assembly Hall's 2016 renovations. The interns began their internships in June, spending several weeks just immersing themselves in the VR concept.
Van Halen said not all games work in a VR setting, but sports games are a perfect match for the technology, particularly because all the games the team has created involve moving around.
"Sports games are great for VR because it's all about muscle memory. If we have a quarterback in here throwing, you actually start sweating," he said. "You feel your muscles burning, because you're moving a lot."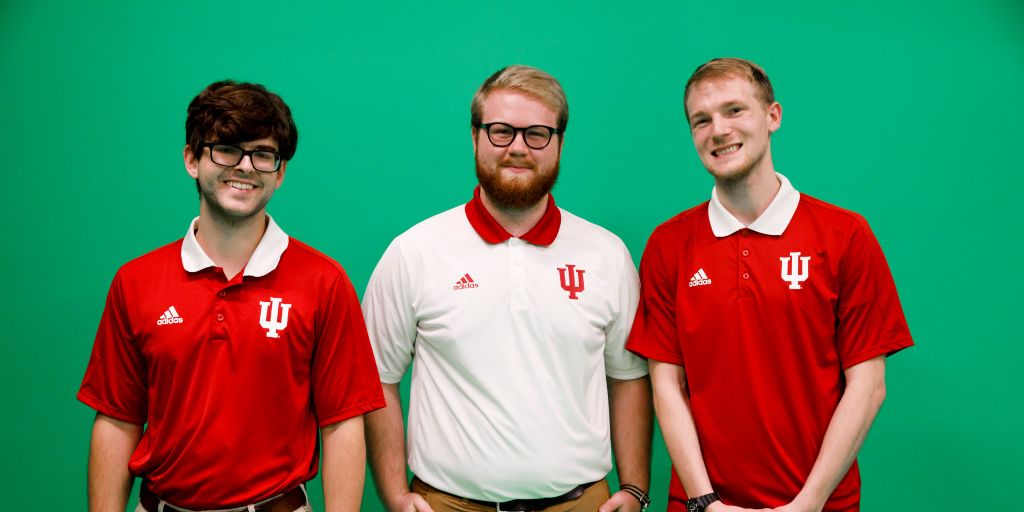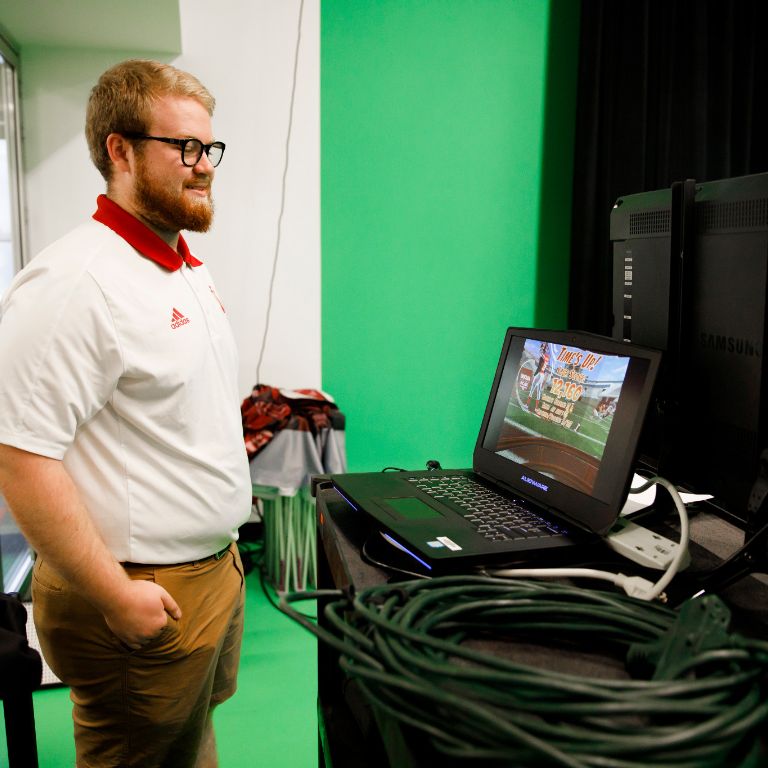 Photos by James Brosher, IU Communications
Smith is less involved with the VR side of the game design process but is currently working on an IU Arcade package, a series of quick games through which players can build high scores.
The team is also exploring the use of augmented reality gaming, which uses the world around the player to create a gaming space. The team said AR technology is friendlier for a mass market because it involves fewer cords and gear from a user standpoint.
"We're really trying to stay as kind of futuristic as possible with cutting-edge technology we're trying to hit on, to really get students learning that," Smith said. "It's going to be important for the future."
The interns said they hope to open the games up to a public audience soon and are currently still in testing phases. While games based in virtual reality require specific hardware present at the Cuban Center but not widely available elsewhere, augmented reality games could be played on a phone or made available on gaming platform Steam.
"What I appreciate the most about having done this is that people get to play it and enjoy this really cool game," Park said. The design experience also adds to the interns' portfolios and strengthens their knowledge of virtual and augmented reality, he added.
Van Halen said the team's larger goal in exploring this technology and creating the football and baseball games is to show players what IU is about, both in its game design opportunities and sports programming. Potential newcomers at IU will be able to immerse themselves in the games and interact with the IU brand.
For now, the interns are wrapping up their finishing touches on the games and enjoying the opportunity to make games, their dream career, Van Halen said. As the first class of interns at the Cuban Center, they hope to be able to set a path for future interns in the years to follow.
"The fact that we have this to play around with is really amazing in a lot of ways," he said. "I think we're all grateful."
IU Assistant Athletic Director for Creative Services Andrew Rosner, who oversees the interns, is equally grateful for the students' work.
"Our game design students have been an incredible asset to the Mark Cuban Center for Sports Media and Technology," he said. "Their work continues IU Athletics' proud history of innovation and being leaders in our industry."