Portrait of Harriett Inskeep dedicated at IMU exhibit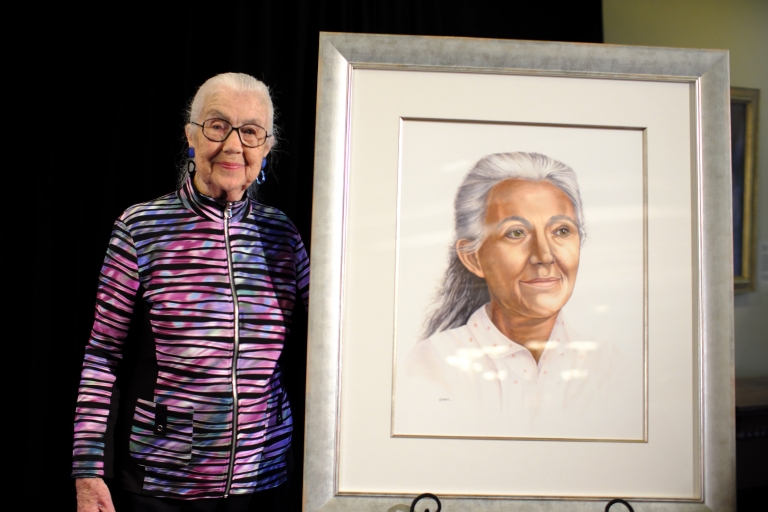 A portrait of Harriett Inskeep, the first woman appointed to the Indiana University Board of Trustees by a governor, was dedicated in the Indiana Memorial Union on Sept. 22.
Inskeep's portrait was added to the "Women of IU" exhibit in the east lounge. The permanent exhibit highlighting influential women who have had an impact on the university was unveiled in 2013.
Inskeep, 91, graduated from IU in 1948 with a bachelor's degree in government and in 1955 with a master's degree in government. She was appointed to the Board of Trustees in 1962. Inskeep was present at last week's dedication event, as were many members of her family.
The watercolor on paper, a gift from the Inskeep family, was painted by artist Scott Kilmer. Born in Fort Wayne – where Inskeep was involved in myriad governmental and community organizations – Kilmer has been an art instructor at Carroll High School for more than three decades.
IU names three associate vice provosts in Office of the Vice Provost for Diversity and Inclusion
IU Bloomington has named faculty members Dionne Danns, Stephanie Li and Mary Murphy to newly created associate vice provost positions in the Office of the Vice Provost for Diversity and Inclusion.
Danns, the chair of the Department of Educational Leadership and Policy Studies and an associate professor in the School of Education, is the associate vice provost for institutional diversity.
Li, the Susan Gubar Chair in Literature and a professor of English in the College of Arts and Sciences, is the associate vice provost for faculty development and diversity.
Murphy, an associate professor in the Department of Psychological and Brain Sciences in the College of Arts of Sciences, is the associate vice provost for student diversity and inclusion.
IU Food Institute to host fall lecture series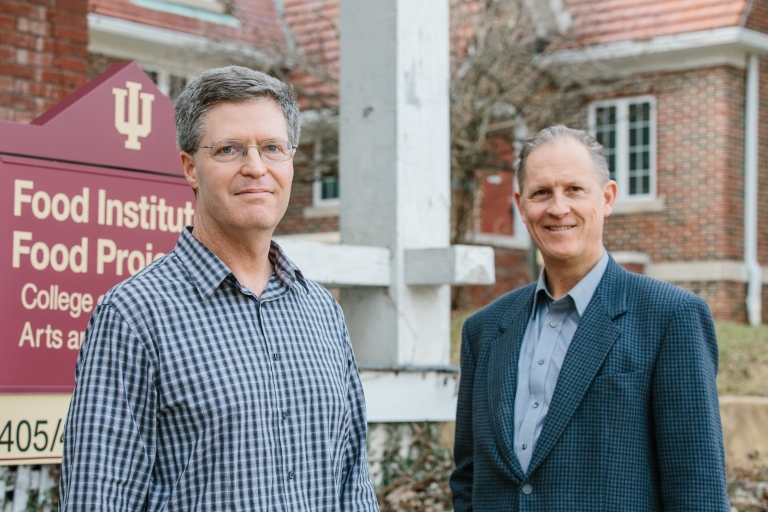 Experts on the history, culture and science of food will deliver a series of public talks this semester as part of the IU Food Institute's fall lecture series.
The lectures, which are free and open to the public, take place from 5 to 6 p.m. every other Thursday at the IU Food Institute building at 405/407 N. Park St. in Bloomington.
The next speaker will be Matt Bochman, assistant professor in the U College of Arts and Sciences' Department of Molecular and Cellular Biochemistry. His lecture Oct. 5 will focus on "Fermentation: Beer, Mead and Spirits."
Parts of Kirkwood closed Thursday for Bloomington Transit driverless bus demonstration
The City of Bloomington and Bloomington Transit will launch the city's new "Fast Forward Bloomington" initiative on Friday, Sept. 29, with an event featuring the first driverless bus technology demonstration in the state of Indiana. Open to the public, the event begins at 10 a.m. with Mayor John Hamilton and young guests taking the inaugural ride.
In preparation for the demonstration, Kirkwood Avenue will be closed from Indiana Avenue to Lincoln Street beginning at 4:30 p.m. Thursday, Sept. 28. Road access will return to normal at the completion of the event on Friday, Sept. 29.
Indiana Geological and Water Survey names assistant director for information services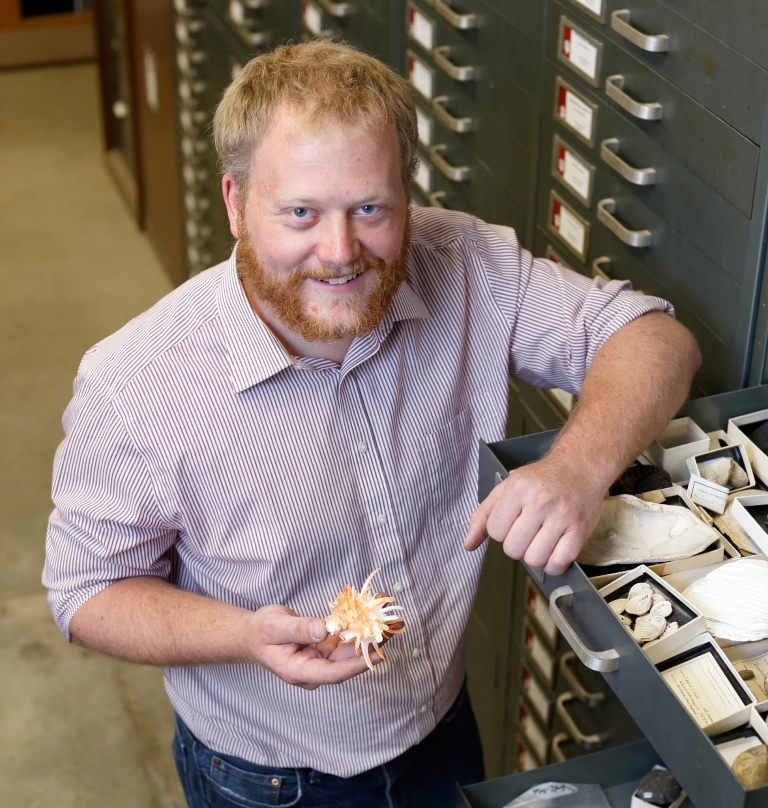 Gary J. Motz has been selected as the new assistant director for information services with the Indiana Geological and Water Survey. Motz will oversee the survey's information services division, which consists of archives and collections, cartographic services, editing and publication production, educational outreach, IT, physical and field services, and web and database services.
"As the primary repository for earth science data and materials and a data hub for Indiana, the survey was in need of strong leadership in data handling and distribution," survey director and state geologist Todd A. Thompson said. "Gary brings to the survey an impressive skill set and proven track record of making data and physical objects discoverable and readily accessible to users of all abilities."
Before joining the Indiana Geological and Water Survey, a research institute based at IU, Motz was paleontology collections manager for Department of Earth and Atmospheric Sciences and project coordinator for the Center for Biological Research Collections. His research interests include the paleoecology and systematics of fossil bivalves, the formation of biodiversity, the quantitative study of the evolution of shape and form, and the automation of the curation of large volumes of data.
He received a B.S. in biology and geology from the University of Dayton and an M.S. in geology from the University of Akron. He is working on a Ph.D. in geology from the University of Cincinnati.
Recreational Sports offers faculty and staff fall intramural sports
Join IU Recreational Sports at its Sports Field Complex on Mondays and/or Thursdays for soccer, softball or tennis. Faculty and staff hoping to join do not need a team to play.
Cost is free for Recreational Sports members, but participants are encouraged to RSVP by 5 p.m. on the day before you play to assist staff in creating teams. Faculty and staff who are not members are invited to play by purchasing a pass $5 at either the Student Recreational Sports Center or Wildermuth Intramural Center.
To view all the details and RSVP visit the Recreational Sports website, email imsport@indiana.edu or call 812-855-2371.
Speaker series features 'Ghost' screenwriter, 'Nova' producers, Washington Post columnist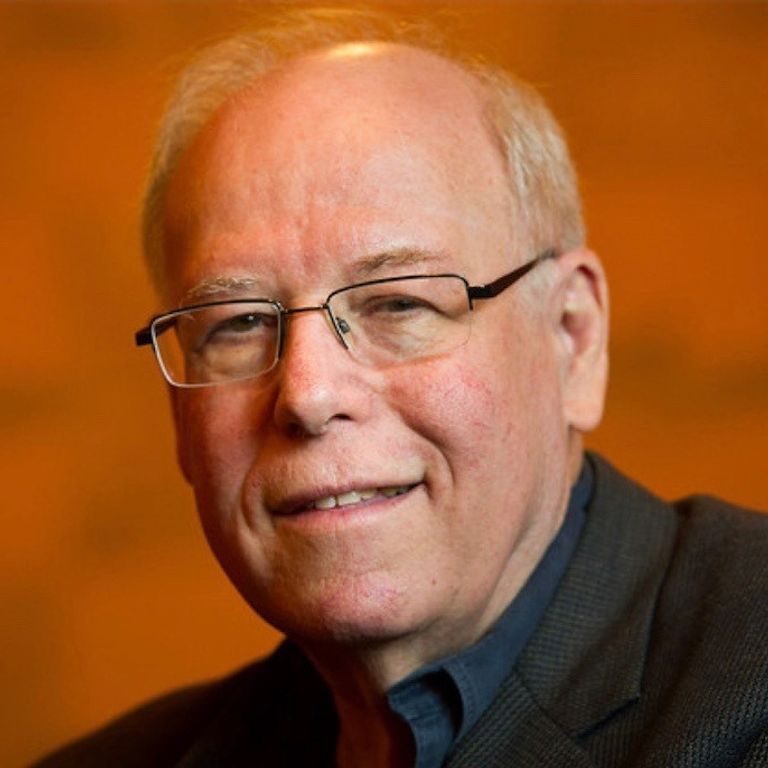 The Media School at IU has announced the lineup for its fall speaker series. Screenwriter Bruce Joel Rubin, "Nova" producers Paula Apsell and Douglas Hamilton, and Washington Post columnist Margaret Sullivan will speak in a series of lectures that are free and open to the public.
The Media School Speaker Series occurs annually in the fall and spring semesters, bringing media experts to campus to speak on their careers and current media issues.
Rubin, the first speaker in the series, will give his lecture at 3 p.m. Oct. 2 at IU Cinema.
IU to present its highest alumni award during homecoming weekend
Five IU alumni will receive IU's Distinguished Alumni Service Award on Oct. 12 during homecoming weekend. It is the university's highest award given only to an alumna or alumnus.
The recipients are:
Dr. Kent Brantly of Fort Worth, Texas
Roselyn Cole of Indianapolis
Alice Jordan-Miles of Fort Wayne
Raymond E. Pavy of New Castle
John F. "Jeff" Richardson of Washington, D.C.