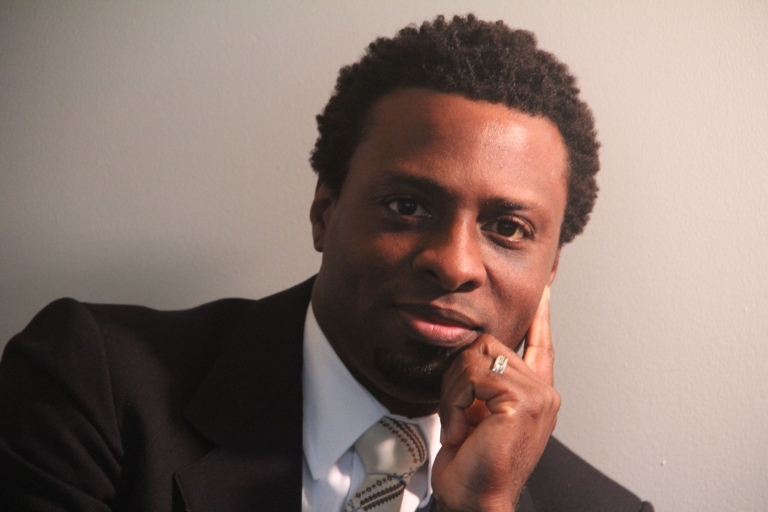 BLOOMINGTON, Ind. – Three-time Emmy Award winner Tyron Cooper will become the next director of the Archives of African American Music and Culture at Indiana University Bloomington. 
Cooper, who serves as a faculty member in the IU Bloomington College of Arts and Sciences' Department of African American and African Diaspora Studies, will officially begin his role as director Jan. 1. He follows in the footstep of his mentor, Mellonee V. Burnim, the most recent archive director and an IU professor of folklore and ethnomusicology.
In the past, Cooper has served the archives as a research associate and as a Ph.D. graduate assistant. He earned his master's degree in jazz studies and his doctoral degree in ethnomusicology from IU. His research is in black gospel and black popular music, with an emphasis on live recording productions, religious belief and identity, and performance practice. He also directed the IU Soul Revue for several years.
Founded in 1991 by Portia Maultsby, the Laura Bolton Professor Emerita of Ethnomusicology, the Archives of African American Music and Culture is a repository of recordings and other materials related to various African-American musical genres and cultural expressions from the post-World War II era. The archives house original recordings, albums, interviews, photographs, manuscripts and other primary resources important to the history and development of some of the 20th century's most prominent musical styles, such as blues, gospel, R&B and hip-hop. They include a number of Special Collections, such as the Portia K. Maultsby Collection, which features interviews and other archival materials collected by Maultsby throughout her career as one of the earliest scholars of 20th-century African-American music.
"The materials housed in the archives are a testament to the profound impact of African-American music on American life. For students, scholars and music lovers, the materials in the archives reflect the very heart and soul of our nation," Robel said.
"Tyron is, quite simply, a superstar. His unique combination of stellar scholarship, professional experience and deep personal connections to the archives make him the perfect candidate to continue the AAAMC's vital mission and usher in a new era of excellence in research, education and preservation."
"It's so gratifying to see Dr. Cooper's breadth of knowledge be acknowledged with this appointment," said James Wimbush, IU vice president for diversity, equity and multicultural affairs, dean of the University Graduate School and Johnson Professor for Diversity and Leadership. "Tyron's remarkable background will allow him to be a tremendous contributor to the archives, continuing a proud legacy that we are honored to have on the IU Bloomington campus."
Cooper hopes to expand upon the strong legacy and interdisciplinary foundation laid by Maultsby and Burnim, further continuing their work of connecting the archives to contemporary industry insiders and professionals who could contribute to the collections and further the research mission of the archives. Cooper said that during his time as a student and then research associate at the center, he learned how to put together a symposium and galvanize a diverse community to explore traditions in African-American music and culture – something important for students in this field, he said, and a translatable skill set.
"My experiences as a student, scholar and performer of black music are organically linked," Cooper said. "In my endeavors, I commonly pull from all that I have acquired in such contexts. I envision the future of the AAAMC as a regionally, nationally and internationally recognized space where community, academy and industry converge to explore, affirm and disseminate the full gamut of African-American music and culture."
Cooper has extensive experience and expertise in arts and culture stemming from decades of participation in recordings and live performances as music director, guitarist, vocalist, composer and arranger for national secular and religious artists. Since 2012, he has been nominated for six Emmy Awards and has won three. His most recent Emmy Award was for talent and composition for the film "Attucks: The School That Opened a City," which was featured in the 2016 Heartland Film Festival.
"Professor Cooper's passion for music is fully evident in everything he undertakes," said Larry Singell, executive dean of the College of Arts and Sciences. "An ethnomusicologist, celebrated musician and Emmy-winning composer, Dr. Cooper is a dynamic combination of scholar and working musician. His students hold him in the highest regard as a teacher and beloved musical mentor for his service as founding director of IU's Camp SOUL and director of the IU Soul Revue. The College is delighted and grateful that Dr. Cooper has agreed to bring his wide-ranging talents, deep knowledge and musical devotion to the role of director of the Archives of African American Music and Culture."