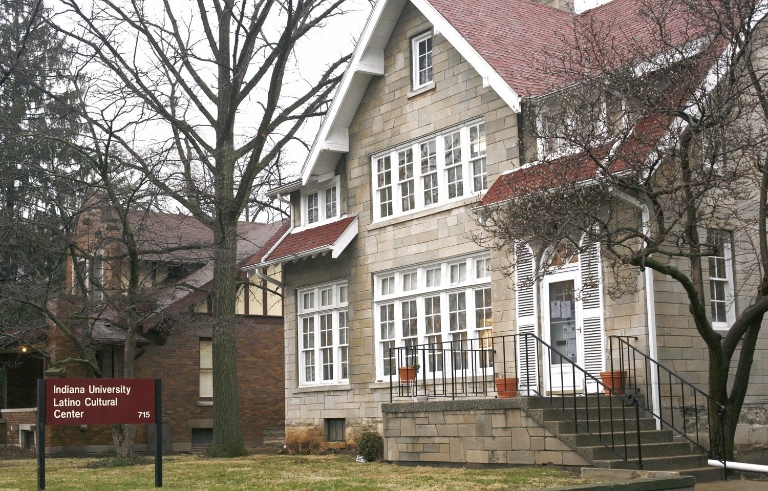 BLOOMINGTON, Ind. – Indiana University will mark National Hispanic Heritage Month, Sept. 15 to Oct. 15, with a full slate of programs and activities hosted by La Casa, the Latino Cultural Center, and other organizations on the IU Bloomington campus and in the surrounding community.
Held during the anniversary of independence for Latin American countries Costa Rice, El Salvador, Guatemala, Honduras and Nicaragua, and in celebration of the independence day in Chile and Mexico, National Hispanic Heritage Month celebrates the heritage and culture of Hispanic and Latino Americans, and honors their contributions to the United States.
"Even today in 2017, I think it's still just as critical as in any other period for folks to get to know about the Latino community – our history, our culture, our background – because we are a growing population," said Lillian Casillas-Origel, director of La Casa, an Office of the Vice President for Diversity, Equity and Multicultural Affairs program. "Folks are going to be living, working and interacting with the Latino community, and I think it's just as important that in a context like Indiana University, where there is that learning environment, that National Hispanic Heritage Month is part of people's lives."
The wide array of events for the celebration begins with the National Hispanic Heritage Month Lunch at noon Sept. 15 in the Indiana Memorial Union's Georgian Room. The lunch will feature guest speaker Patricia Mota, an IU alumna and the president of the Hispanic Alliance for Career Enhancement.
Denice Frohman, an award-winning poet, writer, performer and educator whose work explores the intersections of race, ethnicity, gender and sexuality, is the keynote speaker for IU's National Hispanic Heritage Month. Frohman will give a talk at Grand Hall in the Neal-Marshall Black Culture Center at 7 p.m. Oct. 4.
La Casa will host "IU Late Nite: Big Friday National Hispanic Heritage Month Celebration" from 9 p.m. to 1 a.m. Sept. 29 at the Indiana Memorial Union. The event, held in partnership with IU Bloomington's Latino student organizations, will feature interactive Latino cultural activities.
The October edition of First Thursdays, the monthly festival at the Fine Arts Plaza, presents another opportunity to celebrate. La Casa – along with several campus entities, including the Latino Studies Department, the Center for Latin American and Caribbean Studies, and the Latin American Music Center – has partnered with community organizations such as the City of Bloomington Latino Outreach Services and El Centro Communal Latino to present activities focused on Latino culture, artistry, music and dance from 5:30 to 7:30 p.m. Oct. 5.
"The heritage month celebrations we have at Indiana University are extremely important in making sure that people of all backgrounds are acknowledged and honored," said James Wimbush, IU vice president for diversity, equity and multicultural affairs, dean of the University Graduate School and Johnson Professor for Diversity and Leadership. "IU's Latino students, faculty and staff are an integral part of this university, so I'm thrilled that these events are taking place, but I also hope that our community can use this occasion as a reminder to celebrate their heritage throughout the year."
"We tried to do a mixture of programming – talks, film, music – so there's something for everyone, their different tastes and how they want to engage," Casillas-Origel added. "We aimed to create a diverse buffet of opportunities and also recognize the different spaces where we offer programming."
Other events celebrating IU's National Hispanic Heritage Month include:
IU Family Weekend's La Casa Open House, 9 to 11 a.m. Sept. 16 at La Casa.
The 12th annual Fiesta del Otono, the City of Bloomington's National Hispanic Heritage Month Celebration, 10 a.m. to 1 p.m. Sept. 23 at Showers City Hall.
A presentation by Sylvia Martinez, an associate professor of Latino studies and in the School of Education, "What does it mean to be Latino at IU/at La Casa?" 7 p.m. Sept. 19 at La Casa.
Copa Bloomington, an annual soccer tournament, 6 to 9 p.m. Sept. 24 and Oct. 1 and 8 at Karst Farm Park.
An IU Archives pop-up exhibition featuring the formation of the Latino Affairs Program at IU, the screening of former IU President Herman B Wells' trips to Latin America, oral interviews with Latino immigrants and photographer Charles Cushman's collection from the American Southwest, noon to 1 p.m. Oct. 5 at the Herman B Wells Library.
Monroe County Public Library's National Hispanic Heritage Month Celebration, 2 to 4 p.m. Oct. 15 at the Monroe County Public Library.
Monroe County Community School Corp. Latino Family Night, 5:30 to 7:30 p.m. Oct. 16 at Bloomington High School North.
See a complete listing of events