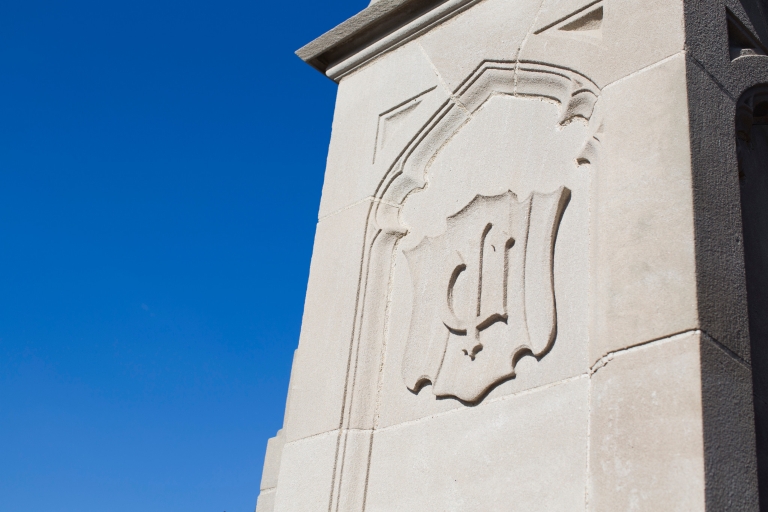 BLOOMINGTON, Ind. – In two September ceremonies, Indiana University will honor seven individuals associated with the Hoosier athletic program with some of the I Association's highest awards.
Three women will be honored with the Leanne Grotke Award, bestowed on living individuals whose service has made exceptionally outstanding contributions to Indiana University's women's athletic program. It is the highest honor of its kind given by the university. The ceremonies will be Friday, Sept. 15, in the Henke Hall of Champions in Memorial Stadium.
Three former Hoosiers will receive the Zora G. Clevenger Award, presented to living I-Men who, as alumni, have made outstanding contributions to Indiana University through service to its athletic program. The ceremony will be conducted on Friday, Sept. 22, in the Henke Hall of Champions in Memorial Stadium.
One major advocate for the university will receive the Bill Orwig Award, recognizing outstanding contributions made by a non-alumnus to the Indiana University athletic program. It is named for Bill Orwig, IU's athletic director from 1961 to 1975. The Orwig Award will be presented during the Clevenger ceremonies.
Following are summaries of the award recipients:
Leanne Grotke Award
Donna K. Palivec
Winning letters in five IU sports makes Donna Palivec one of the most decorated athletes in Hoosier history.
At a time when women's sports were emerging collegiately on a national level, Palivec took full advantage at IU. She lettered in diving, softball, basketball, field hockey and volleyball. She was captain of the volleyball team in 1972 and 1973.
After graduating from IU with a degree in physical education, Palivec began coaching at the high school level. She later coached softball and volleyball at North Dakota State University. She coached volleyball at Montana State University and, in 1994, became volleyball coach at Bemidji State University, where she earned tenure and served as department chair in physical education, health and sport. She retired earlier this year.
Palivec is an inductee in the Bemidji State University Athletic Hall of Fame, the Minnesota Volleyball Coaches Association Hall of Fame and the North Dakota State University Bison Athletic Hall of Fame.
Cynthia Potter
Considered one of the best divers of all time, Cynthia Potter won a record 28 national diving championships. She was the U.S. outdoor champion in the 1-meter springboard from 1968 through 1977.
Potter was a member of the 1968, 1972 and 1976 U.S. Olympic diving teams. She was selected to the 1980 Olympic team but didn't compete because the U.S. boycotted the games. She was inducted into the International Swimming Hall of Fame in 1987.
After receiving her bachelor's degree in education from IU in 1973, Potter earned a graduate degree from the University of Arizona. She serves as diving coach for The Westminster Schools in Atlanta and previously coached at Southern Methodist University and the University of Arizona.
Potter has been a color commentator for diving competitions for decades. She still works for NBC for Olympic diving coverage.
Roseann Wilson
A distance runner in track and cross-country for the Hoosiers from 1979 to 1984, Roseann Wilson made a major mark in coaching.
She coached track and cross-country at IU from 1989 to 1998 and was twice named Big Ten Coach of the Year. She coached at the University of Connecticut from 1986 to 1989 and was New England indoor and outdoor Coach of the Year in 1989. She has coached 24 All-Americans and 28 Big Ten champions.
While competing at IU, Wilson was team captain in her junior and senior years. She set a school record in the 1,500-meter run. She was presented the Varsity Club Academic Award in 1983. She earned her bachelor's and master's degrees in physical education at IU.
Zora G. Clevenger Award
Bill Armstrong Jr.
A three-time letterman in both football and baseball at IU, Bill Armstrong Jr. was Academic All-Big Ten in each sport. He received the IU Gimbel Award and the Bo McMillin Award in 1974.
A retired orthopedic surgeon in Atlanta, Armstrong was chief medical officer for aquatic sports at the 1996 Olympic games. He was the team orthopedic surgeon for Georgia Tech and Kennesaw State universities.
The son of former IU Foundation President Bill Armstrong Sr., he was a tight end and flanker for the Hoosier football team and first baseman and designated hitter for the baseball team. He earned his bachelor's degree in biology in 1974 and his medical degree in 1978, both at IU.
Gregory M. Fox
A 1983 letterman in football, Gregory M. Fox earned his IU bachelor's degree with highest distinction in 1986 and was Phi Beta Kappa. He graduated from the Northwestern Medical School with distinction in 1990.
Fox served as the IU football team's head orthopedic surgeon from 2002 to 2012. He also served on the IU Varsity Club's national board of directors from 2004 to 2014. He and his wife, Patty, endowed the Fox football scholarship, and he is a member of the IU Presidents Circle.
He is an orthopedic surgeon with the Bloomington Bone and Joint Clinic and is principal/managing partner for SurgCenter Development. He has been the team physician for Bloomington High School North since 1996.
Kim Kohlmeier
Kim Kohlmeier had a ringside seat for IU's undefeated national-champion basketball season, serving as senior manager for the Hoosiers.
He earned letters as a basketball manager all four years at IU. He earned his bachelor's degree in 1977 from the IU School of Public and Environmental Affairs.
Kohlmeier has maintained a strong IU connection, serving on the I Association board of directors from 1988 to 2015. He also volunteers for the Monroe County chapter of the IU Alumni Association.
He is regional sales manager for FlexPac. He has also worked for Cummins, Xerox and HP. Kohlmeier lives in Bloomington.
Bill Orwig Award
Marshall H. Goss
After teaching and coaching at Bloomington High School South for more than 20 years, Marshall Goss came to IU as an assistant coach of track and cross-country under legendary coach Sam Bell. When Bell retired in 1999, Goss took over the program until 2004, when he became assistant athletic director for game-day activities.
He is currently director of the Indiana Track & Field and Cross Country Hall of Fame Museum. Goss also continues his work as manager of the IU nursery.
As a competitor at Indiana Central University, now the University of Indianapolis, Goss won eight varsity letters in cross-country and track. He earned numerous honors as a high school coach and is a member of the Indiana Association of Track and Cross Country Coaches, University of Indianapolis, and Monroe County Sports halls of fame.
About the I Association
The I Association is made up of letter-winning IU alumni and is one of only two athletic alumni associations in the country managed by its alumni association.
About the IU Alumni Association
The IU Alumni Association is a global alumni organization that brings 650,000 IU graduates together to support one another and Indiana University throughout their lives. The IUAA activates IU's powerful network through live events, webinars, scholarship programs and traditions.