BLOOMINGTON, Ind. – Indiana University Bloomington has launched its participation in the Big Ten Voting Challenge, a friendly but spirited competition among the 14 Big Ten institutions to boost voting by college students in the November 2018 elections.
The challenge, officially begun Sept. 17 in conjunction with Constitution Day, is a nonpartisan initiative to encourage students to exercise their right to vote – among the most fundamental opportunities to be an engaged citizen and play a role in shaping our collective future.
"It's important for all of our students to learn how to make their voices heard as active members of a community – at home, while they're here in Bloomington and wherever they go after graduation," said IU Bloomington Provost and Executive Vice President Lauren Robel. "I hope that by taking part in voter registration efforts like the Big Ten Voting Challenge, students will start a lifetime habit of civic engagement."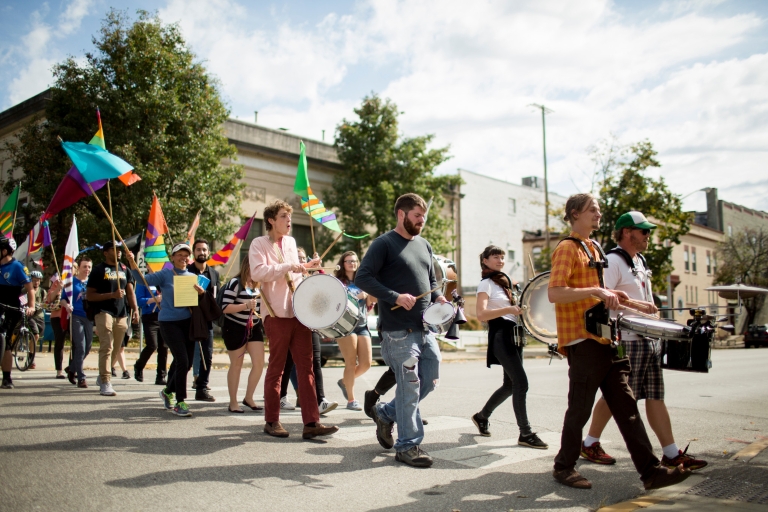 The Big Ten Voting Challenge will mobilize registration and turnout efforts at all 14 Big Ten universities. At IU Bloomington, it will be a student-directed initiative under the auspices of the Office of the Provost and Executive Vice President and the Political and Civic Engagement program.
Turnout of young voters is historically low when compared to other segments of the population. And that low rate took a dive in 2014. That year, only 21 percent of those under age 30 voted in the November general elections – the lowest young turnout rate ever recorded – according to the Center for Information and Research on Civic Learning and Engagement at Tufts University
Numbering 83 million people, the millennials born in the years leading up to and soon after 2000 are the largest generation in the United States. They are also the most diverse, with 44.2 percent from a racial or ethnic minority group. And they are politically independent: According to a Brookings Institution study, 35 percent identify with independent political views.
College students may think their votes don't matter; but as the 2016 election demonstrated, crucial races can be decided by relatively few votes. By voting, college students could influence politicians to pay attention to their ideals and values. But skipping elections leaves the field to other age groups: Half of the baby boomer generation voted in 2014, for example.
The Big Ten Voting Challenge will give students more opportunities to be civically involved and make it easier for them to register and vote. The project will include student-to-student communication, voter registration opportunities, social media messages and other activities.
IU Bloomington will build on the success of its participation in the All In Democracy Challenge and the national Walk2Vote project, both of which built enthusiasm and mobilized students and campus organizations to register voters and increase participation in the November 2016 elections.
Presidents of the 14 Big Ten universities signed a letter endorsing the challenge, and each pledged $10,000 to be used on their respective campus to promote student public engagement. After the 2018 election, trophies will go to two universities: the one with the highest eligible voter turnout and the one with the most improved turnout.