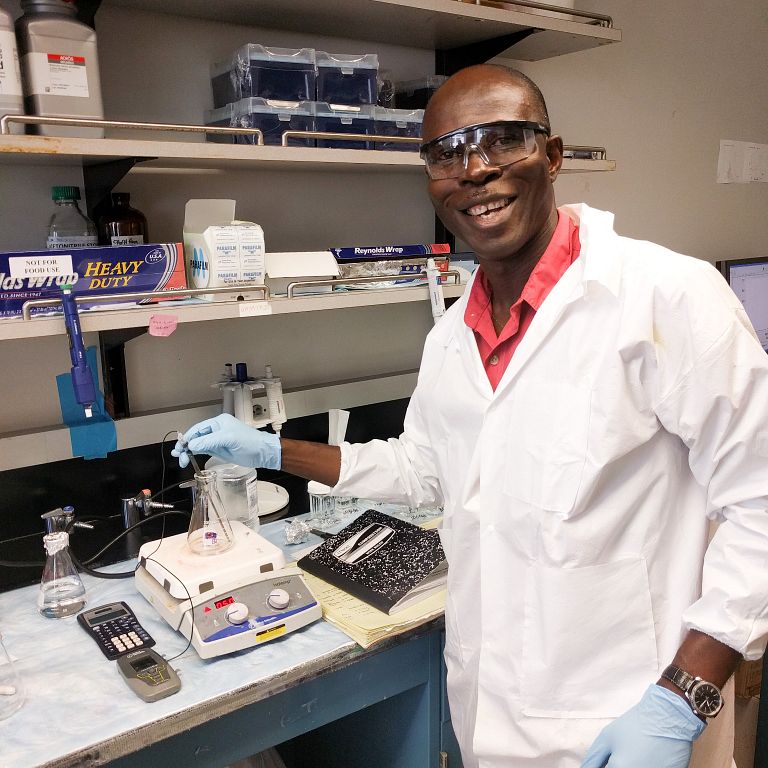 By any measure, the number of international scholars who have come to the Department of Chemistry and Chemical Biology at IUPUI in the last six months to pursue their scientific interests is remarkable.
Since the spring semester, five students and researchers from India, England, Germany, Argentina and Brazil have been working in labs and with faculty within the department.
"This is quite impressive," said Partha Basu, professor and chair of the department, particularly for a small department with only 19 faculty members.
The visitors are:
Seth Kapileswar, who is supported by an Indo-U.S. Fellowship. He received his Ph.D. from the National Institute of Pharmaceutical Education and Research in Punjab, India.
Hector Oyem-Erasmus, who is a graduate student supported by the International Credit Mobility program through Newcastle University in England.
Agustin Mangiarotti, who is a Fulbright scholar and received his Ph.D. from the Center for Research in Biological Chemistry of Cordoba, Argentina.
Veronica Vale, who is supported by Coordination for the Improvement of Higher Education Personnel and is from the chemistry department at Federal University of Goias, Brazil. She is pursuing her Ph.D.
Verena Haug, who is an undergraduate from the University of Stuttgart visiting a faculty member.
Based on two decades in academia, Basu said that having five international visitors in a short period of time is not very common.
"This is a testament to the international reputation of the department's faculty," Basu said. "The critical thing is the science that is developed here."
The department offers a unique program of graduate study at the interface of chemistry, biology and medicine. Faculty research includes areas such as chemical biology; enzymology and drug discovery; the development and application of advanced bioanalytical methods; computational and experimental biophysics; bioinorganic, organic and bioorganic chemistry; and forensic science.
The presence of the international visitors is a good for everyone, Basu said.
"It's a good experience for the visitors because no laboratory in the world is completely self-sufficient, no matter where you work. Science is a community. You always want to know what other scientists are doing and how they are doing it so that you can apply that information to your project," Basu said.
There's also the issue of how science is done, Basu said. "It's a little bit different in every country. The experiments are the same, but how you approach it varies a little from country to country, and we learn from each other."
"Even though we are faculty, we are constantly learning, as much as the students," Basu said. "The visitors are going to gain experience, and we will enrich ourselves through their presence because they bring a fresh perspective and ideas that we might not have thought about."