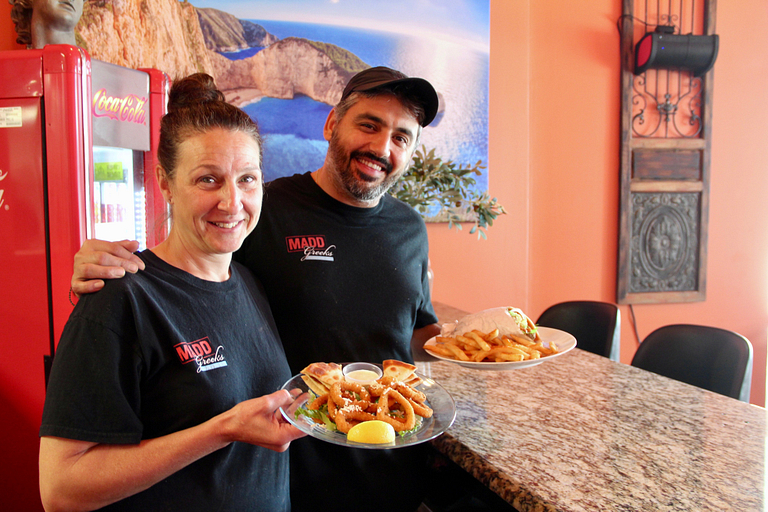 Grabbing lunch on the go isn't just an American workday obligation. Greece native Vasilis Kavalieris will tell you how much he loved hitting up street vendors in his hometown of Athens for fast food.
The city of more than 3 million metro-wide – and one of the oldest in the world – is a bustling place, and some top tastes can be found on street corners. When Kavalieris opened his restaurant, Madd Greeks Mediterranean Grille, nestled inside The Avenue building at 910 W. 10th St., he brought some of that street food style to downtown Indianapolis.
"Walking" wraps and pita sandwiches are fast and satisfying, either on the go or in Madd Greeks' colorful dining room just off the IUPUI campus. Kavalieris stuffs tomatoes, lettuce, onion and french fries into each pita, along with your choice of falafel, chicken shawarma, pork souvlaki, traditional or spicy gyro meat, or several other meat and veggie fillings.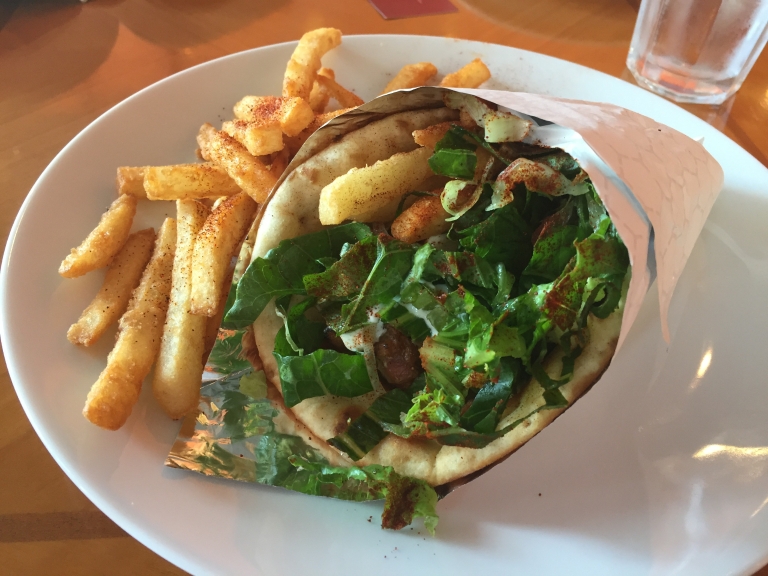 Though tasty to plenty of people, the fries in the pitas would appeal to Pittsburgh natives in particular. They are strongly seasoned to add some zing and crunch to the sandwiches. 
'"You feel the paprika, but I can't tell you what else is in it,'" Kavalieris said, careful to not spill his fry-seasoning recipe. He owns the restaurant with Thimia Pantazopoulos. 
The wraps and pitas also come with creamy tzatziki or Kavalieris' '"homemade Greek sauce,'" a mayonnaise and mustard base with numerous herbs and spices. The sauce goes best with the fries and chicken selections, he said.
Madd Greeks Mediterranean Grille
The wraps can be ordered flat, in either '"Madd loaded'" – the fillings and sauce are between two pitas, with the entire thing quartered for ease of eating – or '"taverna'" style, an open-faced sandwich with the fillings layered on top of one warm pita before being topped with sauce. 
Speaking of sauce, Kavalieris recommends his Greek-style ranch dressing as an alternative to the traditional vinaigrette that accompanies typical Greek salads. His '"salates'" come with or without gyro meat or chicken shawarma. The Madd Grouper Salad features lettuce, tomatoes, onions, feta cheese and seasoned grouper, a popular fish in Greek cuisine.
If you have time to sit down for lunch, Kavalieris suggests the avgolemono soup, a take on the standard lemon-rice soup. Inspired by recipes that float around villages outside of Athens, the soup is laden with chicken and eggs, too. 
"The eggs are very important, and we use real chicken," Kavalieris said. "It's a lot of work for this soup, but it's so worth it because we see the smiles from the people." 
Opened in October, Madd Greeks looks to fill a niche near IUPUI. 
"Everything is handmade," Kavalieris confirmed. "It's very different for around here, and there is more to come."