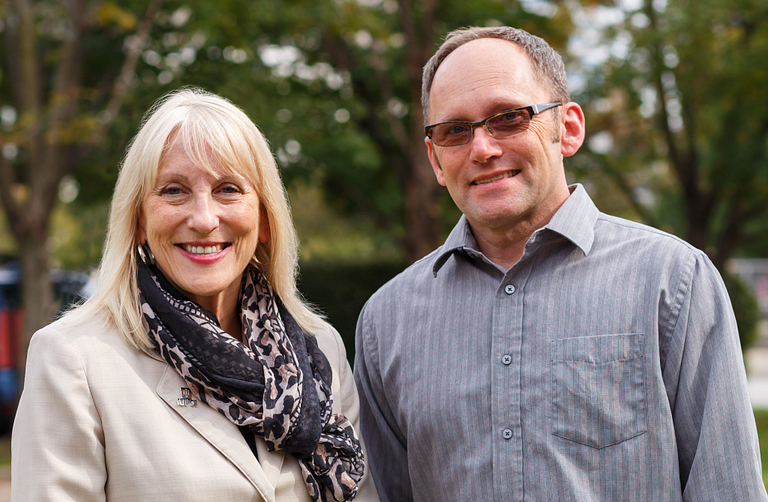 The IUPUI United Way campaign is one of IUPUI's signature partnerships. With one campaign, the campus engages the Central Indiana community by helping the 85 direct service agencies of the United Way.
This campaign serves a very real need in our community. Thousands of people depend on the agencies involved for basic needs, education, health and financial stability – the four core tenets of the United Way's mission. The success of this campaign is a shining example of IUPUI's outspoken commitment to community engagement.
The two co-chairs of the campaign are longtime staff members: Christine Fitzpatrick, chief of staff for the chancellor's office, and Stephan Viehweg, associate director of the IUPUI Center for Translating Research into Practice and a faculty member in the Indiana University School of Medicine. Here, in their own words, is why the IUPUI United Way campaign is so important to this campus.
Q: What is the history of the United Way campaign at IUPUI?
Christine Fitzpatrick: Well, even before there was an IUPUI, through the School of Medicine, largely, there was participation in a campaign for the United Fund, which would have been the earlier name of the organization.
I know this because, in my first year as co-chair with Steve, I did some research in the archives and found information and materials from long ago – information about the campaign and who was involved, messages from the previous chancellors, and printed letters, actually, in those days. So the campaign existed even before IUPUI did. Certainly IUPUI has, from its very beginning, created a legacy of support for what is now United Way of Central Indiana.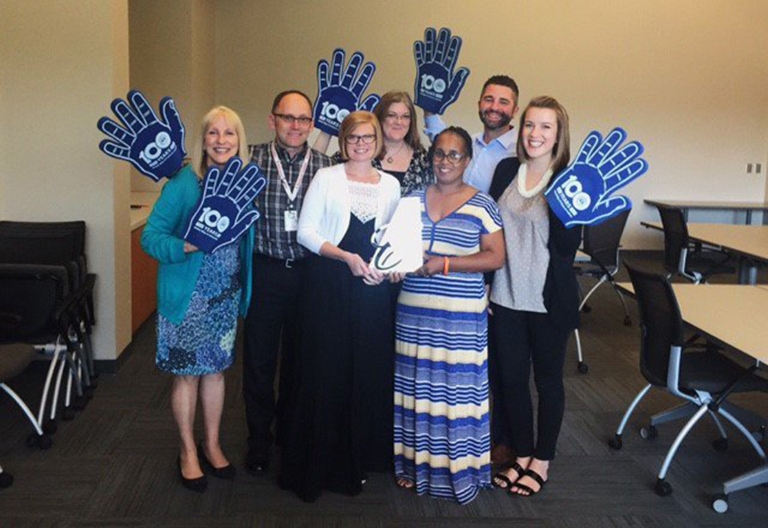 Q: And why is your involvement as co-chairs important to you?
CF: My interest, involvement and participation as a donor to the campaign began when I first started at IUPUI years ago. It is important for me to participate in the campaign as an employee of IUPUI because I think it is definitely one of the signature aspects of our engagement with the community and our reciprocal support for the community.
Many members of our community benefit from support and services from United Way agencies, so I think that just as community engagement is part of our DNA, United Way is right at the top of the list for this campus. So I identify with them very strongly, as a campus citizen for strong participation in United Way.
Stephan Viehweg: And my take would be that I'm a social worker, and as such, part of me is about giving back and participating. I know that a lot of the agencies supported by United Way – and the work that United Way does – are a nice match with my profession and the things that we do and believe.
And I, like Christine, see a really strong connection between IUPUI and the community of United Way and its partners. We as a campus are very much engaged with the community in lots of ways – whether it's faculty and staff engaging with agencies as volunteers on their boards; providing support to their staff training; using those agencies as a research platform to help solve problems in our community; involving students in all those activities, whether they're getting employment experiences or internships or are learning how to do research and engage with the community – there are all sorts of ways that we benefit as a campus for all of our constituents.
But at the same time, the community benefits by this partnership. And I think that for IUPUI, it's a great way for us to celebrate and honor that commitment by giving back and recognizing that this is a way that we can financially support the four very important areas [editor's note: basic needs, health, education, financial stability]. It's hard to not care about them. And those are the things that are important to me.
Q: So what is it that you actually do as co-chairs?
SV: I see my role as co-chair as an ambassador to get people aware and excited about the work that we're doing. So we have taken the time to meet with various leaders across campus to explain what this campaign is all about and to engage with them in a personal way.
But then, at the campus committee level, I think our role is to help encourage our volunteers to – most importantly – have a really good time in what we do. And helping to share the message and raise awareness about what United Way does and where we make those connections. And then how we implement this campaign as part of working together.
CF: And I would say, certainly, to advocate for United Way and IUPUI's engagement, to help support members of the executive committee, and to encourage continued participation across campus, because this is one of those few occasions and opportunities that we have on a regular basis to come together as a campus and make a big statement.
And we do that every year. It's very gratifying to be part of that. So, I think, as co-chair, I see myself working with Steve and the rest of the group to bring people in and to let them experience the fun and the satisfaction of being involved in this and raising interest in their units.
Q: What would you say to someone who said "Why United Way?" Why is it so special?
CF: Well, I think United Way has a strong track record of providing support for more than 80 agencies in Central Indiana that support its core mission – basic needs, education, financial stability, and health and wellness. And I've had an opportunity to witness the impact United Way has, having volunteered in the past as an agency evaluator.
The United Way staff who lead that process are deeply committed to the success of those agencies and to their continuous improvement. I also value United Way of Central Indiana for its advocacy for things like expansion of quality pre-K in Central Indiana. As an organization, it's very impactful, and to me that's the answer to why.
Q: And do you see yourself continuing to do this for a while?
CF: Well, it's always great to bring new people into this fold and to see all the creativity that follows that. So truly it's also – on the executive committee – a great opportunity for individuals to get involved in a collaborative team across campus and to get things done. As long as that lasts for me, it's great, but I would also love to see others have that opportunity down the line.
SV: And we hope – and encourage – that anyone who participates in any of these leadership opportunities can see it as a way to build their own skills, and it's something that they include in their own resume of leadership activities that they've done. The executive committee certainly does represent a variety of skills that are necessary or helpful – not only on this campus, but also out in the community.
Donate today