IUPUI DACA Town Hall
IUPUI faculty, staff and students are invited to a town hall meeting that will focus on what the change in DACA policy means for all of us. It will take place Monday, Sept. 25, from 4 to 5 p.m. in Hine Hall Auditorium, 875 W. North St.
The recent decision to eliminate the DACA program has raised many questions and created a great deal of uncertainty. This town hall will provide a forum for discussion as well as a means to share guidance and resources about DACA.
You can submit a question for discussion at the town hall.
If you have questions or accessibility needs, please call 317-278-3820 or email dei@iupui.edu.
If you are unable to attend, the town hall will be live-streamed at broadcast.iu.edu.
Car Free Day, Sept. 22
IUPUI will join Central Indiana – along with Paris, Copenhagen and other locations – in marking World Car Free Day on Friday, Sept. 22.
For the second year, Commuter Connect is challenging Central Indiana employers and residents to go car-free and bike, walk or take the bus to work – or go "car lite" and carpool or vanpool to work.
"I love riding my bike because I don't need to have a place to park, don't have to worry about being in traffic and don't have to waste energy. I can park anywhere I want to; I can go downtown, to my office or across campus easily," said Amy Warner, vice chancellor for community engagement.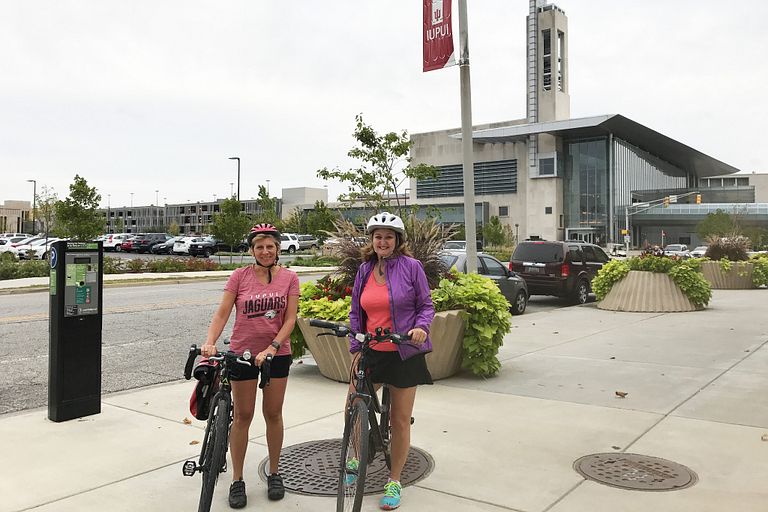 Warner and Kathy Johnson, executive vice chancellor and chief academic officer, are both planning to go car-free that day.
Other IUPUI employees and students are also getting in on the car-free action. Inside IUPUI collected submissions from those of you who said you would commit to going to car-free.
"I plan on biking to work on the 22nd," said staff member Sarah Hemmersbach in the School of Health and Rehabilitation Sciences. "I live just on the other side of downtown, so I will mostly be biking along the Cultural Trail and then over by White River to get to the medical end of campus, where my office is."
Faculty member Amanda Friesen in the School of Liberal Arts noted her plans to go car-free. "This is my second year not purchasing a parking pass," she said. "I ride my bike to campus, except when it's raining hard. Sept. 22 will be no exception!"
From Tina Chen, faculty in psychology: "I'm going car-free all year because I live very close to campus and walk every day!"
IUPUI ranked 57th in Sierra Club's Cool Schools List
IUPUI has been ranked No. 57 in the Sierra Club's annual Cool Schools List, which rates universities based on their sustainability performance. The ranking places IUPUI at the top of Indiana colleges and universities that submitted data; this is the highest ranking IUPUI has achieved on the Cool Schools List. Sierra Magazine, a publication of the Sierra Club, ranked 227 institutions based on information about their environmental practices in food and transportation systems, water and waste management, purchasing procedures, academics, investments, and more. Participation in the Cool Schools ranking was open to all four-year undergraduate colleges and universities in the U.S. and Canada.
IUPUI hosts eighth annual Graduate Expo on Sept. 21
The IUPUI Graduate Office is hosting its eighth annual Graduate Expo on Thursday, Sept. 21, from 10 a.m. to 2 p.m. for anyone who wants to learn about graduate school options. Prospective students are encouraged to drop in anytime during the four-hour time frame. The event will take place in the Campus Center.
Representatives from more than 20 IUPUI graduate and professional programs, as well as representatives from 40-plus other universities, will be on hand in a fair-type atmosphere to provide information to people considering graduate school. The Expo also features three breakout sessions: Writing a Personal Statement, from 10:30 to 11:15 a.m.; Preparing for the GRE, from 11:30 a.m. to 12:15 p.m.; and Engaging and Building Relationships with Faculty, from 12:30 to 1:15 p.m.
The event is free, and registration is encouraged. For more information and a list of participating IUPUI departments and outside universities, visit IUPUI's Graduate Office website or email gradexpo@iupui.edu.
2017 IU Online Conference registration
The IU Office of Online Education, in collaboration with the Office of Collaborative Academic Programs and eLearning Design and Services, is hosting the second annual statewide IU Online Conference on Friday, Nov. 10, on the IUPUI campus.
Be a part of the assembly of faculty and staff from across IU to discuss online education, share best practices and learn about developments in online education at IU.
The IU Online Conference is a free event open to university staff and faculty as well as those interested in IU's mission of delivering high-quality, highly engaging online courses.
Please fill out the form to register for the conference. Registration will be open until Monday, Oct. 2.
More than 1,000 kindergartners to 'Walk' on IUPUI campus
The annual "Walk into My Future" program, which works to plant the seed of college in the minds of Indiana kindergartners, will visit IUPUI Sept. 29.
More than 1,000 children will meet at Carroll Stadium to start their walk around campus. The young future Jaguars are from the Mt. Vernon Community School District in Hancock County.