Whether it's on the IUPUI campus or before their wedding, saving lives is a harrowing yet essential part of the job for Indiana University Police Department officers. 
Three were honored for their efforts at the IUPD Indianapolis Awards Ceremony, which took place Monday, Sept. 11, in Ball Hall.
Officers Gregory Moore and Patrick Jobe received Life Saving Awards for their team response to a June 21 SUV crash near the entrance to the Hine Hall parking garage, while officer John O'Rourke III received accolades for his response to a young victim in Florida – on the officer's wedding day, no less.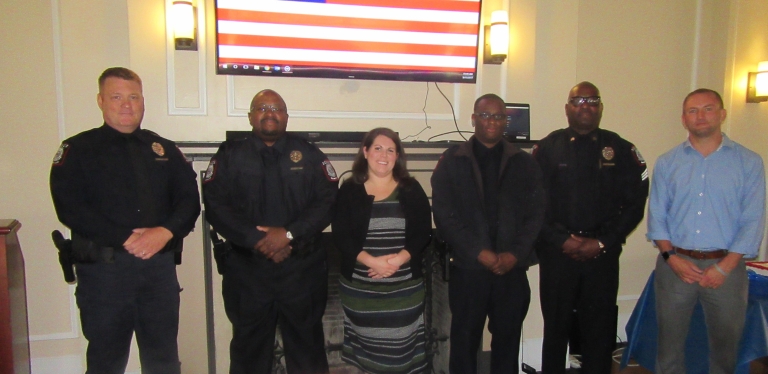 Moore said he thought back to his crisis training when he and Jobe moved the male victim from the tangled wreck to the flat pavement to begin administering CPR and then automated extended defibrillator treatment.
"On arrival, the victim wasn't breathing, and we couldn't feel a pulse," remembered Moore, an Indianapolis native who was hired by IUPD in 2009. "We did the best we could from our prior training." 
Jobe added, "It happened so fast. We didn't have time to sit down and think about it."
Moore said that his CPR and AED training from Officer Amanda Botts – IUPD's training coordinator, who also received a Letter of Appreciation award on Sept. 11 – was running through his head during the minutes they attempted revival before an EMS crew tagged in and finished the revival before taking the victim to Eskenazi Hospital.
While Jobe and Moore had access to defibrillator equipment from their squad car, O'Rourke's situation was much different. As reported by CBS News and several Indianapolis affiliates, the seven-year IUPUI officer was in Sanford, Florida, on March 28 for his wedding day. While he was ordering some breakfast before the ceremony, a 3-year-old girl nearby started having a seizure and began to lose consciousness. After calling 911 and speaking to the dispatcher, O'Rourke performed CPR on the toddler, successfully reviving her before local paramedics took over.  
"It had to be a doughnut shop," he joked with CBS. "You can't make this up."
Other honorees at the event included Sgt. Gill Journey, a gold medalist in wrestling at the 2017 World Police and Fire games held in Los Angeles, and Jared Mahnensmith, an Indianapolis resident who received the civilian Life Saving Award.
Moore said being recognized is nice, but it doesn't distract him and his fellow officers from their ultimate duty. 
"Our main goal, above everything else, is to make sure the public is safe," he said.