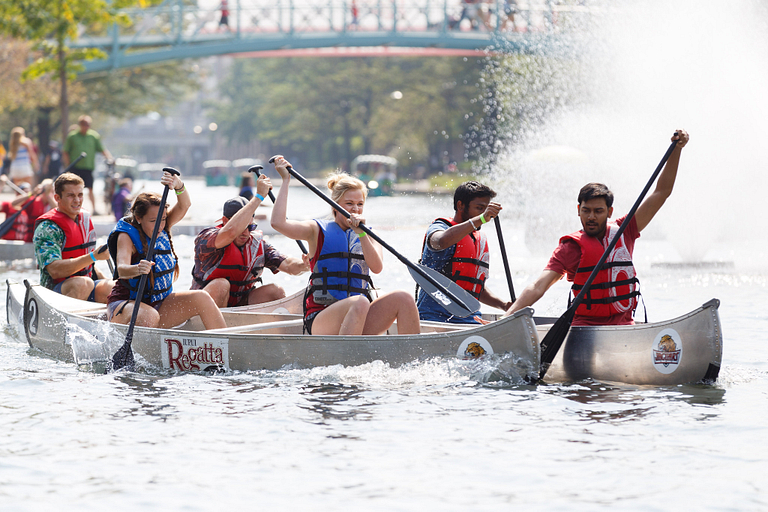 Ya gotta Regatta. Ya just gotta.
When there's an estimated 10,000 people lining the downtown Indianapolis canal while watching teams race their canoes over a half-mile of water, it calls for one of the biggest events on the IUPUI calendar. The 2017 IUPUI Regatta is set for 10 a.m. Saturday, Sept. 23. Paddles will first hit water in the north Admiral Spruance Basin near 10th and 11th streets.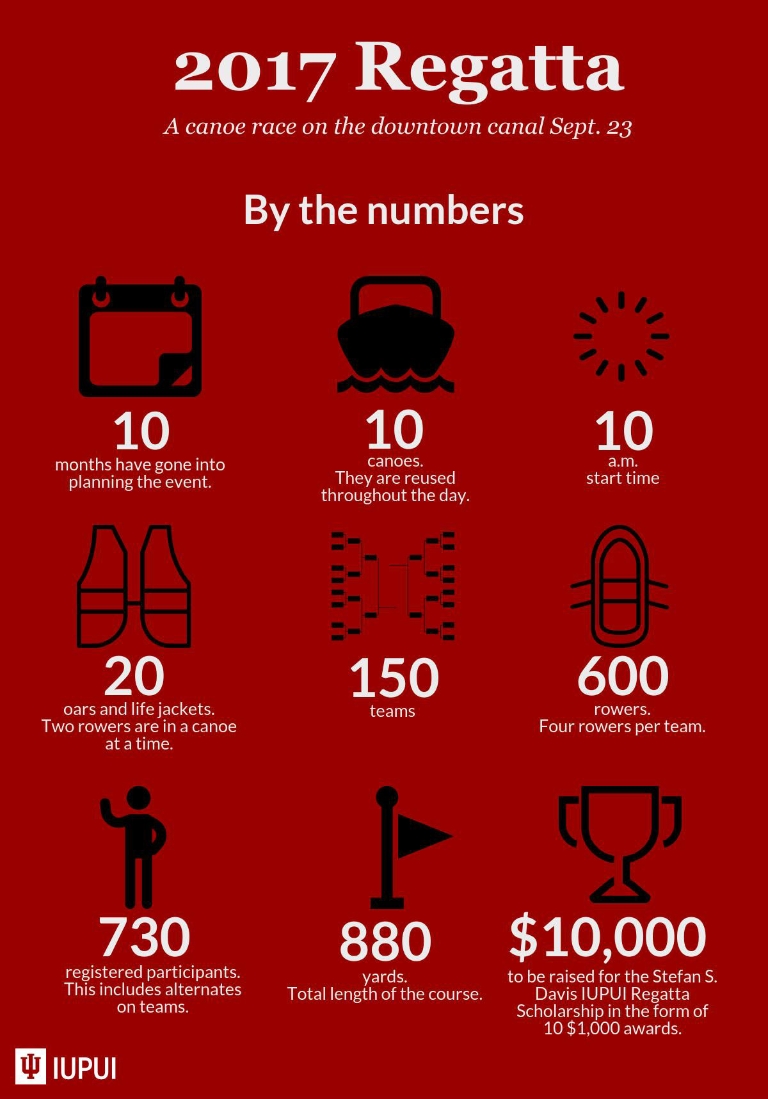 "It's one of those events that everyone looks forward to on campus," said Ryan Fraser, an IUPUI sophomore and director of marketing for Regatta. "It's one of our big, signature things. I've talked to a lot of seniors who've rowed in Regatta or just been to it, and they say it's one of their favorite college memories and highlights." 
Fraser and his fellow committee members have lined up more than 700 registered participants, who include 600 paddlers on 150 teams that will race in 15 heats throughout the morning and afternoon. Each heat features ten teams, with the canoes taking off in increments of five at a time. Heats begin every 20 minutes.
Winners will receive trophies and enough glory to make them float through the academic year. Saturday's competitors will have to work extra hard to beat 2016's impressive times: Minty Fresh (9:24, women's division), Teeth (7:07, men's division), and IUPUI Swimming and Diving (7:13, co-ed division).
Now in its ninth year, the Regatta has become ingrained in Jaguar culture. Scores of alumni come back to downtown for it. Staff and faculty members are side by side with students cheering on the teams. 
"It's the one day all of campus comes together for something," said Evan Goley, Regatta executive director and a senior studying human resources management and marketing.
"It's such a unique venue. It's different and not like any other sporting event." 
Scholarship and fellowship ahoy!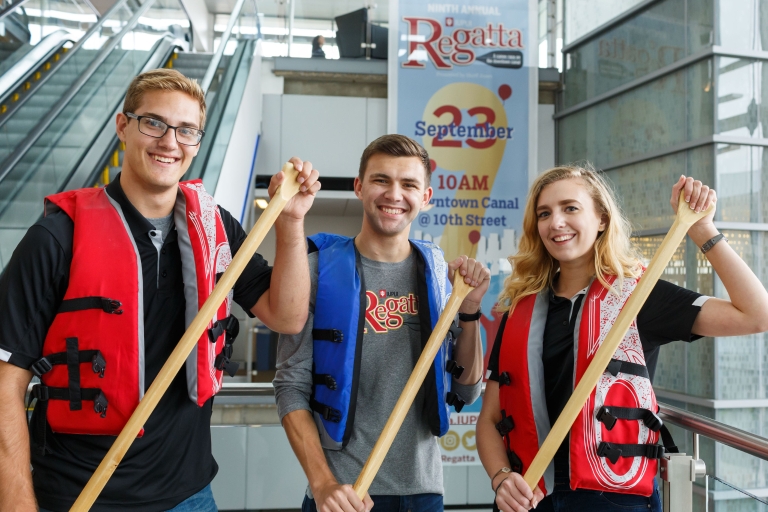 One of Goley's goals is to ramp up the scholarship side of Regatta. Over the past three years, the event has given back $30,000 in the form of 10 $1,000 scholarships a year to IUPUI students who had completed at least 26 hours and maintained at least a 3.0 GPA. The scholarships are awarded to students based on academic performance, financial need, and leadership experience in campuswide organizations or community service. The scholarship is named in honor of Stefan Scott Davis, executive director of the IUPUI Office of Alumni Relations and senior executive with the IU Alumni Association from 1994-2015.
While the scholarship is calculated, school spirit is another positive byproduct that has occurred at Regatta naturally. Team costumes aren't required, but they are encouraged. Gorilla suits, pirate apparel, hospital scrubs and other wild outfits are common. A team theme contest has been implemented, and winners will be chosen at the race.
Making a splash in downtown
The canal in downtown Indianapolis is always bustling. When the weather cooperates, joggers, walkers and cyclists use the feature as a backdrop for fitness. Tourists stroll along it or rent paddleboats.
Tips for Regatta success
Some Regatta competitors get into the canal, literally.
"There are people who tip their canoes," said Sarah Goy, Regatta associate executive director and a neuroscience senior. "The bottom of the canal is nasty and very slippery."
"It happened to me last year," Fraser admitted sheepishly. "I lost my glasses when I fell in." 
The south Walnut Basin, also known as the exchange or transition basin, is home to some of the most action and chaos. This is where the fresh paddlers hop in. Having donned life vests, the teammates receive oars from the first pair and hop into the canoes. Goley said some competitors get overconfident in the exchange.
"Getting in and out of the canoe is a mess," Goley said with a laugh, noting that this is when much of the tipping occurs. "Oh, don't get me wrong – it's entertaining."
While rowers have taken spills and gotten to know the downtown canal closely, there haven't been injuries – just raucous fun for a supposedly landlocked city. 
"We do as much as we can," Goley said. "There's pretty much something for everyone, whether you're a student or a 5-year-old with your parents."