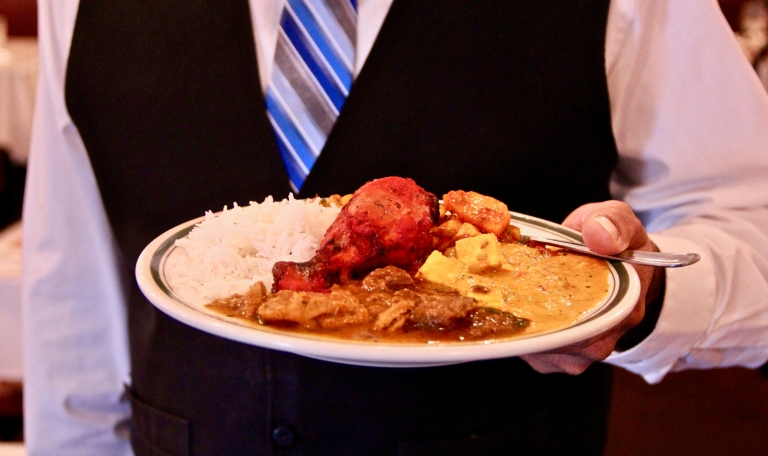 One of the best buffets near IUPUI is found in a palace.
Delhi Palace has been providing flavorful Indian cuisine for five years in downtown Indianapolis. While ordering from the menu is acceptable anytime, the king of lunch is the Palace's sizable buffet, featuring dozens of hot and cold choices: A salad bar, appetizers, soups, breads and entrees are all available for $8.99.
Varinder Sahota, Delhi Palace's owner, said the menu changes daily, aside from crowd favorites like chicken tikka masala, goat curry and fried vegetable pakora. Naan – Indian bread – is always served in some form, usually in garlic or traditional. The bread, pakora and samosas are perfect vehicles for Delhi Palace's many chutneys and sauces. Mango chutney, tamarind sauce and raita, a whipped yogurt sauce, are recommended.
Sahota and his chefs like to keep the buffet fresh while keeping the formula of customer satisfaction. He said he keeps six vegetarian entrees balanced with the several meat options. Naan's fried cousin, paratha, is usually on hand to help sop up the curry and korma sauces. Fried rice mixed with vegetables gives customers an alternative to basmati.
Delhi Palace
Indian restaurants tend to be vegetarian friendly. A recent visit to Delhi Palace saw a special dish not on the menu: The Vegetable Manchurian, a flavorful entree containing cauliflower, potatoes and mushrooms.
"This is a medium-spicy dish," Sahota explained. "Most of our dishes are medium, medium-hot, hot or extra hot."
For dessert, Sahota recommends mango pudding, Indian rice pudding known as kheer, carrot halwa with sweet milk and nuts, and/or gulab jamun, soft cake balls soaked honey syrup.
Delhi Palace hours are 11 a.m.-3 p.m. and 3:45-9:30 p.m. daily.