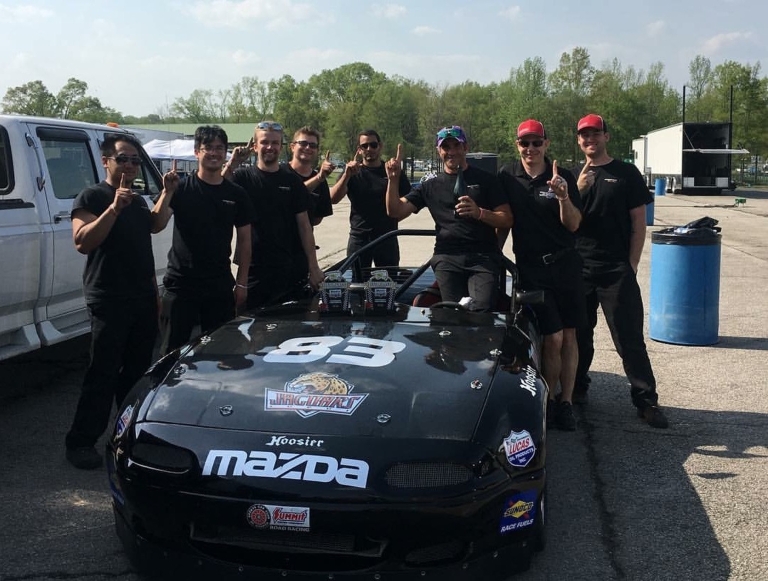 INDIANAPOLIS – Racers say that nothing compares to competing at the Indianapolis Motor Speedway. For the opportunity to achieve greatness at the world's greatest racetrack, teams travel from around the country and around the world.
And from about four miles away, too.
A student-run team from IUPUI Motorsports is taking its shot at a title at IMS, racing Friday in the Sports Car Club of America Runoffs, the championships of the nation's largest amateur racing association.
IUPUI's team, featuring a Mazda Miata completely serviced and engineered by students from the motorsports engineering program in the School of Engineering and Technology at IUPUI, earned its spot in the Runoffs by virtue of a season's worth of SCCA competition, including two wins in April at Virginia Motorsports Park.
"It's a really great opportunity for us," said graduate student Andrew Jefferson. "As far as amateur racing, this is the biggest event."
A total of 44 cars were on the preliminary entry list for the F Production race, including IUPUI Motorsports' No. 83 Miata. The race is scheduled for 2:35 p.m. Friday on the IMS road course, which includes a portion of the famed 2.5-mile oval.
Jefferson, along with Class of 2017 mechanical engineering technology graduate Joe Legan and motorsports engineering undergraduates Tyler Bell, Eric Coletto, Miles Gunty, Jacob Hampton, Matt Hunt, Chase Wilderman and Helen Wilson, work on the car, while professional driver and driver coach Bob Perona takes the wheel in races.
"What most people don't realize is that we're racing against guys and teams that have really spent a lot of time on their stuff and have a lot of experience, whereas for some of our students, this is their first time at the racetrack," Perona said. "They're learning on the fly; it's all new to them. For us to have had the success we've had is pretty impressive."
IUPUI Motorsports, which competes in other racing disciplines such as karting, with four Purdue Grand Prix wins since 2008, bought its Miata last year with an eye on this year's season and the Runoffs at IMS.
Now, having a "home game" of sorts is a wonderful opportunity for supporters of IUPUI Motorsports and the students' classmates and families to see the team in action.
"We've focused all our efforts on achieving that one goal – being on the starting line for that race," said Chris Finch, a lecturer in motorsports engineering who manages the SCCA program. "We've never taken our eye off the prize. We're competing at the level we feel we should be."
In addition to Finch, several School of Engineering and Technology faculty – Andrew Borme, Jess Chen, Hamid Dalir and Tyler Stover – are involved with the motorsports engineering program, which prepares graduates for careers with racing teams and automotive industries.