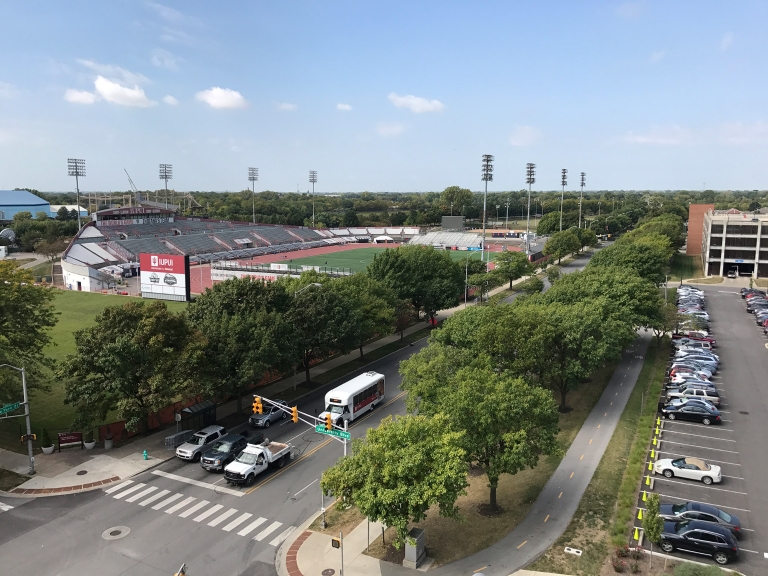 WHAT: Nearly one thousand kindergartners will flood the IUPUI campus Sept. 29 and be involved in activities to inspire their futures beyond high school.
WHERE: Michael A. Carroll Track and Soccer Stadium at IUPUI, 1001 W. New York St.
WHEN: 9:45 a.m. to 1:15 p.m. Friday, Sept. 29
Two groups of about 500 kindergartners each will take a short campus tour and then come together at the Michael A. Carroll Track and Soccer Stadium for a pep session at 11:15 a.m. In addition, the students will engage in a wide range of hands-on activities in the stadium, including creating a book, making a pennant and playing bingo bonanza.
Members of the media are requested to notify Rich Schneider or Maria Bond in advance if they will be attending so protocol can be shared for the few students not allowed in videos/pictures. 
WHO: The students are from Hancock County. The Hancock County Promise program arranged the visit. The Promise program is a collaboration among many partners: school districts, community organizations, businesses and funders.
WHY: The goal of the Promise program, part of a K-12 approach, is to generate conversation and curiosity about college among students, even among kindergartners and their parents. ​
The Promise program aims to foster a communitywide culture in which all students have the opportunity to open a CollegeChoice 529 Direct Savings Account. The program strives to ensure every student believes they can have a postsecondary education and has their community's support.