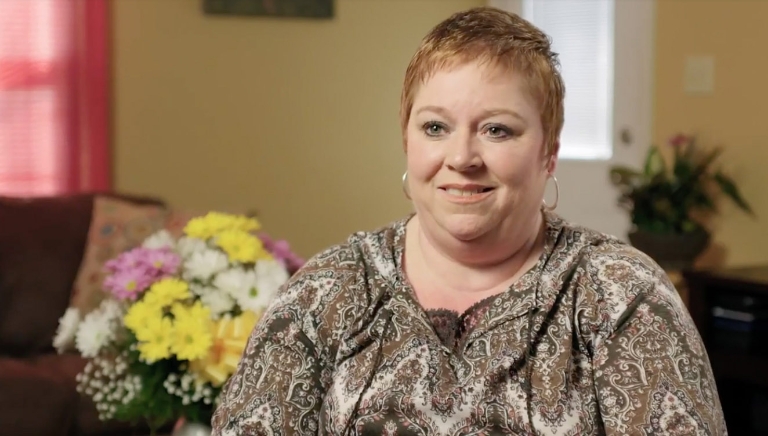 Sherry Perciful was in the middle of planning her daughter's wedding in fall 2015 when she noticed her right breast felt sore.
She was diagnosed with triple negative inflammatory breast cancer, an aggressive subtype of cancer, and underwent grueling treatment over 12 months.
After all of that, Perciful thought she was done. But her oncologist had other plans: He encouraged her to travel to Indianapolis to participate in a clinical research trial aimed at preventing the cancer from returning.
The trial, led by Indiana University oncologist Dr. Bryan Schneider, relies on the burgeoning field of genomics – an area in which IU School of Medicine is building a research program capable of transforming care.
In addition to the breast cancer trial, which is funded with help from the Vera Bradley Foundation, Schneider also is a leader of the IU Precision Health Initiative – the inaugural recipient of IU's Grand Challenges Program. Announced in June 2016, the Precision Health Initiative aims to cure at least one cancer and to transform biomedical research and health care across Indiana by studying all of the factors – such as genomics, environment and lifestyle – that influence an individual person's health.
The Board of Trustees received an update on the Precision Health Initiative from IU Vice President for University Clinical Affairs and IU School of Medicine Dean Jay Hess and IU Health President and CEO Dennis Murphy during today's meeting on the IUPUI campus.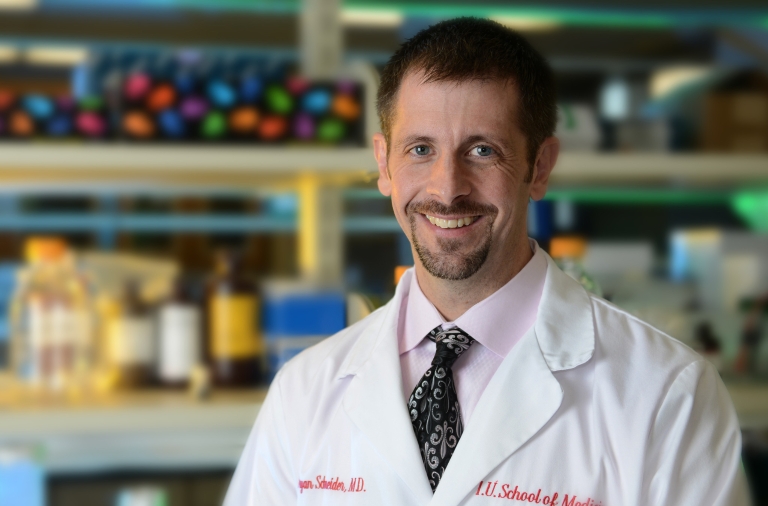 The latest advances in DNA sequencing now allow researchers to analyze a patient's tumor faster and cheaper than ever before – making it possible that genomics will soon become part of standard treatment. Dr. Anantha Shekhar, leader of the Precision Health Initiative and IU associate vice president of research for University Clinical Affairs, envisions a day in the not-too-distant future when all cancer patients have their tumor sequenced so physicians can review its genomic and molecular profile.
But vast amounts of research are still needed to understand the results and apply them in a meaningful way.
That's why Precision Health Initiative team members have been hard at work in the past year – particularly in the area of informatics and data sciences. Scientists at IU and the Regenstrief Institute are building a robust suite of technologies to help researchers and clinicians like Schneider make discoveries and improve the delivery of personalized health care. The team recently announced a collaboration with Indianapolis-based technology company LifeOmic to develop a "data commons" to store genetic and other medical data for millions of patients within a single repository.
A new cell therapy manufacturing facility – one that meets the initiative's goal of adhering to the U.S. Food and Drug Administration's good manufacturing practices requirements – has opened on the IUPUI campus. The facility includes a new device called the CliniMACS Prodigy, which automates and standardizes the entire cell manufacturing process in just one tabletop machine. This means scientists and clinicians will be able to produce cellular and gene therapies without leaving campus, leading to faster and better care for patients, as well as being a great resource for clinical research at IU.
The Precision Health Initiative has recruited key leaders including Carmel Egan, Peter Embi, Kun Huang and Michael Weiss. It has also made major strides to engage community members in efforts to improve their health, such as kicking off the Indiana Clinical and Translational Sciences Institute's statewide initiative "All IN for Health" at the Indiana State Fair.
Most importantly, this kind of work is providing hope to patients like Sherry Perciful, a grandmother of five who is co-pastor at her church, along with her husband.
Perciful enrolled in the IU clinical trial for women with triple negative breast cancer. Led by Schneider, who is both a practicing physician and scientist, the trial assigns participants an extra round of highly customized therapy based on a DNA analysis of their tumor.
"We use the best technology on the planet to see if we can uncover a vulnerability or Achilles' heel in the cancer that traditional chemotherapies can't capitalize on," Schneider said.
The study will analyze whether these women are more likely to be cured than women who don't receive targeted treatment.
"I feel safer," Perciful said. "I feel more confident that I will be able to have more time with my family, more time to spend with my husband, just more time to live life. It's just sweet. Life is sweet."
Now, two years after she was first diagnosed, Perciful has special reason to celebrate breast cancer awareness this month. She said she has completed all of her cancer treatments and is doing well, with reconstruction procedures planned for December.
Karen Spataro is director of campaign strategy and development communications for the IU School of Medicine, and Andrea Zeek is communications coordinator for the IU School of Medicine.