Don't have your CrimsonCard yet? It's time to upgrade. By summer 2018, all Indiana University staff, faculty and students must convert their campus-specific cards to the CrimsonCard, the new official photo identification card for all campuses.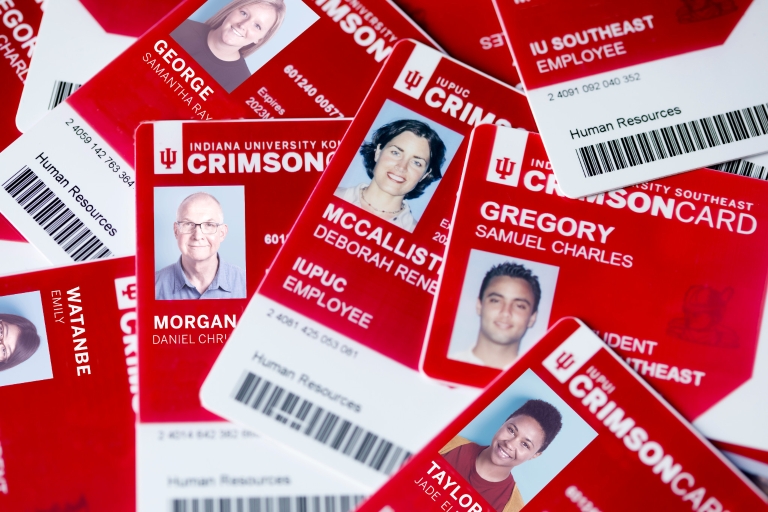 How do I get one?
Current students, faculty and staff can exchange their current campus ID card for a CrimsonCard at no cost. Bring your card or a valid, government-issued photo ID to any campus CrimsonCard office, and a new photo will be taken at that time.
New faculty and staff can also obtain a card at any CrimsonCard office for no cost. Bring a valid, government-issued photo ID and your 10-digit university ID number.
What does it do?
Here's a quick rundown of perks the new card has to offer:
CrimsonCash Account: Staff and faculty members can add cash to a CrimsonCard via credit card or prepaid payroll deduction.
Payroll Advance Account: This option allows eligible employees to make purchases on their CrimsonCard up to a predetermined limit – $150 for employees paid monthly and $75 for employees paid biweekly. Funds are then deducted from the employee's next paycheck.
Grabbing lunch: Once you've added money to your CrimsonCard, you can use it at a variety of locations across your campus for food or other services. For several campuses, there are also off-campus vendor partners that accept CrimsonCard.
Deals and discounts: Present or use your CrimsonCard as payment at certain retail locations and receive a discount.
Printing: Most IU faculty have a printing allotment, which is tied to your CrimsonCard. When you swipe your card to release a print job, it is automatically deducted from your allotment.
Building access: Your card can also give you access to assigned areas on all IU campuses.
Why the new card?
Two words: consolidation and convenience. To reduce inefficiencies and increase security, IU President Michael A. McRobbie charged university leadership with implementing a single identity card system. And voila, the CrimsonCard was born.
Want more?
Check out the CrimsonCard website to log into your account, manage your ID card or find out more about how it works.