When Tawa Ibikunle-Salami joined the IU Northwest School of Nursing faculty in March, she was tasked with spearheading two new health initiatives on campus.
She coordinates the new family nurse practitioner program, a track within the Master of Science in Nursing degree, and she is a clinical assistant professor. She also serves as the director and the nurse practitioner at the Campus Health and Wellness Center.
From the reopening of the IU Northwest campus Health and Wellness Center to welcoming the first cohort of family nurse practitioner students to campus, Ibikunle-Salami has experienced many firsts in her new role this semester. Reopening the clinic provided more health care accessibility to the campus community, including acute and chronic disease management as well as immunizations, which Ibikunle-Salami is managing.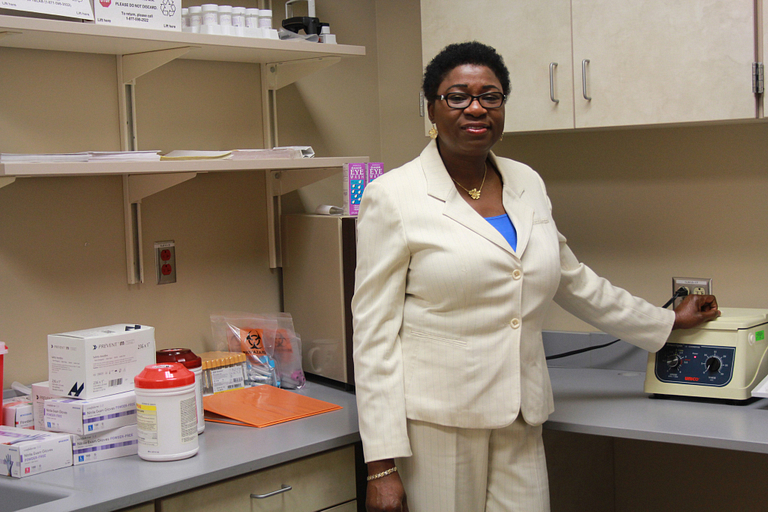 This type of advancement is just what she was looking forward to when she took the role, particularly with the family nurse practitioner program. The track was established after an assessment showed a need for access to general health care in the area.
"My philosophy is to identify the gap, and then go out and do the work necessary to bridge that gap," she said. "Be the resource; don't wait for someone else to do it."
The Nigeria native began her career as a registered nurse and midwife in her home country before coming to the United States with her husband in 1995. After completing her bachelor's degree in nursing, Ibikunle-Salami went on to get her master's degree, for which she completed a family nurse practitioner program at Indiana Wesleyan University. She also has a doctorate in nursing from Walden University.
She has previously held different positions in nursing, from a floor nurse to chief nursing officer, was an adjunct faculty member at Indiana Wesleyan University and, most recently, was a family nurse practitioner at local health clinics in Northwest Indiana.
She said that switching to being a full-time faculty member isn't all that different from her work as a clinician, as there was always a teachable moment. While developing the curriculum for the family nurse practitioner program, she is drawing from her own educational experience and adapting it for her students. With the program being a hybrid model – half of the work is completed online and the other half in class – it is designed for students who work as a nurse in addition to their schooling.
"I want my students to utilize the resources on hand to them and to be actively involved in the learning process," Ibikunle-Salami said.
Along with preparing future health care professionals to meet the needs in the Northwest region of the state, Ibikunle-Salami is also a mother to six children – three of whom are studying at IU campuses.
While her many roles keep her busy, it's also what keeps her motivated.
"Life is all about utilizing the hours we have in a day to better other people's lives," Ibikunle-Salami said.
And she's already dreaming bigger. Her hope for the family nurse practitioner program is that it is so successful that it births another new health-related program to fill even more needs in the community.