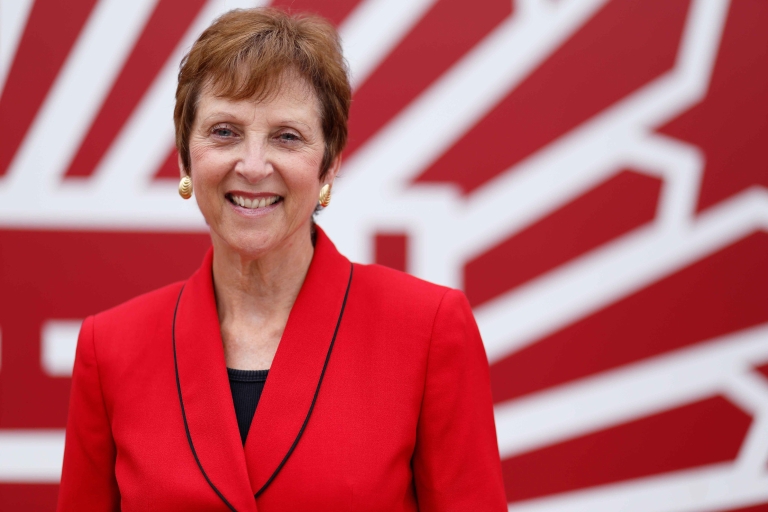 BLOOMINGTON, Ind. – Robin Newhouse, dean of the Indiana University School of Nursing and IU Distinguished Professor, has been elected a member of the National Academy of Medicine. Her election was announced Oct. 16 during the organization's annual meeting in Washington, D.C.
Newhouse is the 14th IU faculty member selected for membership in the prestigious organization. Bernice A. Pescosolido, Distinguished Professor of Sociology at IU Bloomington, was elected in 2016.
Election to the academy, considered one of the highest honors in the fields of health and medicine, recognizes individuals who have demonstrated outstanding professional achievement and commitment to service. Members are selected for major contributions to the advancement of the medical sciences, health care and public health.
"Robin is a pioneering scientist and scholar whose prodigious and innovative research in health care delivery systems has improved the quality of care for patients and patient outcomes," IU President Michael A. McRobbie said. "Additionally, the evidence-based translation models that she has developed are used around the world to guide decisions made by health system clinicians. She is most deserving of this exceptional honor, which is one of the highest honors in her field, and we are extremely proud of the contributions she continues to make to Indiana University's world-class environment for teaching, research and creative activity."
Newhouse is one of the nation's most distinguished nurse-researchers and a leading expert in evidence-based practice for direct-care nurses and implementation research. Her research focuses on health system interventions to improve care processes and patient outcomes. She has published extensively on health services improvement interventions, acute-care quality issues and evidence-based practice.
On Oct. 10, Newhouse was named the principal investigator on Responding to the Addictions Crisis, a $50 million initiative of the IU Grand Challenges Program, which aims to develop transformative solutions for the world's most pressing problems. The statewide initiative is one of the nation's largest and most comprehensive state-based responses to the opioid addiction crisis and the largest led by a university.
She also serves as chair of the Methodology Committee of the Patient Centered Outcomes Research Institute, has served on multiple committees of the Institute of Medicine and is vice chair of the AcademyHealth Board of Directors.
In 2015, Newhouse received the American Nurses Credentialing Center President's Award. In 2014, she was inducted into the Sigma Theta Tau International Honor Society of Nursing's Nurse Researcher Hall of Fame. The Hall of Fame, one of Sigma Theta Tau's International Awards for Nursing Excellence, recognizes nurse researchers who have achieved significant and sustained broad national or international recognition for their work and whose research has had an impact on the profession and the people it serves.
Newhouse joined the IU faculty in 2015 as the dean of the IU School of Nursing. She previously served as a professor and chair of the University of Maryland School of Nursing's Department of Organizational Systems and Adult Health.
She holds an associate degree from Anne Arundel Community College; a Bachelor of Science in nursing from the University of Maryland, Baltimore County; a Master of General Administration (major in health care) from the University of Maryland University College; a Master of Science from the University of Maryland School of Nursing; and a Ph.D. from the University of Maryland School of Nursing.
New members of the academy are elected by current active members. Newhouse was one of of 70 regular members and 10 international members elected this year. The newly elected members bring the organization's total membership to 2,127 and the number of international members to 172.
Established in 1970 by the National Academy of Sciences, the National Academy of Medicine addresses critical issues in health, science, medicine and related policy.