BLOOMINGTON, Ind. – Kenneth R. R. Gros Louis, university chancellor emeritus and beloved member of the Indiana University community, passed away Friday, Oct. 20, at the age of 80.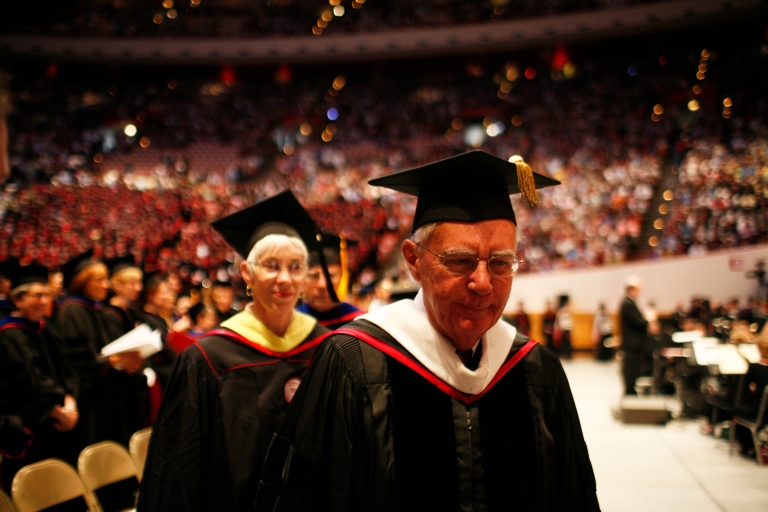 Indiana University is deeply saddened by the passing of University Chancellor Emeritus Ken Gros Louis. He was, and will always remain, a true giant of IU and the IU Bloomington campus.
Besides IU's legendary Herman B Wells, Gros Louis is the only other individual to hold the distinguished title of university chancellor, and he had an extraordinary impact on the university that he proudly, ably and so enthusiastically served for more than a half-century. His efforts enabled the academic pursuits of countless IU students and faculty, whose work he eagerly and relentlessly championed as an administrator, colleague, mentor, friend, listener and ally.
IU President Michael A. McRobbie said: "Indiana University will be forever grateful for all of Ken's efforts to strengthen the core missions of the university that have left such an indelible mark on thousands of IU students, faculty, alumni and friends around the country and all over the world. He was a remarkable man deeply dedicated to the university and the Bloomington campus."
During Gros Louis' 21 years as chief executive, which ended with his retirement in 2001, the campus set records in enrollment and external support, established scores of new endowments for faculty and students, and was recognized nationally for innovation in undergraduate education. He returned in January 2004 as senior vice president for academic affairs and Bloomington chancellor and was named university chancellor in 2006.
Gros Louis was also an exceptional scholar in his own right, as reflected in his distinguished teaching, research and widely acclaimed writings on medieval and Renaissance literature and history. He authored the two-volume "Literary Interpretations of Biblical Narratives" as well as many articles on literature, higher education and academic administration. He won IU's Ulysses G. Weatherly Award for distinguished teaching in 1970 and continued to teach during his service as an administrator and in retirement. He was elected in 1991 to the Indiana Academy.
Through his strong leadership and vision, Gros Louis ensured a truly world-class educational environment that would attract and retain the very best students and faculty, and he was equally determined to help cultivate a welcoming, positive, diverse and inclusive campus climate so that everyone would find a sense of belonging at IU. His principled and humane vision, as well as strategic savvy, was responsible for the establishment of the Office of GLBT Student Support Services in 1994.
IU Provost and Executive Vice President Lauren Robel said: "For many, Ken simply was IU, and this is especially true for generations of IU student leaders. He was their best and truest guide and mentor and stayed in touch with them long after they left campus. His deadpan sense of humor coupled with his deep erudition and devotion to the academic mission endeared him to us as faculty. It is hard to imagine an Indiana University without Ken."
A special tribute website is forthcoming at kengroslouis.indiana.edu.