BLOOMINGTON, Ind. – With more than two years remaining in its first-ever, universitywide philanthropic campaign, Indiana University has achieved a remarkable 82 percent of its fundraising goal with more than $2 billion already raised by IU alumni, staff and friends but which is less than three-quarters complete.
Publicly launched in September 2015, For All: The Indiana University Bicentennial Campaign set a goal of $2.5 billion to be raised by IU's 200th anniversary in 2020 – the largest campaign goal in the history of the university and one of the most ambitious goals by any public university in the nation. The campaign supports four broad university priorities identified within the Bicentennial Strategic Plan for Indiana University: supporting IU students and enabling their success; preparing the next generation of global leaders; developing new ideas that change the way we live; and creating a healthier state, nation and world.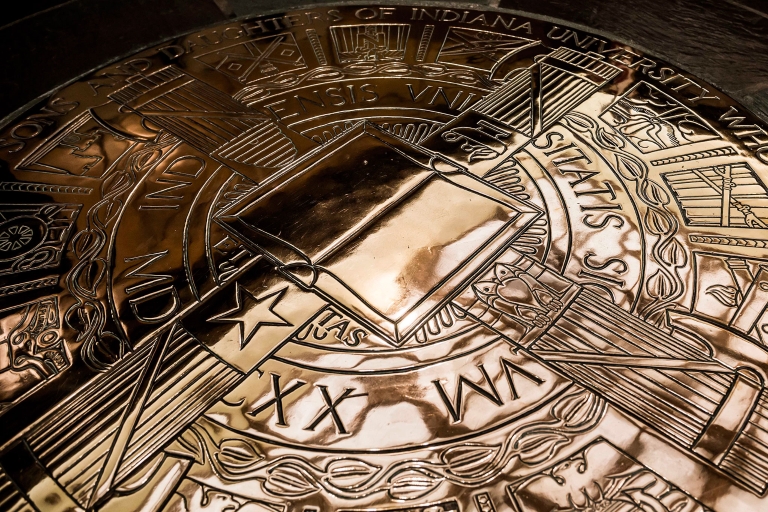 To date, more than 270,000 individuals have generously contributed to the campaign. Nearly 14,000 IU faculty and staff have contributed $126 million to the campaign thus far.
At an event Saturday evening to honor many of those who have been central to the campaign's success, IU President Michael A. McRobbie announced that because of the remarkable success of the For All campaign so far, its goal will be increased to $3 billion, the largest campaign goal ever in the history of the university. McRobbie added that the campaign would extend an additional six months, through June 2020, corresponding with IU's planned yearlong bicentennial celebration during the 2019-20 academic year.
"IU's Bicentennial will be a time that will never happen again," McRobbie said. "Extending the campaign through the whole bicentennial year and increasing the goal takes full advantage of this unique opportunity. It will enable all members of the IU family, worldwide, to do all they can to support IU into its next century of its existence as one of the world's greatest universities.
"Extending the campaign and increasing its goal will enable IU to attract even more gifts for scholarships," he continued. "These will enable us to expand even further our recent extremely successful efforts to keep an IU education affordable and accessible for all Indiana citizens and continue to provide students with the best possible teaching and learning opportunities."
McRobbie added that the major increase in the number of endowed academic positions as part of the campaign has enabled IU to recruit and retain some of the best academic talent in the world, which will further increase the standing and excellence of IU in research and scholarship.
Since the launch of the For All campaign, which has been bolstered by four consecutive years of record philanthropic support for the university, IU has added 3,500 new scholarships and 147 endowed chairs and professorships across the seven IU-administered campuses. These achievements represent a record 27 percent and 37 percent increase in scholarships and endowed faculty chairs and professorships, respectively, in the past five years.
McRobbie announced Saturday that IU will also introduce a new scholarship endowment fund, "The Indiana University Advantage," which, over time, will provide scholarships that will cover the direct costs of attending IU for qualified students from Indiana families with household incomes below $65,000 and who demonstrate financial need. This fund will enable students of limited means to earn educations that will change lives and provide them with opportunities previously unavailable to them.
McRobbie also noted the important role philanthropic giving has played in enabling IU to strengthen its investments in research to inform public policy, provide new treatments and cures for illness and disease, and to contribute to state and national prosperity. Among those investments is IU's Grand Challenges Program, which supports multidisciplinary research aimed at finding solutions to society's most pressing problems. The program's latest initiative, announced earlier this month, is a $50 million partnership with Indiana Gov. Eric Holcomb and the state of Indiana, IU Health and other organizations to address the pervasive and grave substance abuse crisis in Indiana and throughout the U.S.
The event Saturday night was held in the Wright Quadrangle Cafeteria, which houses a set of murals depicting the history of the university up until 1997. McRobbie drew attention to these and noted the vital importance of the university's heritage and the profound impact that the art and environment of IU's campuses can have on students and faculty. He said a goal of the extended campaign would be to further enhance the public art and the environment of IU campuses and efforts to establish a museum of Indiana University, which he announced in his most recent State of the University address.
Saturday's event was hosted by McRobbie and IU Foundation President Dan Smith. Also among those offering recognition and thanks to the attendees were Cindy Simon-Skjodt, one of the campaign honorary co-chairs, IU Foundation Board Vice Chair Milt Stewart and Angela Perez, a first-generation IU student.
Smith reflected on the success to date of the For All campaign and what continues to motivate the support and selflessness of IU donors.
"Our four consecutive years of record fundraising success reflects multiple conditions that have made Indiana University a compelling place to support," Smith said. "For decades, our faculty and staff have created life-changing experiences for our students, who are now grateful and successful alumni and want to give back."
"We have also worked very hard to get the word out about the importance of our research and creative activity. A growing number of foundations and other organizations are inspired by the impact their IU support can have on addressing many of the world's most pressing challenges," he added. "And there is widespread recognition that we have a culture that is grounded on innovation and integrity; donors can trust that their support will always be used in ways that will have a material impact."
For All: The Indiana University Bicentennial Campaign is taking place on all IU-administered campuses including IU Bloomington, IUPUI, IU East, IU Kokomo, IU Northwest, IU South Bend and IU Southeast. Learn more about the campaign, its impact and how to participate at forall.iu.edu.
About the Indiana University Foundation: Founded in 1936, the Indiana University Foundation maximizes private support for Indiana University by fostering lifelong relationships with key stakeholders and providing advancement leadership and fundraising services for campuses and units across the university.