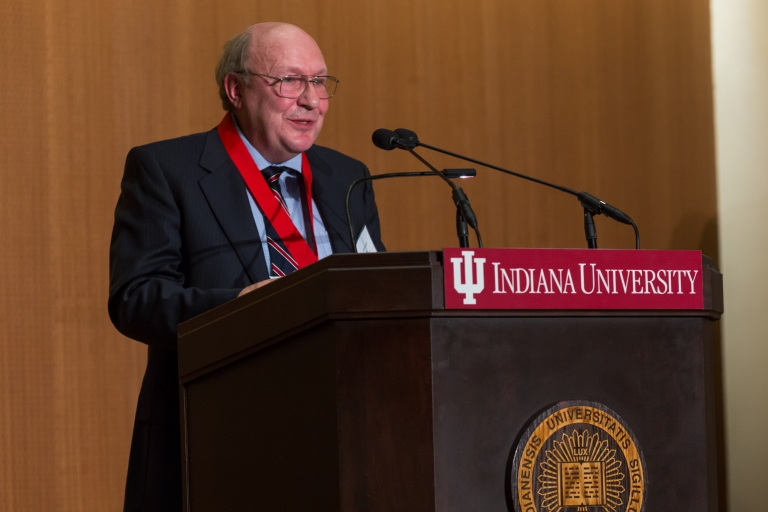 INDIANAPOLIS – Alexander Its, an Indiana University Distinguished Professor of Mathematics at IUPUI, has been awarded the President's Medal for Excellence, the highest honor an IU president can bestow.
IUPUI Chancellor Nasser H. Paydar presented the medal to Its on behalf of IU President Michael A. McRobbie at the annual Academic Excellence Dinner on Oct. 24.
"This latest honor adds to the many accolades reflecting the tremendous contributions that Dr. Its has made to the discipline of mathematics at IUPUI and around the world," Paydar said. "To present the award to him on behalf of President McRobbie was a privilege I will never forget."
The medal is given to recognize exceptional distinction in public service; service to Indiana University; achievement in a profession; or extraordinary merit and achievement in the arts, humanities, sciences, education or industry. The medal itself is a reproduction in silver of the symbolic jewel of office worn by IU's president at ceremonial occasions.
Its joined the Department of Mathematical Sciences faculty in the School of Science at IUPUI in 1993. He has been described by his peers as "one of the best applied mathematicians of our time" and his work as "definitive, revolutionary and transformative."
He has worked tirelessly on research involving partial differential equations and related aspects of spectral theory and algebraic geometry, soliton theory, and exactly solvable quantum field models. Its has published more than 130 research papers and five books, and he has given more than 200 invited lectures at leading institutions and scientific meetings all over the world.
In addition to being named a Distinguished Professor of IU, Its was chosen by the London Mathematical Society as its 2002 Hardy fellow and selected by the Israel Academy of Sciences and Humanities as one of its 2009 Batsheva de Rothschild fellows.
He was honored as an inaugural fellow of the American Mathematical Society in 2012, the same year that a workshop, Integrable Systems and Random Matrices, was held in his honor at the Institut Henri Poincare in Paris.
Its and his wife, Elizabeth, an associate research professor in the Department of Mathematical Sciences, pledged a $1 million planned gift to the School of Science in 2016. The gift will endow a professorship and an undergraduate scholarship.
"This gift is a small portion of what we'd like to do to express our appreciation for all these years at this great school," Alexander Its said. "We are very fortunate to witness and be a part of the growth of this institution where we've been able to move up together."