In the past two years, the Multicultural Greek Council has welcomed four new culturally based organizations to the Indiana University Bloomington campus, bringing the group's total to 12.
The Multicultural Greek Council, one of four Greek councils at IU Bloomington, oversees culturally based fraternities and sororities on campus. With a mission to foster a space for cultural awareness, the organization houses Latina, Latino Asian, South Asian, multicultural and Lutheran fraternities and sororities.
"For many of us, we come to IU and we are culture shocked," said Jose Arellano, the council president and a member of the Latino fraternity, Lambda Upsilon Lambda. "Multicultural organizations like these give minority students a home away from home and a community they feel comfortable with."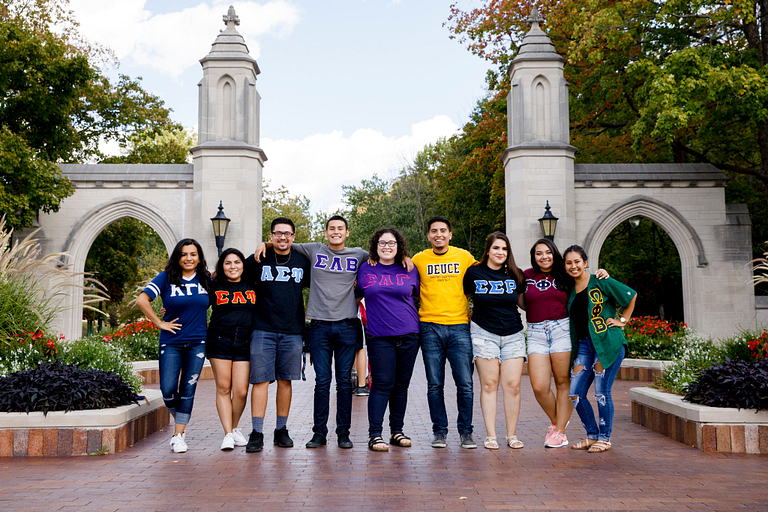 Arellano said he struggled to connect with other students when he first came to IU. He found it difficult to meet people who are passionate about the same things he is, like reggaeton music. But after a senior introduced Arellano to the Latino fraternity, IU began to feel more like home for him.
The Multicultural Greek Council provides a space for students of color and minority to undergo personal and professional development, while giving back to communities that are often marginalized, said Arellano, who found a pathway to positively impact the younger Latino population through joining the Greek organization.
Each year, Lambda Upsilon Lambda brings local Latino high school students to the Bloomington campus through their philanthropy, the Providing Access to Higher Education program. In addition to facilitating campus tours, members mentor students, prepare them for college through workshops and advocate for Latinos in the educational system.
"For most first-generation students, it's hard to understand the importance of college, and they get stuck in the same cycle," said Arellano, who is a first-generation college student himself. "We want to help put them on a path to success."
While each group focuses on its own unique service project or philanthropy mission, community involvement is a key aspect of all of the Multicultural Greek Council organizations.
"A big thing that MCGC organizations have in common is that we are strong in our values," said Caroline Hewitt, a member of the council's executive board and Chi Delta Phi, a Lutheran-based sorority. "You come together to lift each other up and build a bond, but also to achieve a goal."
Other projects organized by the multicultural groups include Sigma Lambda Gamma's Cupcakes, Pups and Canvas event at La Casa, and Sigma Sigma Rho's Bollywood Dance Night.
Xochitl Haro, a new Omega Phi Beta member, chose the sorority because of its mission to raise awareness about issues women are facing today, especially violence.
"Being someone who has experienced difficult relationships, I was definitely attracted to having a group of women I was comfortable with and could go to for support," Haro said. "We created a bond through our similar experiences."
Events like Omega Phi Beta's gallery walk, where women share their experiences of violence through poetry, song or even painting, offer opportunities to foster the type of connection Haro and her sorority sisters value so much, she said.
While the number of multicultural communities is growing, the council members are working to determine new ways to educate more students about their existence.
There is no collective formal recruitment process for the culturally based fraternities and sororities. Most organizations within the Multicultural Greek Council will host information sessions during the fall and spring semesters for all prospective members to attend. The values of scholarship, brotherhood and sisterhood, and service are emphasized in their membership selection process, Arellano said.
For those interested, Arellano recommends doing research on each organization before reaching out. He said to pick a few whose values stand out, and then attend an information session or contact a current member to better determine whether it's a good fit.
And while the group is small, Hewitt said it's not hard to find an organization that fits your needs.
"MCGC is a place where so many people can find that community they have been looking for," she said.