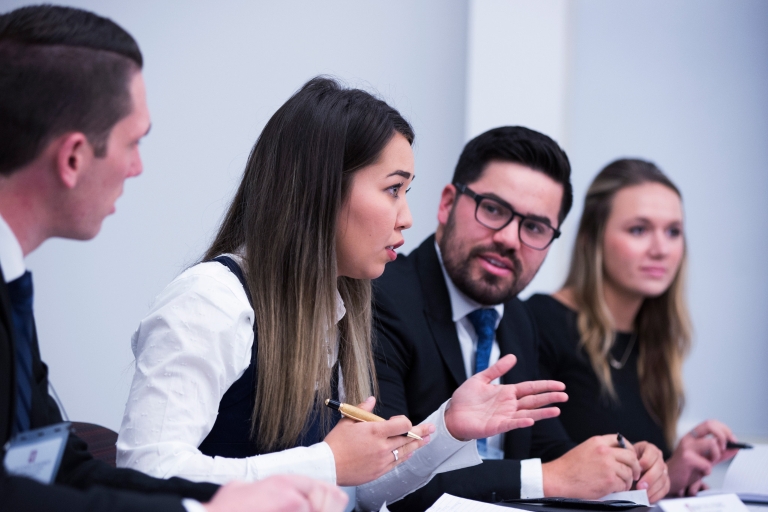 For the 11th straight year, Indiana University's Kelley School of Business recently hosted the National Team Selling Competition, welcoming teams from 22 universities and colleges.
Schools that competed in the two-day sales contest included Big Ten peers Penn State and Michigan State universities, as well as the historically black institutions Morehouse College and Xavier University of Louisiana. About 90 students and their faculty coaches came to IU Bloomington from one coast to the other – from the University of Connecticut to the University of San Diego.
Organizers at Kelley's Center for Global Sales Leadership worked for months preparing for the competition, which was held Oct. 12 and 13.
Two weeks before the competition, teams were given a 15-page document that presented a realistic yet fictional business case. Students on each team represented a hypothetical company, Nature's Nibbles, hoping to sell its healthy snack bars through a fictitious convenience store chain called Friendly Corner Stores.
Teams were judged on their performance during two rounds of role-playing exercises with judges from sponsoring companies Altria Distribution Co. and 3M.
In the first round, teams were judged on how they performed during their initial appointment with Friendly Corner. In the second round, they were judged on their ability to identify and understand Friendly Corner's needs, overcome objections and develop an action plan.
Three top finalists competed in a third round, where they presented their proposal to the CEO and shareholders of the convenience store chain. Michigan State emerged victorious, followed by the University of Richmond and the University of Kansas. A total of $6,000 in prize money was awarded.
"This whole experience has been a big growth opportunity," said Kelsey Clements, a member of the winning team. "I've learned so much just from working with so many people."
"You're practicing your sales experience, and the only way to do it is through these competitions," said Elenna Cuevas, a member of the Kelley team from Westfield, Indiana.
That's the point, said Candace Mailand, sales innovation manager at 3M.
"It's one thing to graduate from university with a degree in hand, but it's another when you actually can put your knowledge and the skills that you're learning to work," Mailand said. "I think competitions like this provide students with real-world learning opportunities to practice their skills and help them prepare for their profession."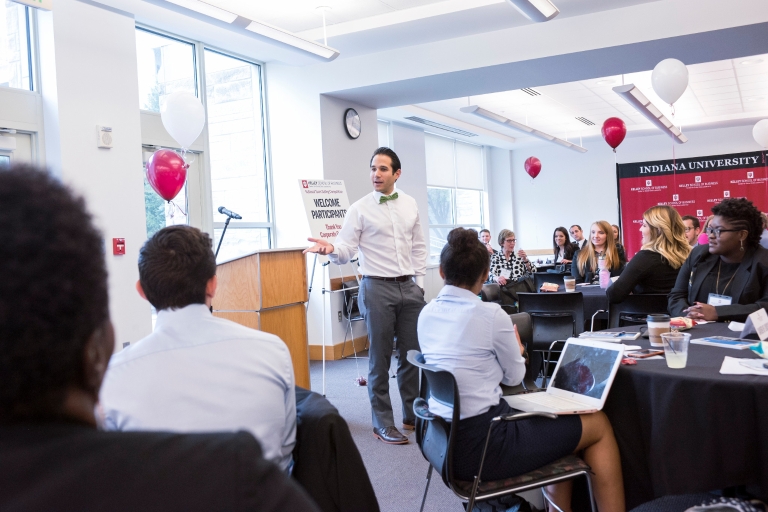 The competition's team-based approach and its complexity differentiate it from other sales contests around the country, said Michael Ames, director of section sales for Altria and a Kelley alumnus.
"The fact that this competition is a team-selling competition reflects the evolving nature of sales, especially at higher levels," Ames said. "It's not as transaction oriented. It's about managing longer relationships, bigger types of sales with more individuals on your team."
Hosting the team sales competition demonstrates how much Kelley has been an early leader in sales education, Ames said, noting that it is the only top 25 business school to host such an event.
Ames said Kelley has "taken a bold step" in emphasizing that sales is a skill and on par with accounting, finance and business disciplines.
"A disproportionate number of CEOs started their careers in sales," including Altria's former leader and Kelley alumnus Michael Szymanczyk, he said.
"Kelley does a good job of bringing the technical aspects and the art of it together and make selling something that its graduates enjoy, understand and really excel at."
While its team did not emerge as the winner Friday, Kelley is the only top 10 undergraduate program to offer a professional sales major. Fewer than 25 business schools nationwide offer such a degree.
"The demand for students who can represent companies in customer-facing roles is very large," said Charles B. Ragland, executive director of the Center for Global Sales Leadership and a clinical assistant professor of marketing. "Then they move up, out of those roles and into sales and marketing management jobs, depending on the company."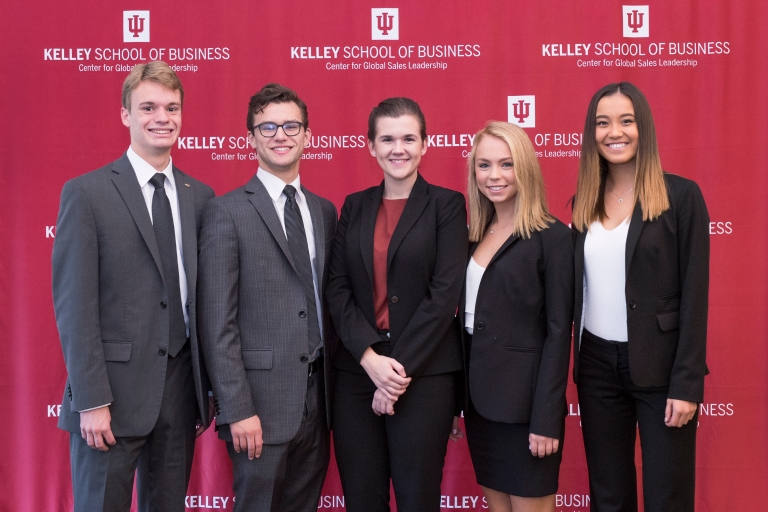 About 150 Kelley students graduated this spring with a major in professional sales, and most double-major in another business discipline. All of them left with a job at places such as consumer products giants Procter & Gamble, Whirlpool, Kraft, Altria and 3M. Two hundred students are enrolled in professional sales classes this fall.
In addition to organizing the competition, the Center for Global Sales Leadership works closely with corporate partners to create programs and events that get students excited about careers in professional selling and sales management. Each semester, the center provides multiple opportunities to partner with different student groups at Kelley, including the Global Sales Workshop, Sales Club and professional sales majors.
More than 60 Kelley students competed in an earlier, one-on-one competition in order to be selected to participate in the National Team Selling Competition, said Sonya Dunigan, assistant director of the Center for Global Sales Leadership. Dick Canada, a senior lecturer in marketing and the center's founder, coached the Kelley team.
Feedback is given to students during the competition. All faculty coaches and participants receive a video of their school's performance as well as a video of the case debrief, so they can continue to learn from the National Team Selling Competition experience.
Mark Rich, another member of the Kelley team, noted the value of competing against and meeting sales students from other universities.
"When you're fortunate to already know what career path you want to go down, it's great to be able to start off at the collegiate level to meet fellow sales people," said Rich, of Union, Kentucky. "For all we know, we'll be working with these individuals full time or in internship roles coming up.
"Here, we learn others' strategies. We can compare notes and really build relationships that are not just for this week, but hopefully for a lifetime."
George Vlahakis is associate director of communications and media relations for the IU Kelley School of Business.