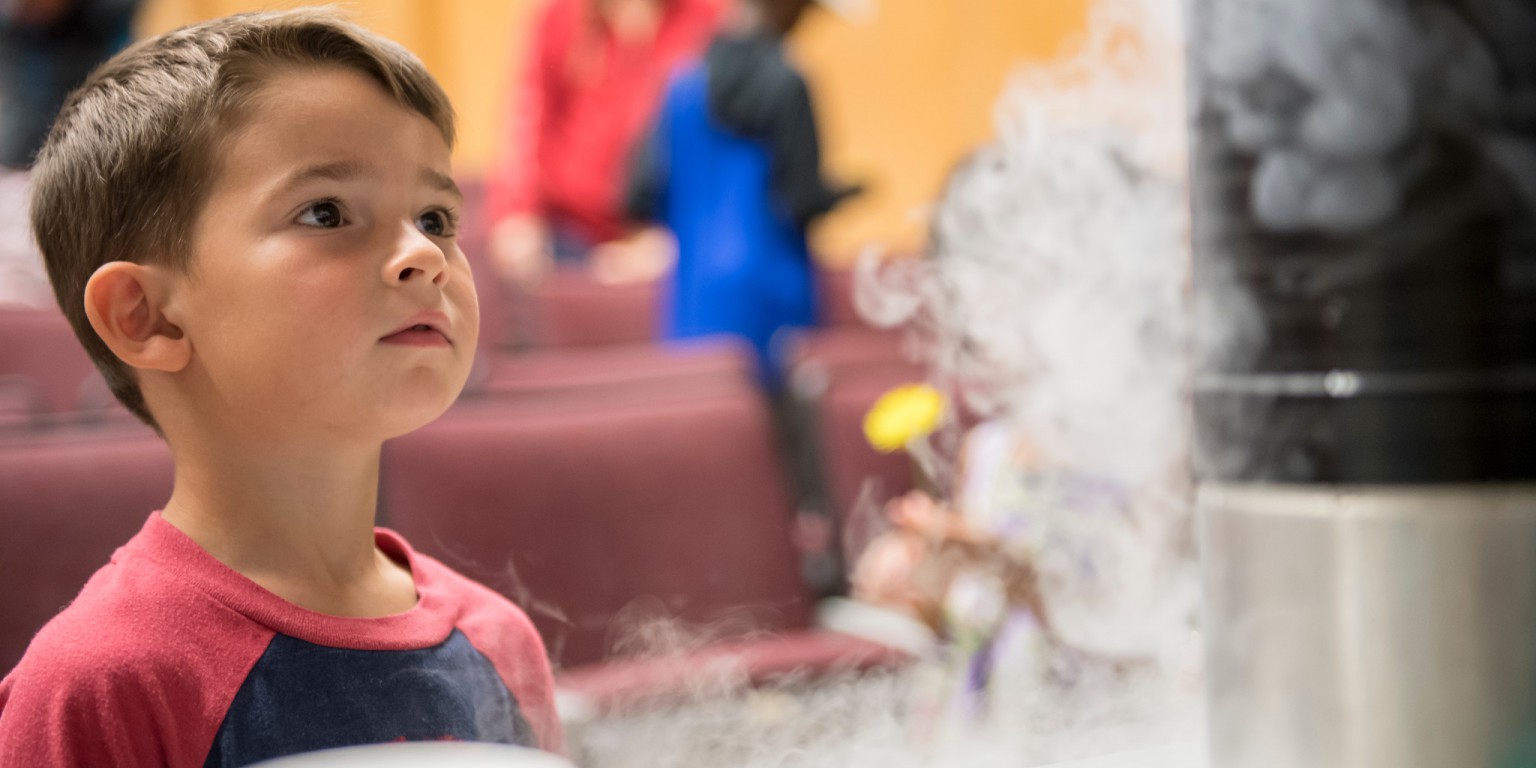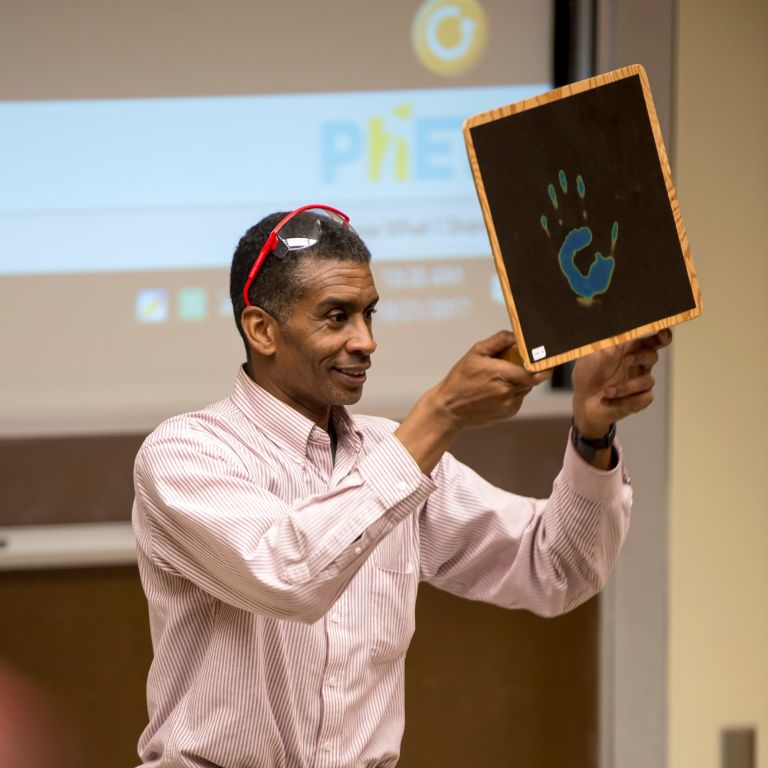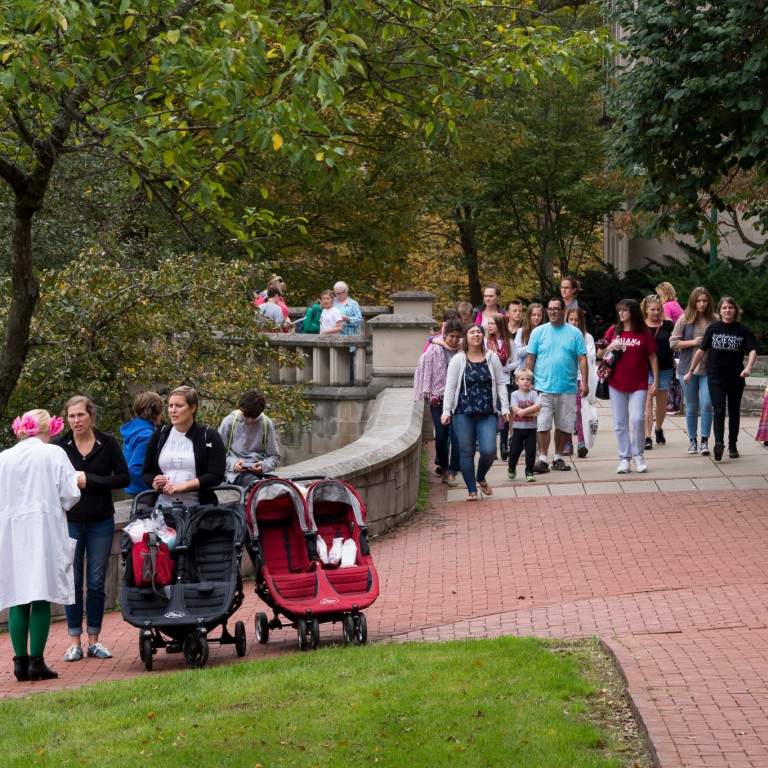 Photo courtesy of Marc Lebryk, IU Communications.
Indiana University welcomed nearly 2,000 kids and adults of all ages to the fourth annual IU Science Fest on Oct. 21. The event included over 150 science-related activities, presentations and demonstrations across the IU Bloomington campus.
Science Fest has become an annual tradition at IU to communicate and share enthusiasm about science research with the community. This year's event represented 17 scientific areas from the IU Bloomington College of Arts and Sciences where guests could directly interact and learn from over 550 faculty and student volunteers.
One popular event for budding entomologists was a presentation on insect biology in south-central Indiana. The 30-minute lecture was led by Armin Moczek, a professor in the College's Department of Biology. Moczek presented three "case studies" on insect behavior, morphology and communication.
"Science has awesome problem-solving power," Moczek said. "Science Fest conveys that power to young kids, and not-so-young kids, which helps kindle, maintain and intensify their excitement about it."
The "Tale of Two Fireflies" case study sparked curiosity and laughter among the young audience, whose lively answers to questions about why female insects eat male insects helped demonstrate what Moczek regards as the power of Science Fest to excite children about the natural world. Science Fest also helps communicate the importance of diversity in science, Moczek added.
"It portrays the diversity of research being done at IU, and portrays the diversity of researchers that exists," he said. "Scientists come from all walks of lives – genders, socioeconomic backgrounds, racial backgrounds; an awesome scientist can come from anywhere."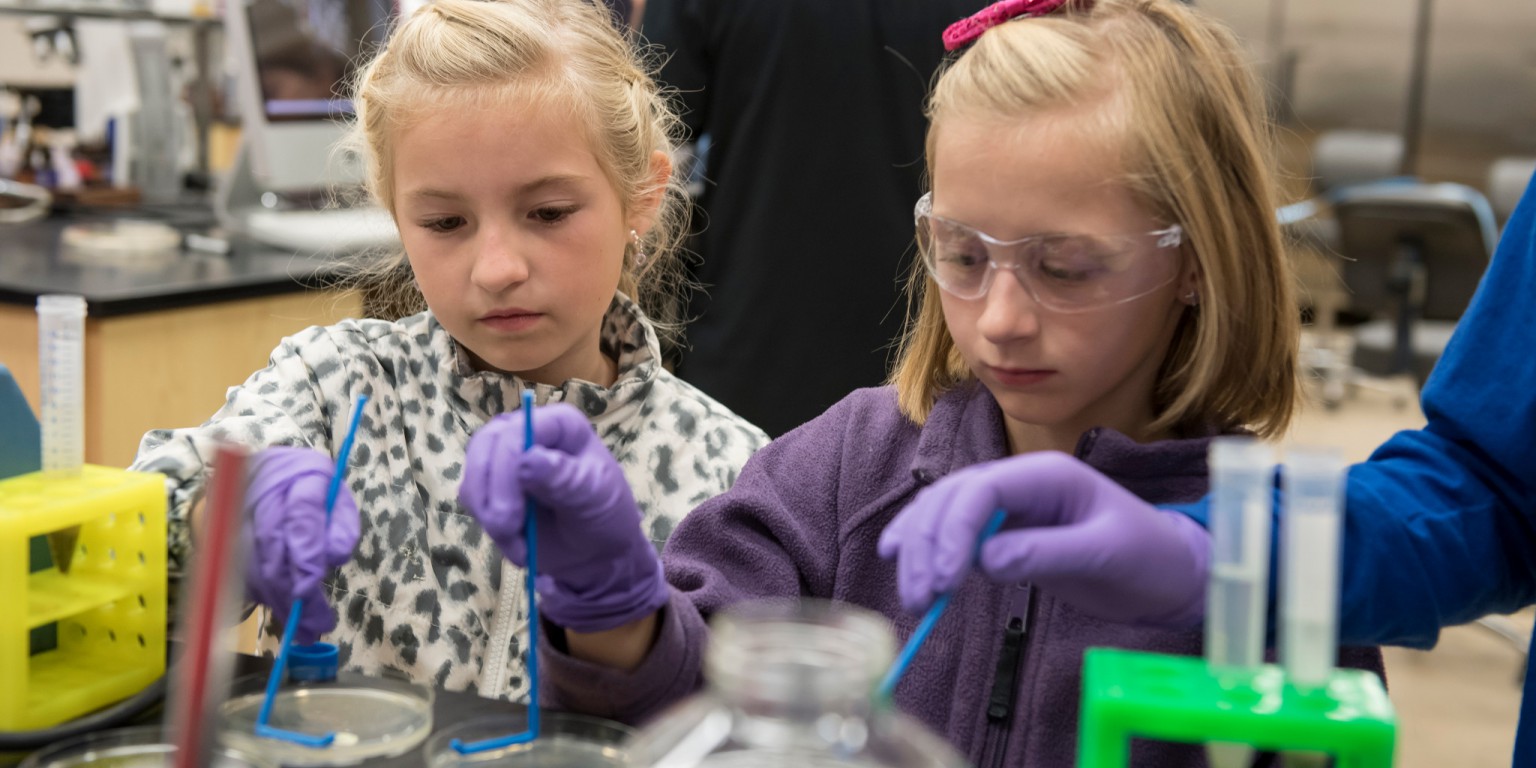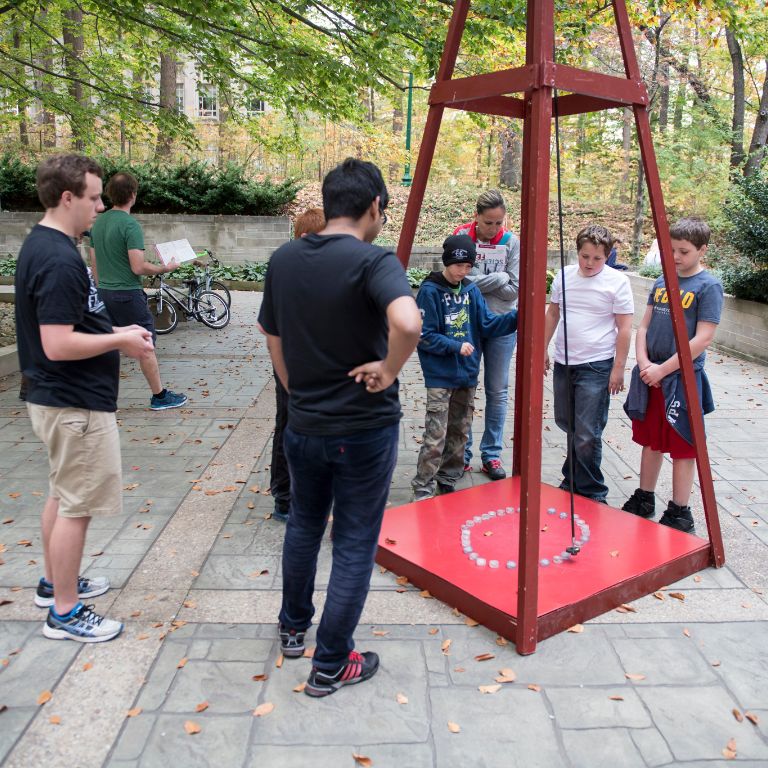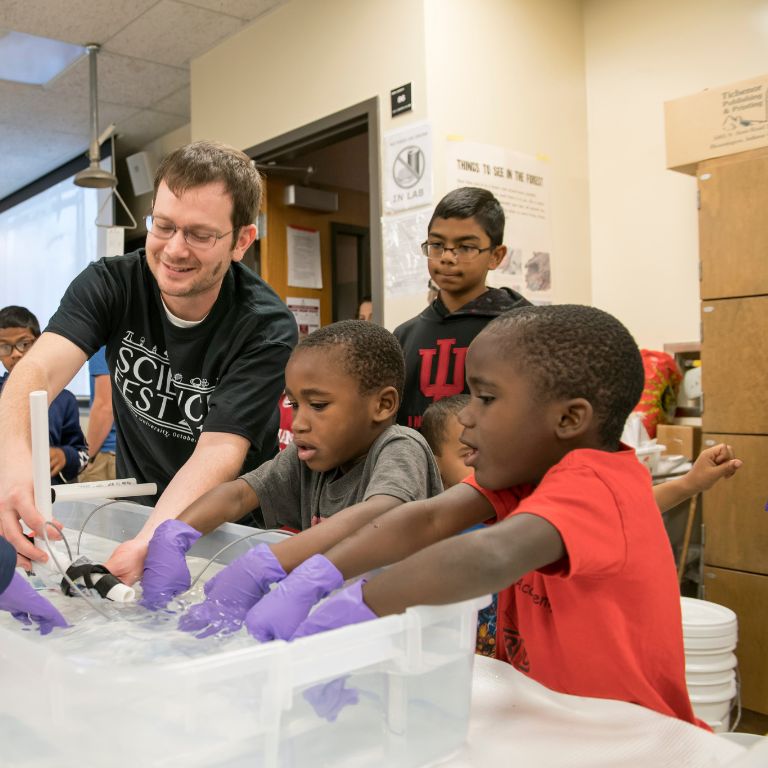 Photo courtesy of Marc Lebryk, IU Communications.
Other family-friendly events included exploring Dunn's Woods, a woodland pond "photo journey," and tours of the Department of Chemistry's Molecular Structure Center and the Mass Spectrometry Lab. Visitors could also experiment with virtual-reality headsets with the School of Informatics, Computing and Engineering and observe the Mad Lab's 3-D printer and laser cutter in action with Science Fest's newest partner, the School of Art, Architecture + Design.
Guests navigated campus with the help of science images and sidewalk chalk identifying each building. One of the most popular attractions was the live electric fish demonstration in Jordan Hall.
This demonstration was hosted by G. Troy Smith, associate professor in the Department of Biology. Smith and colleagues used microphones, speakers and monitors to show how electronics can be used to "see" and "hear" the fish's electrical signals. The exhibit also used video to show how male and female fish use these signals to attract the opposite sex. Visitors were encouraged to grab a pair of gloves and interact with an artificial electric fish to learn how their electrical fields detect objects underwater.
Adam Smith, a former postdoctoral fellow and a lecturer in the Department of Biology, assisted with the demonstration. "One of the things about electric fish is that kids really get excited about it," said Smith, who is also affiliated with the Center for the Integrative Study of Animal Behavior. "It's a way for kids to think about biodiversity and grasp the idea that animals can communicate in ways that we can't."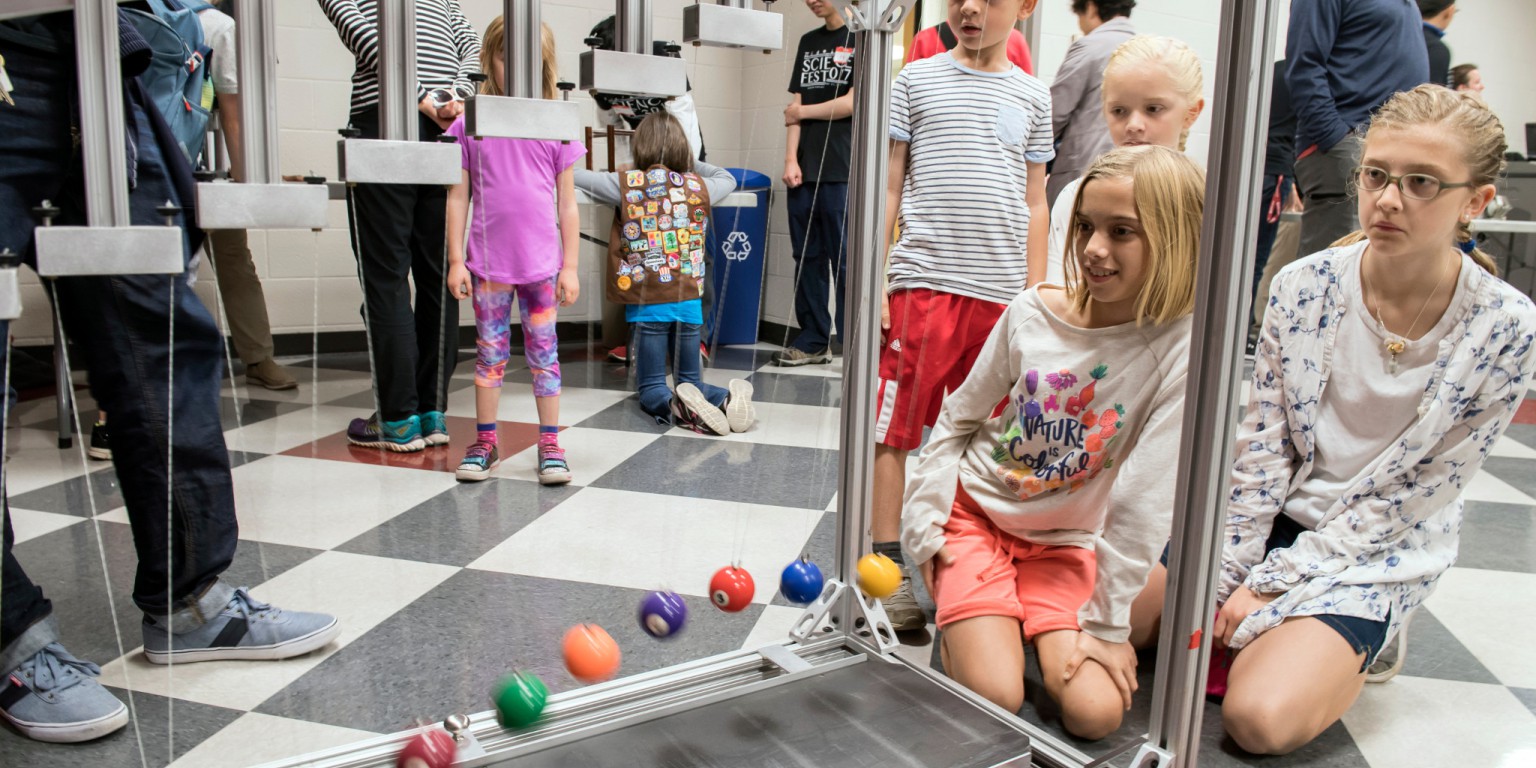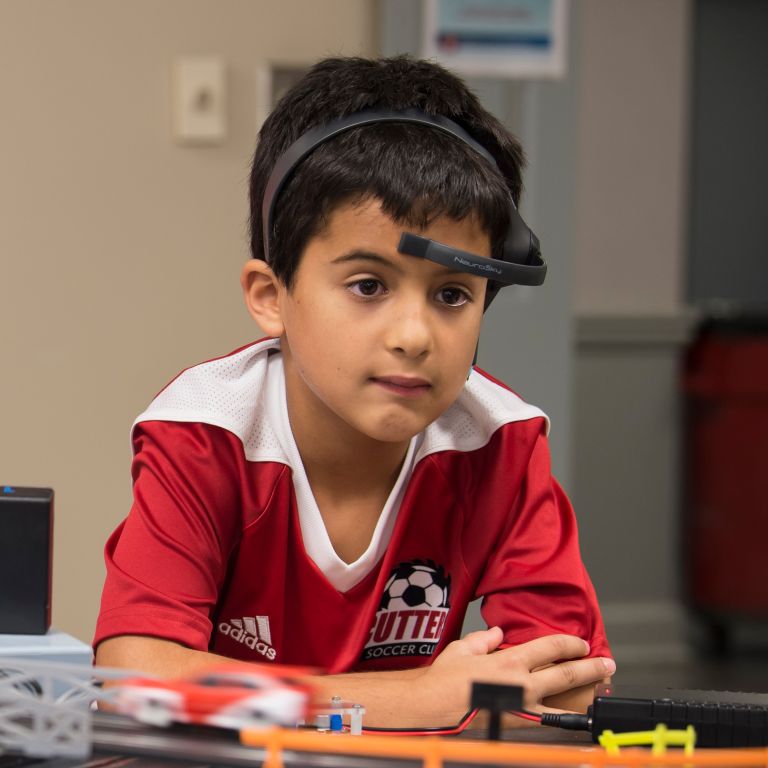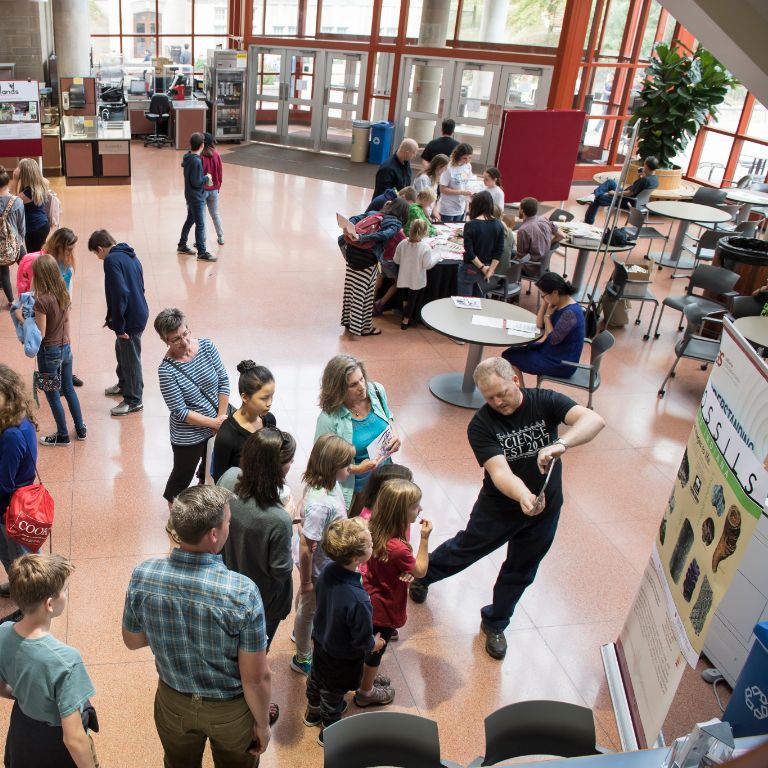 Photo courtesy of Marc Lebryk, IU Communications.
Another popular event was led by students in the Department of Anthropology.
The event included the chance to imitate the gait of ancient hominids by walking inside a replication of the Laetoli footprints – 3.6-million-year-old footprints discovered in the volcanic ash of Tanzania – as well as examine ancient fossil casts to gain insight into how humans learned to walk on two legs. Another activity, inspired by the "paleo diet," compared different mammal skulls to show the connection between teeth and diet.
"There were lots of hands-on activities and different types of data on display," said IU anthropology professor Andrea Wiley, who helped plan and provide expertise to the activities. "The kids – as well as the parents – were very engaged and had lots of questions."
Outside the Student Building, IU graduate students used a 20-gallon trash can and multiple Ping-Pong balls to simulate a volcano eruption. Nearby, the Department of Earth and Atmospheric Sciences held interactive stations where kids could dig for fossils, record their own earthquake with a seismograph and grab a hammer to discover geodes.
Other interactive stations took place in the Department of Astronomy's activity room, where second-year astronomy graduate student Nick Smith volunteered to make comets for the day.
"We're making comets, which are basically giant balls of rock and ice that go through the solar system," Smith said. "Actually, we're making mini versions of that today by using dry ice, dirt, maple syrup and water. And then we squeeze it together really tight."
Although "comet creation" isn't exactly a part of his usual research, Smith said he wanted to work the event.
"I love it," he said. "It's messy and hands-on and fun. We've had probably over 100 kids come through so far."
"We have to make the next generation of scientists," he added. "Doing all of this hands-on stuff really gets kids interested in what's out there."
IU Science Fest is hosted by the IU Bloomington College of Arts and Sciences, its departments and its Office of Science Outreach.