While in graduate school at the Indiana University Jacobs School of Music more than three decades ago, French horn player Rick Seraphinoff realized there was no easy way for his fellow students to buy the 18th- and 19th-century valve-free-style of instrument known as a natural horn, a passion he and his now-wife Celeste built together as Jacobs students.
His solution? Begin making his own.
Now the professor of music at the Jacobs School turns out about one horn a month from his home workshop in rural Monroe County, copied as precisely as possible from originals he measures.
"In the 1970s there wasn't really anyone making really good copies of old horns when I started, so you could have whatever was being made at that point or buy an antique instrument, which was way too expensive for somebody who was a student," he said.
After taking classes in metalsmithing at IU and visiting instrument makers, Seraphinoff began to experiment, making both natural horns – without valves, which change the length of tubing and are used on most modern brass instruments today – as well as with detachable valve sets. He had tooling made to form the parts and visited museums to measure old instruments and record their dimensions.
'A Craftsman's Legacy'
Now Seraphinoff's horns end up all over the world, mainly to players in period music groups and universities.
"A lot of them, more than half of them, go to Europe, because the period instrument business is really big there, in Germany and the Netherlands and England," he said.
Actually making each horn is a multistep process: Making the bell, bending tube, adding a number of details like filing and hammering pieces, and finally polishing the completed horn. He completes that last step outdoors, because polishing can get messy.
"I sit here with the finished instrument at the polishing machine, which throws up lots of dust, and just get filthy," Seraphinoff said. "It's one of the reasons why we have a kitchen and a bathroom and a shower in the workshop building, so that I'll be allowed to come in the house. It really is dirty work, doing that final polishing."
Over the course of his career, he's made close to 500 horns. He numbers them all to keep a record of when they go out – a necessary tool since his current wait list for buyers is a year and a half.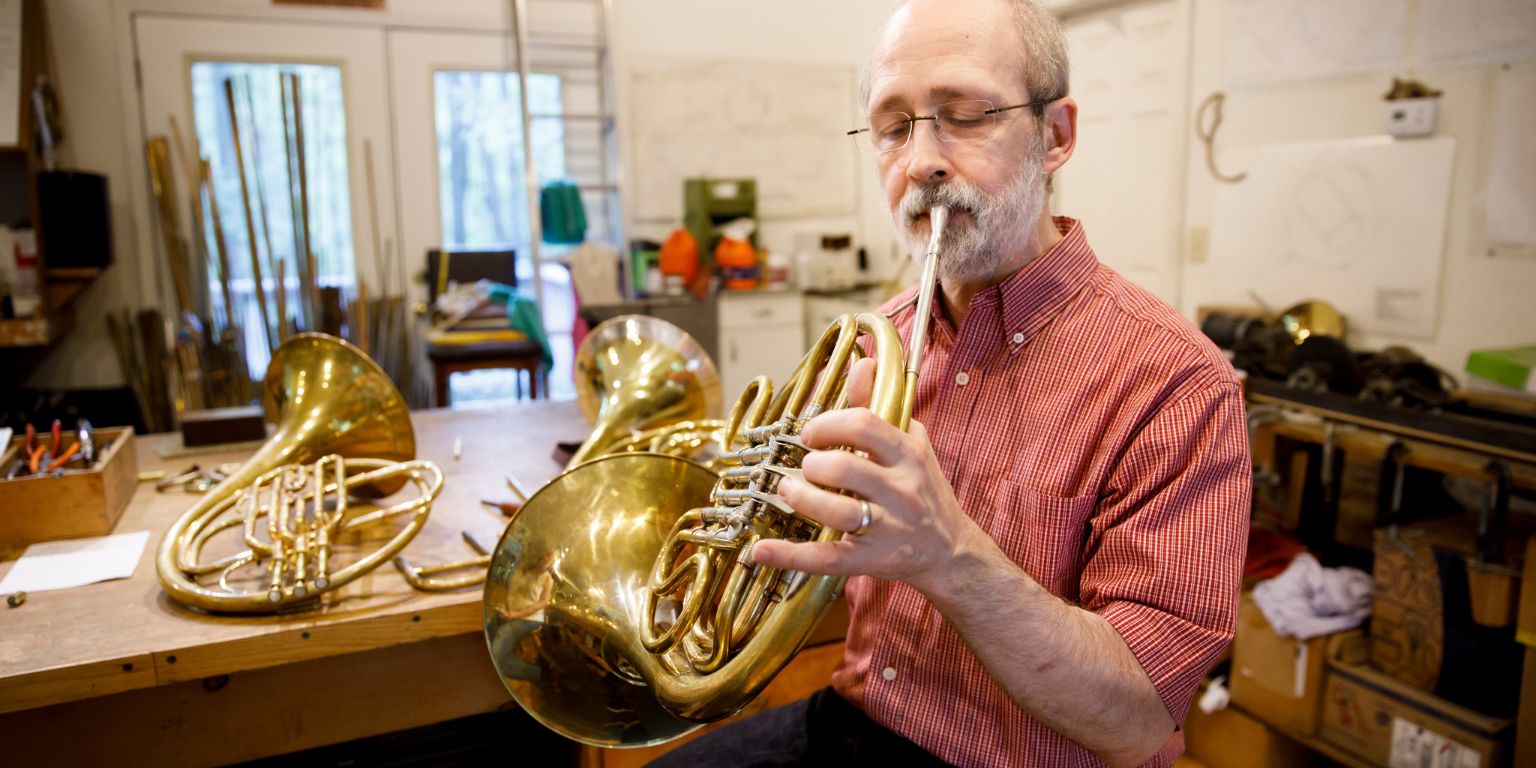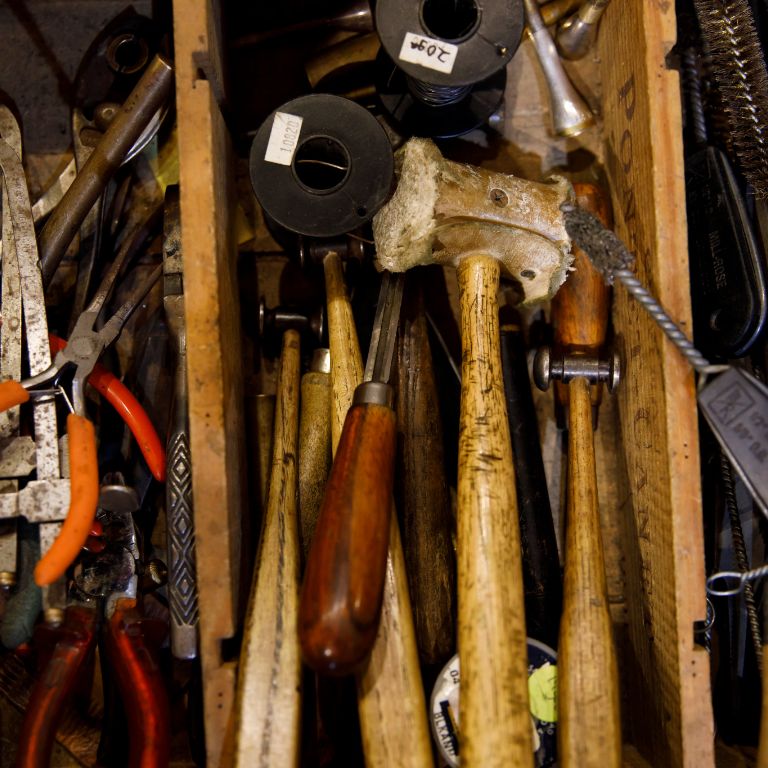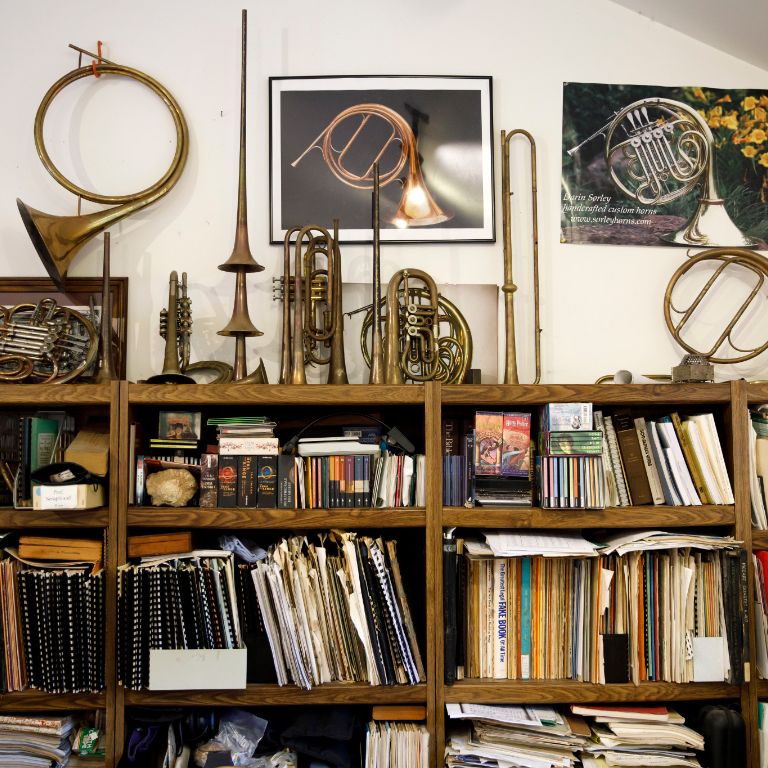 Photos by James Brosher, IU Communications
He stays busy teaching French horn and the history and literature of brass instruments four days a week, devoting Fridays to crafting horns. Summers allow him to make steady progress as well, but teaching summer workshops in Bloomington and in Germany each year keeps his schedule tight.
"Every once in a while if I get a sabbatical, every seven years, I'll put together some cool research project like studying a particular model of horn," he said.
Seraphinoff's sabbaticals have taken him to Salzburg and Edinburgh to research and lecture on various horns, their history and historical methods of making them. He's still in the process of deciding what to do with his next one, but he's enjoying staying active in the horn community and spreading his knowledge to students and apprentices.
"It's fun to stay in the business," he said. "Then when you're teaching students about music and orchestral literature, you're not too far away from doing it yourself."
Seraphinoff said he developed his passion for horns in elementary school, when he started playing the trumpet. By high school, though, he had braces on his teeth, necessitating an instrument change.
He realized immediately what a better fit the French horn was for him than the trumpet. The music opportunities were wide, and Seraphinoff felt drawn to the "middle voice" personality that came with the French horn.
"Trumpets play in all sorts of music, commercials, jazz, orchestras, bands, but I think there's a little more of an athletic personality to that," he said. "We horn players stay in the background and put a nice kind of foundation down for other people to play on top of, but we also get to have our own soloistic voice too."