Fall Break begins Friday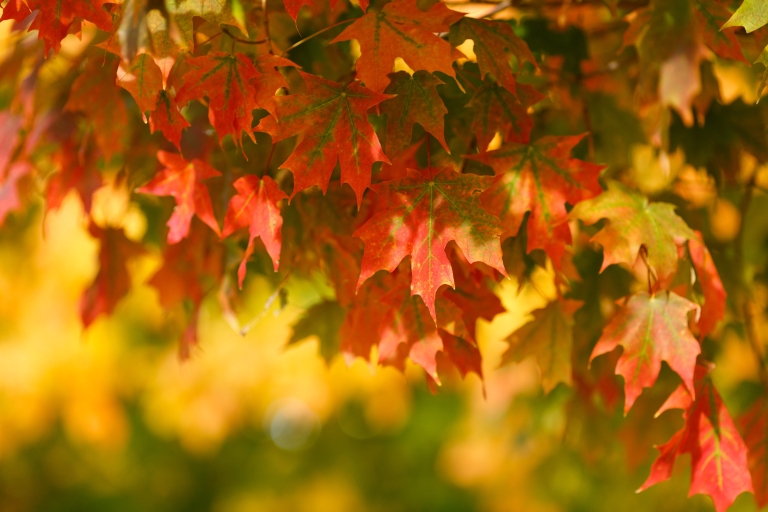 Fall Break on the Indiana University Bloomington campus will be from Friday, Oct. 6, to Sunday, Oct. 8. Classes will not meet Friday.
Residential Programs and Services Dining will have reduced hours during the break. Regular hours for all dining halls will resume Monday, Oct. 9. Changes to campus bus routes will also be in effect during Fall Break. There will be limited service on A, B and E routes and no X route service, but the Night Owl will run as usual.
The Indiana Department of Transportation encourages all motorists to plan for expected delays on State Road 37 between Bloomington and Martinsville. INDOT recommends using the alternate routes of State Road 46 east to I-65 north or State Road 46 west to State Road 67 north for travel from Bloomington to Indianapolis. Lane restrictions will remain in place on State Road 37 between Chambers Pike and Legendary Drive until Dec. 1. Motorists are reminded that the entire 21-mile work zone has a strictly enforced 45 mph speed limit.
See the official academic calendar for other breaks this semester.
IU Board of Trustees to meet Oct. 5 and 6 at IUPUI
The IU Board of Trustees will meet Thursday and Friday, Oct. 5 and 6. Meetings will take place in the University Tower ballroom on the IUPUI campus.
A schedule and an agenda for the meeting are available on the Board of Trustees website. Indiana University will be live-tweeting from the meeting using the hashtag #IUBOT.
A special edition of Inside IU will be sent to all subscribers and selected media outlets following the meeting of the IU Board of Trustees. Subscribe to receive the digital publication in your inbox.
Renovated Agnes E. Wells Quad Student Residences dedicated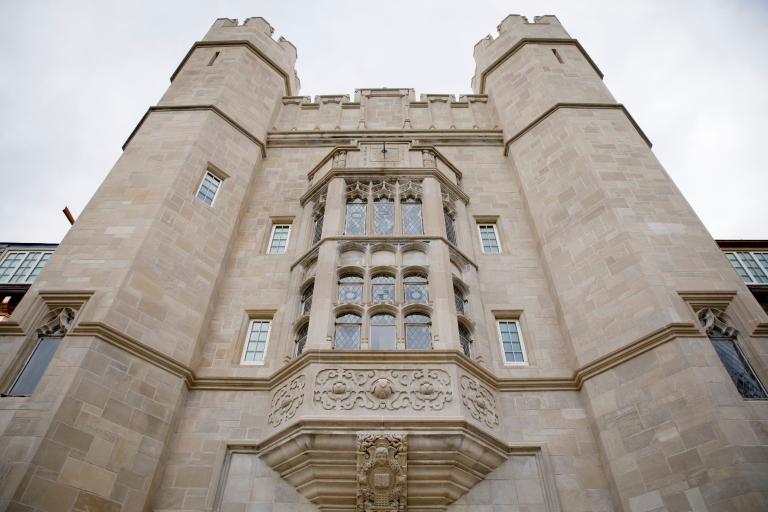 The renovated Agnes E. Wells Quad Student Residences were dedicated Sept. 25 on the Bloomington campus during a ceremony that Indiana University President Michael A. McRobbie presided over.
In 2015, the IU Board of Trustees approved the Wells Quad renovation project with a budget of $30 million. It features the Goodbody Eatery, a new dining hall that hosts a patio and a branch of the popular Kirkwood Avenue institution Nick's English Hut. Wells Quad houses a science, technology, engineering and mathematics learning community for students in related majors.
Provost issues statement regarding Benton Murals
On Sept. 29, IU Bloomington Provost and Executive Vice President Lauren Robel issued a statement concerning the Benton Murals in Woodburn Hall Room 100.
Read the full text of her statement on the provost's website.
IU, Kelley School and Whirlpool partnering on Habitat for Humanity campus build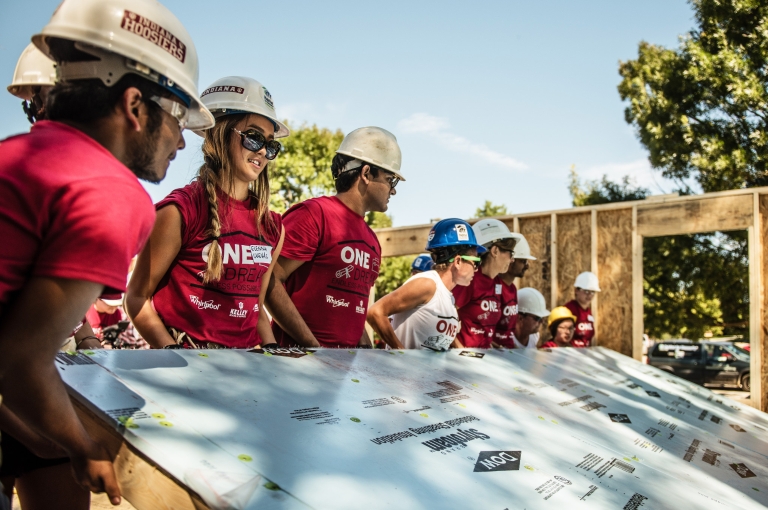 The eighth Habitat for Humanity house being built on campus by a Bloomington resident and IU Kelley School of Business students, faculty, alumni and staff will be underway soon.
The build is sponsored by Whirlpool Corp., which will be providing all of the house's appliances. Construction will begin Oct. 3 at a new location on the IU Bloomington campus: at the intersection of 17th Street and Fee Lane.
The house will be dedicated at 9:30 a.m. Saturday, Oct. 14. Irving Castaneda Baltazar, the soon-to-be owner of the home, will accept his house keys a short time later on the field of Memorial Stadium, before IU's football game against the University of Michigan.
More than 400 undergraduate and graduate students from about 15 Kelley and IU campus organizations will volunteer for the build, along with faculty, administrators and IU alumni, including those now working at Whirlpool.
After the 10-day blitz build, the house will be moved to South Rogers Street on Bloomington's south side.
China's consul general in Chicago to visit IU Bloomington, present lecture
Hong Lei, consul general in Chicago of the People's Republic of China, will visit IU Bloomington this month to meet with students, faculty and administrators and give a public lecture on U.S.-China relations.
The consul general will be on campus Oct. 15 to 17. His lecture, "China's Recent Advances and the China-U.S. Relationship," will take place at 4 p.m. Oct. 16 in the Grand Foyer of the IU Auditorium.
He is expected to be accompanied on the visit by other officials from the Chinese consulate in Chicago. The consulate covers nine Midwestern U.S. states, including Indiana.
NIH awards IU biologist $1.89 million to 'disarm' deadly bacteria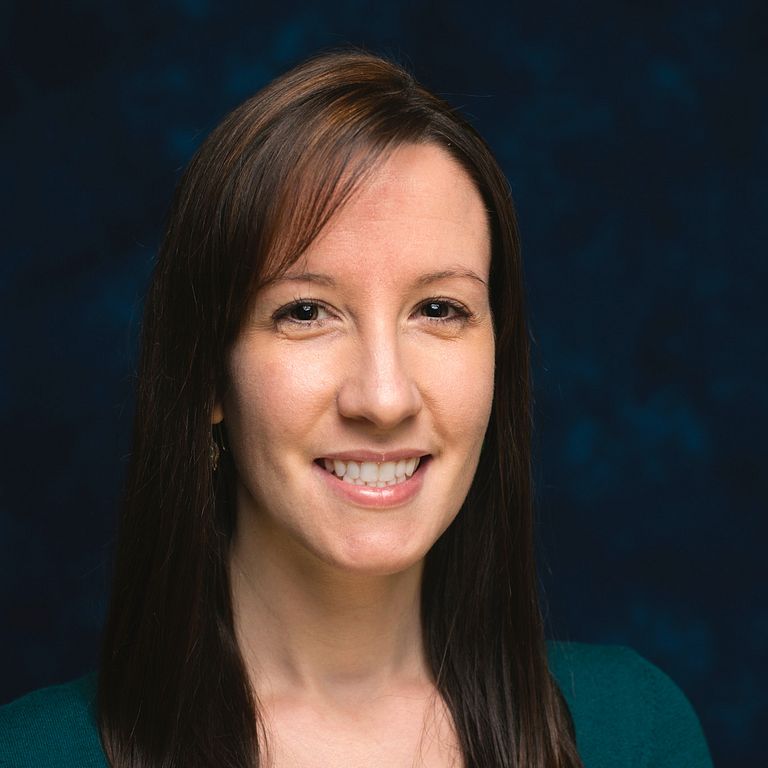 The National Institutes of Health has awarded a biologist at IU Bloomington a grant to investigate the disruption of "cellular chatter" in bacteria that cause diseases such as tuberculosis and cholera.
Julia C. van Kessel, assistant professor in the IU Bloomington College of Arts and Sciences' Department of Biology, will receive $1.89 million from the National Institutes of Health's MIRA Award program to study "quorum sensing," a form of cellular communication that helps microorganisms detect whether their population numbers are large enough to perform an action. These actions could be as benign as emitting a faint glow or as dangerous as launching a disease-causing attack against the body.
MIRA, or Maximizing Investigators' Research Award, grants are part of the National Institute of General Medical Sciences' Outstanding Investigator Award Program. The awards are granted to investigators with outstanding records of productivity and innovation. Support from the NIH award officially began Sept. 18.
Fall 2017 Energy Challenge will wrap up later this month
The Fall 2017 Energy Challenge – a semester-long competition between various campus buildings, including academic and office buildings – kicked off Oct. 2 and will end Oct. 31.
During the four weeks of the challenge, electricity and water use for each building will be compared against that building's own calculated baseline. The fall 2016 challenge resulted in a savings of more than 100,000 kilowatt hours of electricity and 320,000 gallons of water.
Additional information, including a rankings calculator, is available from the Energy Challenge.