For a large part of her life, Indiana University Bloomington freshman Ruby Flores Camacho was not in touch with her Hispanic heritage. She felt as if she needed to hide her identity because of negative stereotypes that are sometimes associated with being Latina.
All that has changed since she arrived on campus in July for the Intensive Freshman Seminar.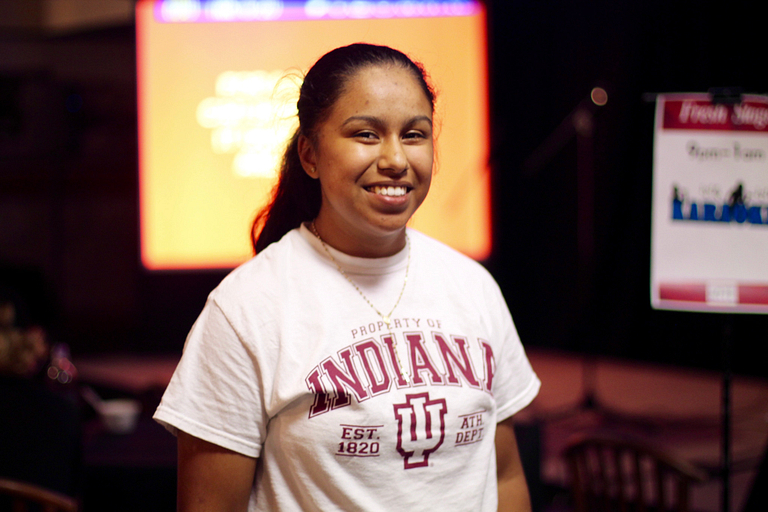 "Talking to other Latinos on campus and in higher education, I've realized that our stories matter, and they have to be told so we can get a seat at the table, get our opinions out there and help others," Flores Camacho said. "I am a Latina and I should be proud, because we have a rich culture."
Flores Camacho has found her place on campus at IU Bloomington's La Casa, the Latino Cultural Center. She works there 10 hours each week as part of her Cox Legacy Scholarship, answering phone calls, giving tours and coordinating events. She's been involved with National Hispanic Heritage Month celebrations and is planning two professional development programs each semester for La Casa. This semester's programs include a discussion on how to make studying abroad affordable and a panel with the Latino Graduate Student Association about postgraduate studies preparedness.
La Casa director Lillian Casillas said that although Flores Camacho has only worked at La Casa for a few months, she's made a big impact.
"We deal with so much programming and traffic of people that our employees need to be able to connect with a diverse group of folks but also be focused," Casillas said. "Ruby's initiative and willingness to jump in and help make her an ideal employee. She's passionate about being a connecter and is savvy about seeing La Casa beyond what we do in our own building."
Flores Camacho displayed her initiative during the recent IU Family Weekend, according to Casillas. She was off the clock visiting La Casa with her mother when the center suddenly got slammed. She jumped in to help by answering phones and greeting visitors.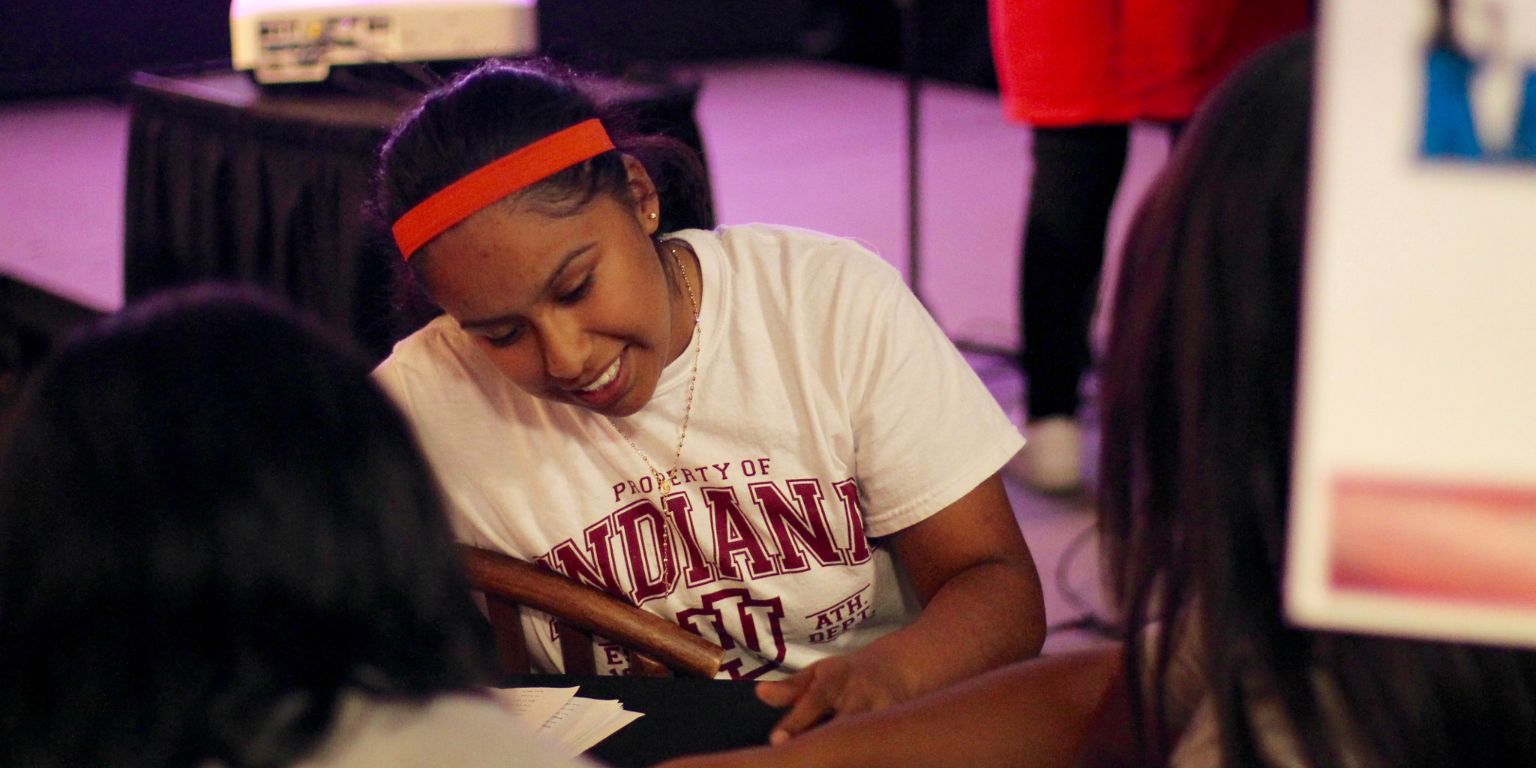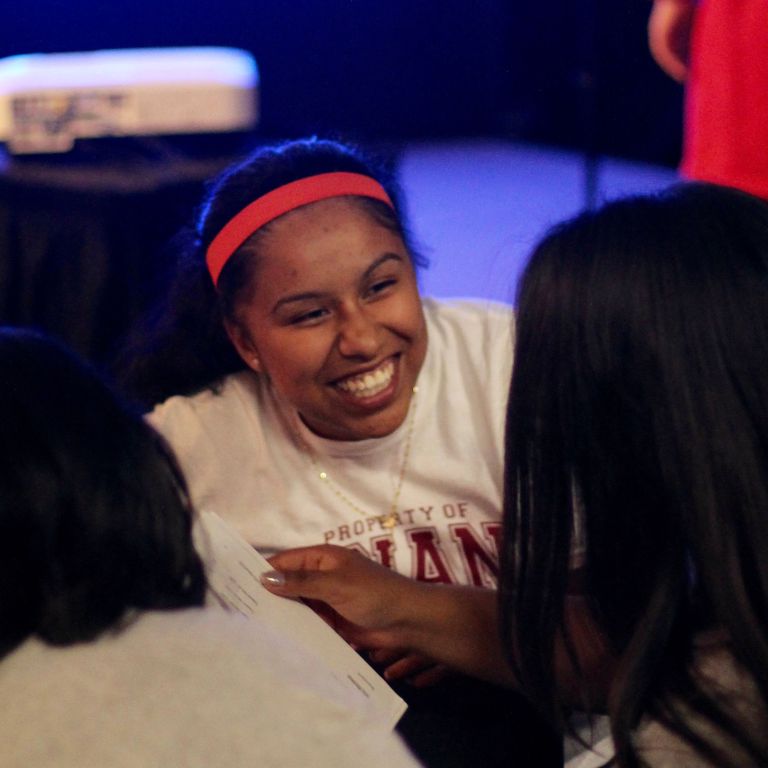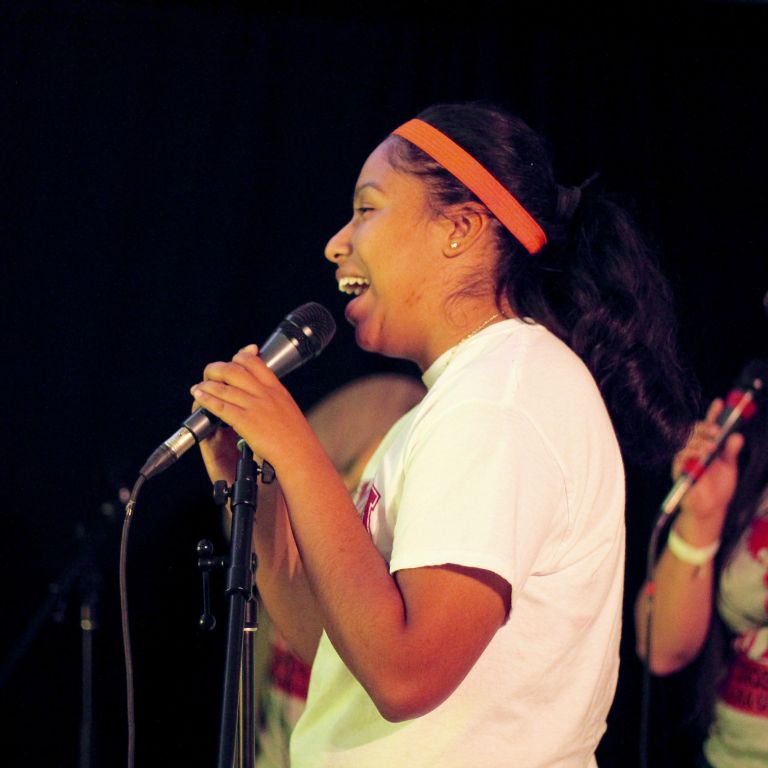 Photos by Feyi Alufohai, IU Communications
But Flores Camacho said it is the least she can do for La Casa, a place that has opened so many doors for her since she's arrived on campus. She said that thanks to La Casa, she has found mentorship from upperclassmen in the Kelley School of Business, the school she hopes to be admitted to next year. She's received help with her finite math homework at weekly tutoring sessions hosted by the center. She stays informed about events and opportunities across campus with the center's weekly newsletter.
Most importantly, La Casa has made IU feel like home.
As a student at Ben Davis High School in Indianapolis, Flores Camacho didn't think IU Bloomington was the place for her. Most students she knew from high school who attended IU didn't share her interests, so she had trouble envisioning herself on campus.
But as soon as she stepped on campus for her first visit, she knew she was wrong. She learned that, beyond being a beautiful campus, IU has incredible academics as well. She was also greeted with a kindness that other campuses couldn't provide.
"I've lived in Indiana my whole life and everyone always calls us Hoosiers, but I didn't know what it meant to be a Hoosier until I came to IU," she said. "I felt that Hoosier hospitality from the start of my visit, and I could tell that other people here care about me."
Now, Flores Camacho can't imagine attending any other school. When she heads back to Indianapolis for the weekend, she's always a little sad to be leaving Bloomington. And when her car pulls off of State Road 37 and onto the first Bloomington exit at Walnut Street, she feels home again.
For high schoolers who are hesitant to choose IU like she was, Flores Camacho recommends a visit to campus. She's confident they will feel at home at IU just like her.
"College is hard," Flores Camacho said. "You just have to take it one week at a time. And when you finish it's worth it, because you graduate as a Hoosier alum and you keep the Indiana Promise."