The 2017-18 Indiana University basketball season will officially tip off Saturday during the annual Hoosier Hysteria event.
The IU tradition includes introductions of the men's and women's basketball players, a dunk contest and a scrimmage.
The doors to Simon Skjodt Assembly Hall will open at 5:30 p.m., and activities will begin at 7 p.m. The event is free and open to the public, but fans are encouraged to bring a canned good to be donated to the Hoosier Hills Food Bank.
This will be coach Archie Miller's first season at the helm of the Indiana Hoosiers. Inside IU caught up with him to talk about his hopes for the season, his recruiting tactics and more.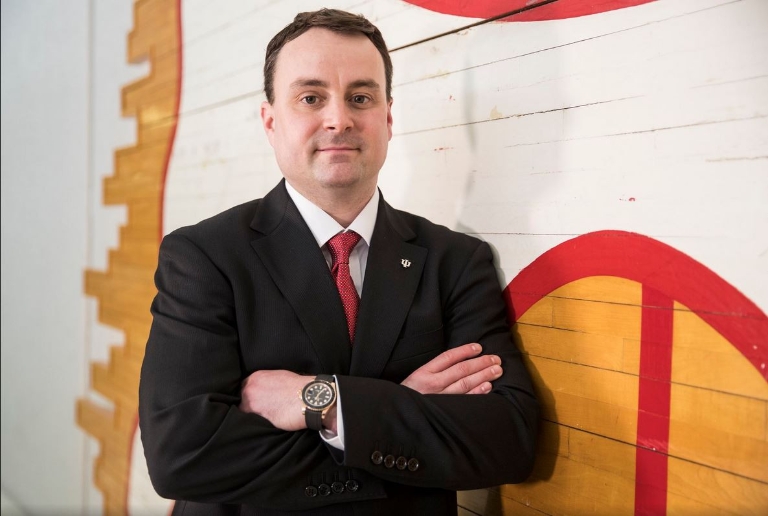 Q: What drew you to coach IU basketball?
A: The reason I'm here, and I really believe this, is because of the state of Indiana. You know, the people of Indiana are like me in many ways. We grew up in the same way. I'm from Beaver Falls, Pennsylvania, right outside of Pittsburgh, and I'm the son of a coach who sat around all day long with a ball in his hands since the age of 5 or 6 years old. The only thing that was ever preached to me was that you have to outwork everyone. You have to be the hardest working person or player every day.
Q: How are you feeling going into your first season and your first-ever Hoosier Hysteria?
A: As we're getting ready to start our first season together, we're all very, very comfortable here and really focused on trying to do the things that we all want to do.
We had an excellent summer together. Now, we're in our preseason mode, which for us means we spend two days a week on the floor as a team in a practice setting. So we've continued to sort of build the foundation through the fall. We've had some guys do some excellent things, improving their bodies, improving their game and obviously starting to understand the way we do things and how we play.
We are excited, but at the same time we have a lot of work to do. It's not something that happens overnight. Our players have done a good job, but we want to improve every day.
Q: What do you want Hoosier Nation to know about this season?
A: It's too early to make predictions, and this season – with the different scheduling quirks built in – makes it even more challenging.
This is likely one of the most challenging schedules IU has probably ever faced, just due to the fact of the condensed schedule, the advance Big Ten games early in December and the amount of games that we're going to play in between. It's going to put a real tax on the bodies.
But early, our nonconference schedule is going to provide a lot of information on what we're going to need to do to be successful through the course of the regular season in Big Ten play. You're playing against legit, high-major teams who have really good players and great coaches. You're not always going to be at home, and we're going to get, so to speak, punched a lot.
But we can't wait to play in front of the best fans in college basketball!
Q: What's your tactic when it comes to recruiting?
A: When it comes to the basketball, we're not going to have a hard time selling our style. We're just not. This is what we have to sell: We can deliver 365 days a year in terms of making players better and helping them achieve what they want to achieve.
The parents in Indiana have to feel that, when they give one of their sons to IU, he is going to get treated with the utmost respect and class. And that we are going to deliver the very, very best we can for them. We've seen a lot of guys come in with strengths but leave as better players, and that is our goal here.
Q: Who will we see dominating the court this year?
A: I think it is probably too early to tell, but the leadership of our seniors like Collin, Josh, Rob, Freddie and Tim is important to establishing what we want and expect.
Q: What do you think of Bloomington so far?
A: We have really appreciated the way the community has embraced our family. We have a lot to see and do still!