Faculty member Ben Motz recently donated one of his prized childhood possessions to Indiana University's Lilly Library: an authentic set of the pointy ears worn by actor Leonard Nimoy, who played Spock in the original "Star Trek" television series and several films.
Motz, a senior lecturer in the Department of Psychological and Brain Sciences in the College of Arts and Sciences, said the ears were a gift from his parents for his sixth-grade graduation.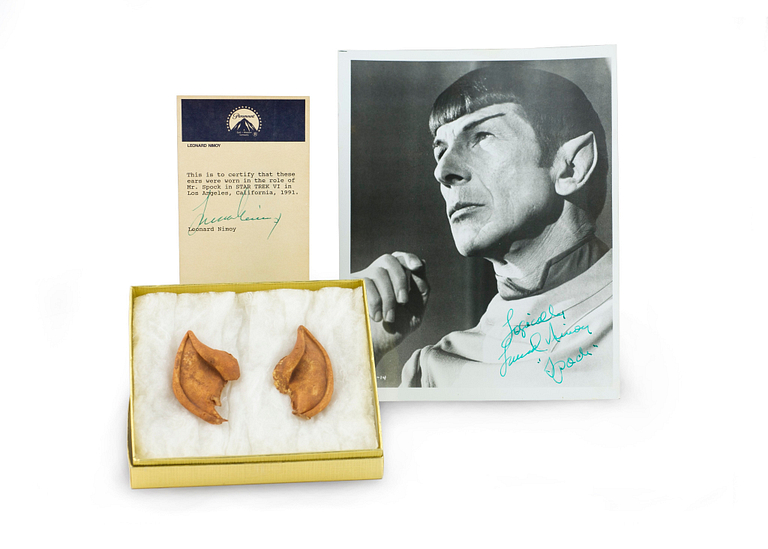 The Nimoy family had donated the ears for a fundraiser auction at a Los Angeles Jewish community center, where the Motzes were members.
His parents placed the winning bid and, voila, the perfect gift for a science-fiction-obsessed youngster. The latex ear tips came with a card certifying that Nimoy had worn them during the filming of "Star Trek VI: The Undiscovered Country" in 1991.
"I was a uniquely nerdy child, particularly around 12 when adolescence becomes most challenging for many of us," he said with a chuckle. "My maternal grandfather was heavily into science fiction, and so was my mother, his daughter. When I started to read, she was right there, prompting me toward authors like Isaac Asimov. We watched the original series together, and all the movies. And then, for me, I really fell in love with 'Star Trek: The Next Generation.'"
Motz said the graduation gift, while still precious to him, had languished for years atop a closet filled with other childhood mementos, including his comic book and baseball card collections.
Then, in August, Motz was asked to be the keynote speaker at the IU Bloomington Libraries' inaugural Primary Source Immersion Workshop. The workshop introduced faculty members to ways of incorporating local primary sources and special collections into their courses. Attendees visited the Lilly Library, the university's rare book and manuscript library, as part of their experience.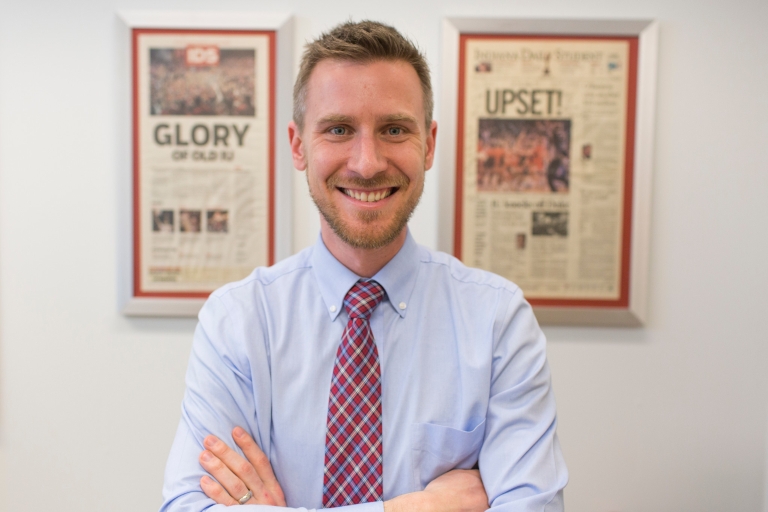 There, Motz discovered that the Lilly is home to several "Star Trek" collections, including the original scripts for the "Star Trek" and "Star Trek: The Next Generation" television series, comic books, and the papers of IU alumnus and "Star Trek" producer Jeri Taylor. The library is also home to the original prospectus for the "Star Trek" television series, dated March 11, 1964.
"And it was like, 'Oh my gosh. This thing I've had for years, that I've always imagined would be in a collection somewhere, should be here. Right here at Indiana University,'" Motz said. "And it makes me so happy that this thing that brought me such joy, that now it's something everybody can enjoy."
Rebecca Baumann, head of public services at the Lilly Library, said Motz's gift was fortuitously followed by a campus visit from actor George Takei, who played Sulu on "Star Trek."
"George Takei's powerful talk reminded us of the show's longstanding commitment to diversity, curiosity and exploration – all values shared by Indiana University and the Lilly Library," she said. "We love the story of Spock's ears, we extend very warm gratitude to professor Ben Motz for his kind donation, and we look forward to continuing to share all of our 'Star Trek' collections with fans on campus and around the world."
Want to see Spock's ears for yourself? Ask to view them via the IU Libraries' online request system.