Statistically, Jamie Kirkley didn't think she had to worry about breast cancer.
She wasn't experiencing any symptoms; she doesn't have a family history of breast cancer; and she has had several clear mammograms since turning 40.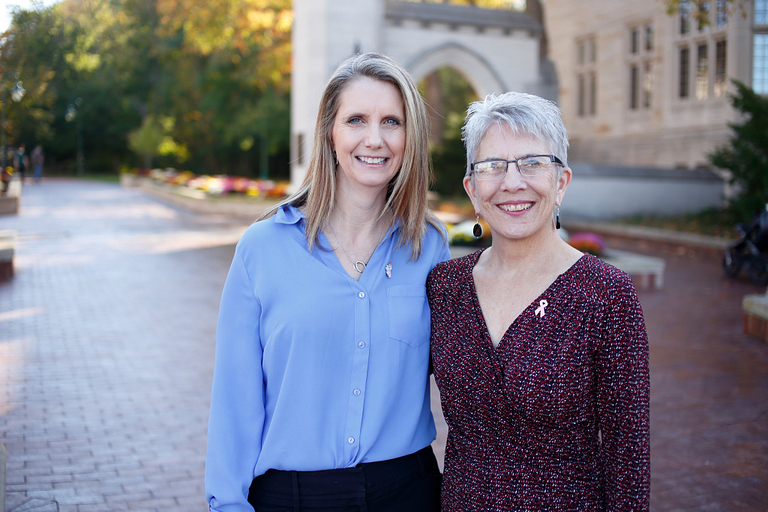 Yet a mammogram a couple of months ago indicated a flat, dime-sized cancerous mass in her breast.
"Immediately, you feel like there's this timestamp on your life," she said.
Following the mammogram, an MRI showed three more cancerous lesions. The doctor did a physical exam, but he relied on the imaging results to help locate the masses, as they could not be easily seen or felt.
According to the doctor, Kirkley had been living with cancer for three to five years. And while they caught the cancer before it spread beyond her breast, Kirkley opted to have a mastectomy to reduce the chance of local recurrence.
But it wasn't a reminder from her doctor or a recurring annual appointment on her calendar that prompted Kirkley to get an exam. It was a lighthearted – and humorous – conversation about mammograms with her colleagues at an office party that saved her life.
Kirkley, a research development specialist in Indiana University Bloomington's Office of the Vice Provost for Research, was talking with her co-workers about the discomfort of mammograms, which they jokingly referred to as "slam-o-grams." But when she mentioned she hadn't had one for a couple of years, Martha Zuppann urged her to go to the doctor.
Zuppann, the human resources manager in the Office of the Vice President for Research, was speaking from experience, as an overdue mammogram had uncovered her cancer five years earlier.
Soon after her diagnosis, Kirkley reached out to Zuppann, who quickly became a main source of support for her. When Zuppann was diagnosed, she found support and comfort in Amy Hoover, a friend of hers and a contract officer in the Office of Research Administration, who had also had cancer. Zuppann wanted to do the same for Kirkley.
"Amy came into my office, gave me the best hug ever, and then talked and cried with me. I loved being able to go to her for support," Zuppann said. "I am glad to be able to pass it on and be there for Jamie."
The moment Zuppann told Kirkley to go get checked – a moment that changed her life – is forever burned into her memory. But Kirkley realizes not everyone has a Martha to encourage them, so she wants to be the one to make a difference for the next person.
"Martha's kindness and support were so important," Kirkley said. "After I told her I had cancer, she took me out for tea and openly shared her cancer story. She has answered so many questions and helped me think through how to manage my treatment and work schedule."
Both Kirkley and Zuppann are now cancer free. As personal as it is to talk about, they will continue to share their cancer stories – not just during Breast Cancer Awareness Month, but every day, in an effort to increase breast cancer awareness on campus and in the community.
The two women encourage others to get regular screenings. They suggest going in pairs or for departments to offer buddy sign-ups. Zuppann suggested setting a reminder in Outlook for your annual exam. Also, Kirkley suggested taking a family photo in during your screening for the reminder that "your health is a family matter."
A key part of increasing awareness, Kirkley said, is tackling myths surrounding the effectiveness of mammograms and who is at risk for breast cancer. At 51 years old, everything Kirkley thought she knew about breast cancer was proven wrong when she was diagnosed, and she knows she's not alone. Like Kirkley, some think a mammogram every couple of years is sufficient, or that they are in the clear if breast cancer doesn't run in their family.
But, according to breastcancer.org, one in eight women will be diagnosed with breast cancer in their lifetime, and less than 15 percent of those women will have a family member diagnosed with it. Men are at risk as well, with one in 1,000 being diagnosed in their lifetime. For women at average risk for breast cancer and age 45 to 54, the American Cancer Society recommends an annual mammogram. For women who are at high risk for breast cancer, recommended screenings start at age 30.
"Go get your annual mammogram," Zuppann urges. "It's only 30 minutes of your life, and, although it's a few seconds of pain, we are talking life and death here."
With October being Breast Cancer Awareness month, learn about preventive and educational resources on campus:
What's covered
Don't forget that IU-sponsored medical plans cover preventive mammogram screenings, treatment and other services for a cancer diagnosis. Employees unsure about coverage are welcome to contact IU Human Resources for more information.
Discover local resources
IU Health's Olcott Center for Cancer Education, a local Bloomington cancer support group, will have a booth at the IU Health and Benefits Fair on Nov. 8 at the Indiana Memorial Union.