Employees can win campus book, attend launch party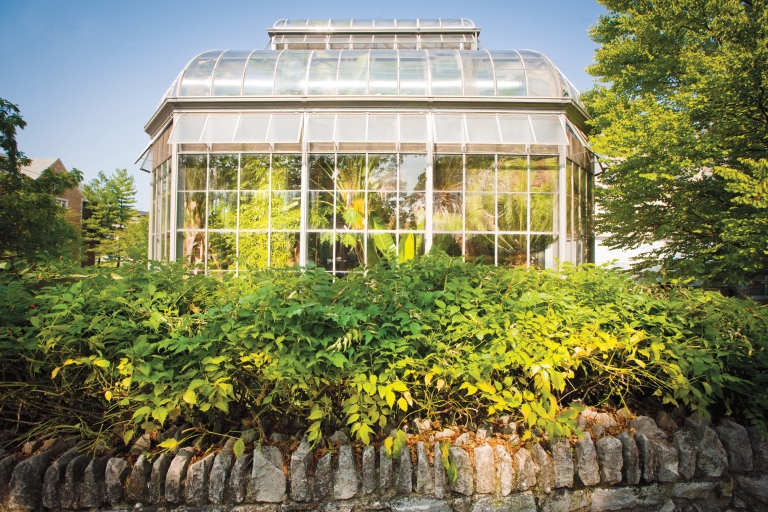 A new book printed by Indiana University Press, "Indiana University Bloomington," tells the story of the careful planning and committed stewardship that has gone into the development of the IU Bloomington campus. Complete with 481 photographs, the book highlights not only the university's buildings, architecture and growth, but also the people who brought the buildings to life.
The author, IU Vice President Emeritus J. Terry Clapacs, served the university for forty-three years and focused on campus master planning, new building construction, real estate acquisition and campus maintenance and beautification. He has been credited with 661 major building projects, which comprises more than half of the structures found on IU's eight campuses.
A launch party for the book will take place from 4:30 to 6 p.m. Friday, Oct. 27, in the Frangipani room at the Indiana Memorial Union. IU faculty and staff using a valid IU email address can also enter to win a copy of "Indiana University Bloomington."
Office of Sustainability seeking nominations for Campus Catalyst Awards
The Office of Sustainability is accepting nominations for its sixth annual Campus Catalyst Awards on Nov. 16, 2017. This ceremony recognizes individuals and groups that have made significant impacts inside the classroom, in the lab and on campus.
IU faculty, staff, students, alumni and community members who have had an impact on campus sustainability are eligible for awards in five categories: Excellence in Teaching, Staff Innovator, Leadership Award, Student Leadership Award and Team Award.
Anyone can nominate a candidate and self-nominations are accepted and encouraged. Nominations are due before midnight on Nov. 1.
IU Athletics announces two major gifts for new monuments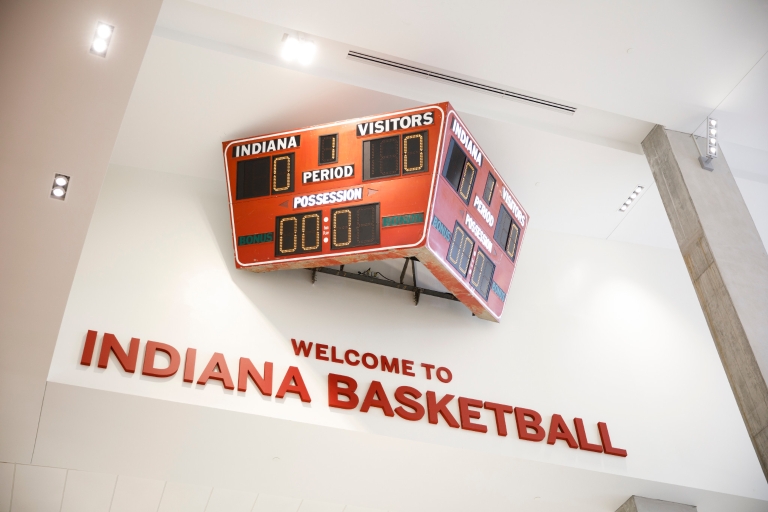 IU athletics has announced the addition of five granite monuments to the Ken Nunn Champions Plaza outside of Simon Skjodt Assembly Hall commemorating each of the men's basketball national championship teams. The monuments are funded as part of a gift by Ken Nunn to the "For All: The Indiana University Bicentennial Campaign" that was first announced on April 2, 2015, as part of the Simon Skjodt Assembly Hall renovation project.
The monuments are located outside the recently renovated South Lobby of Simon Skjodt Assembly Hall, where they are accessible to fans 24 hours a day, seven days a week. IU players and other images from each championship team are depicted on one side of the monuments, while the other side features the story of each team and their unique journey to the national title.
IU Athletics also announced the installation of five new sculptures made possible by a major gift from Bill and Juanita Beach to the "For All: The Indiana University Bicentennial Campaign" in support of IU Athletics. Their gift creates and funds the Bill and Juanita Beach Indiana Basketball Memories Collection, housed throughout Simon-Skjodt Assembly Hall, and it is anticipated that there will be future additions to the collection.
The five granite monuments in the Ken Nunn Champions Plaza and the new Bill and Juanita Beach Indiana Basketball Memories Collection, which features five new sculptures highlighting iconic moments in IU basketball history, were installed to coincide with Hoosier Hysteria on Oct. 21 and the 2017-2018 basketball season.
See scenes from eighth annual Habitat for Humanity build
Another Bloomington resident is now a homeowner thanks to the eighth Habitat for Humanity house build on the IU Bloomington campus. The house was dedicated on Oct. 14 as part of IU Homecoming celebrations before being moved to its permanent location.
Those who were unable to participate can see scenes from the build in a video. The project is an ongoing partnership between Habitat, IU's Kelley School of Business and Whirlpool Corporation.
Celebrate the 90th anniversary of Hoagy Carmichael's hit 'Stardust'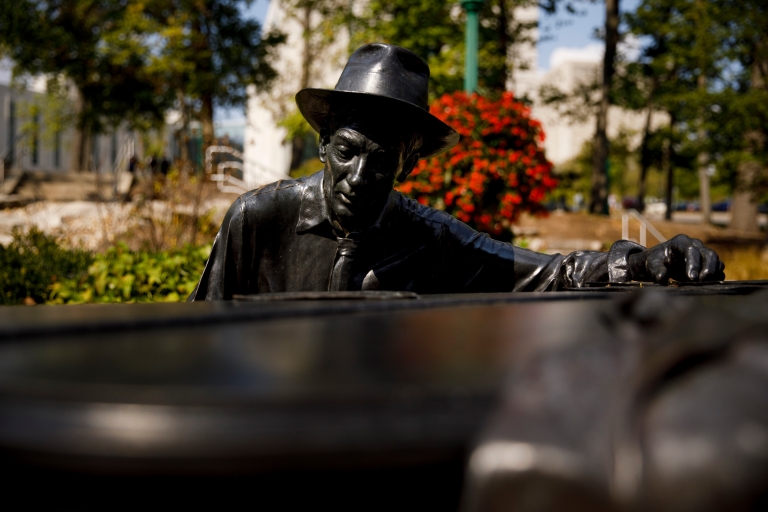 Oct. 31 is the 90th anniversary of the recording of "Stardust," a popular song composed by IU alumnus Hoagy Carmichael. The first recording of the song was made at Gennett Records studio in Richmond, Indiana, and the song became one of the most recorded songs of the 20th century.
The Office of the Bicentennial and the Jacobs School of Music are celebrating the historic moment with cake, giveaways and live performances from the Singing Hoosiers and saxophonist Daniel Nix.
The celebration will take place from noon to 1 p.m. Oct. 31 at the Hoagy Carmichael statue.
IU community mourns University Chancellor Emeritus Ken Gros Louis
Kenneth R. R. Gros Louis, university chancellor emeritus and beloved member of the IU community, passed away Friday, Oct. 20, at the age of 80.
Besides IU's legendary Herman B Wells, Gros Louis is the only other individual to hold the distinguished title of university chancellor, and he had an extraordinary impact on the university that he served for more than a half-century. His efforts enabled the academic pursuits of countless IU students and faculty, whose work he championed as an administrator, colleague, mentor, friend, listener and ally.
During Gros Louis' 21 years as chief executive, which ended with his retirement in 2001, the campus set records in enrollment and external support, established scores of new endowments for faculty and students, and was recognized nationally for innovation in undergraduate education. He returned in January 2004 as senior vice president for academic affairs and Bloomington chancellor and was named university chancellor in 2006.
A special tribute website is forthcoming at kengroslouis.indiana.edu.
School of Art, Architecture + Design to host annual Open Studios event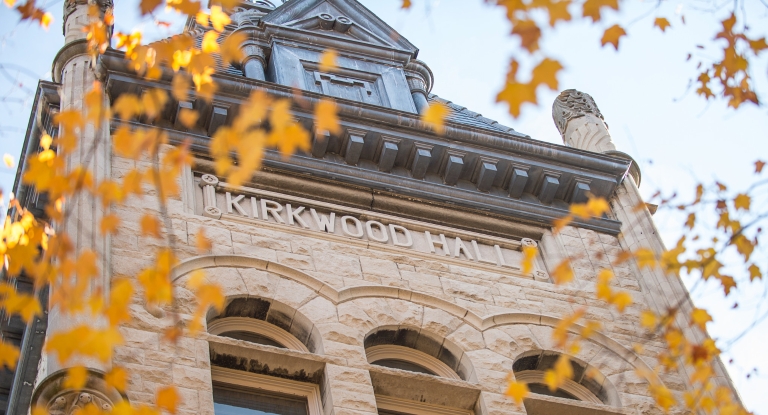 IU's School of Art, Architecture + Design will host its annual Open Studios event from 6 to 10:30 p.m. Oct. 27. Individuals interested in the BA, BFA or MFA programs can explore artists' studio practices, ask questions about the school's areas of study and preview course listings for spring 2018.
Visitors are invited to try their hand at various art-making activities and view student artwork in multiple studio locations. Attendees can find maps and directions in the first floor lobby in Kirkwood Hall and at the Friends of Art Bookshop in the Fine Arts Building. Visitor parking is available in the Global and International Studies/Wells Library or the Indiana Memorial Union parking lots. The event is free and open to the public.
For more information, call the Friends of Art Bookshop at 812-855-1333 or email soaad@indiana.edu.