Andi Cailles knew Indiana University was the right match for her as soon as she interviewed for her job as director of residential life.
"It was the right campus, with the right people," she said. "Everything came together through the couple days of the on-campus interview."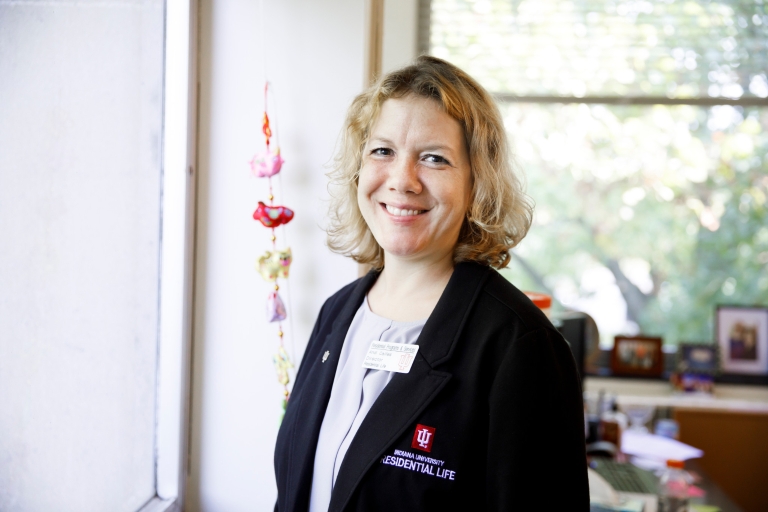 IU liked her back: Cailles is now on her fifth month on the job, balancing responsibilities of helping students in crisis, maintaining day-to-day operations in residential life within Residential Programs and Services and working collaboratively with the rest of the RPS staff to attend to student life in the IU Bloomington residence halls.
Cailles pursued her undergraduate and graduate degrees from Western Kentucky University with the intention of becoming a teacher, but she realized as a senior how rewarding student affairs work could be. While the field can be as varied as advising and crisis management, she found herself particularly hooked on housing.
"Housing has always been where my passion lies: the contact with students, the development of the staff," she said. "Housing has many entry-level positions for young professionals in student affairs, and so there's a real opportunity to help shape the next generation of student affairs staff."
The Floyds Knobs, Indiana, native has spent her 24-year career in the housing field of student affairs, the past 16 of which were spent working in housing at the University of Illinois Urbana-Champaign before coming to IU.
An average day for Cailles involves lots of meetings with campus partners both in RPS and Student Affairs; tracking students dealing with a variety of issues with her full-time and graduate student staff, attending to the day-to-day operations, student life and staff in the residence halls; and constant email checks – even during off hours – to keep up with day-to-day business.
This school year, Cailles' goals include continuing to build relationships with her staff; getting to know and collaborate with key Student Affairs colleagues and units like the Office of Student Conflict and the Dean of Students Office; help her staff as they work every day to support students; and evaluate the community educator program while partnering with colleagues to find ways to enhance that program. 
It's a busy job, but Cailles is rewarded and motivated by the success and growth of students and staff.
"Sometimes, even working at this level as director, I get to work with students who are in crisis and help them through very difficult times in their undergraduate experience, whether that's a medical crisis or a mental health crisis or a combination," she said. "It's rewarding to be helpful to a student and to their family, to help them move through that crisis and still continue to be a student and be successful as a student."