A $50,000 grant from Duke Energy will help make Indiana University Bloomington one of the first universities in the U.S. to convert emissions from its heating plant into fertilizer to feed campus vegetation.
To make this happen, a group composed of specialists from across the campus – including a faculty biologist, facility engineers and landscapers, and marketing and sustainability students – have designed a system known as a photobioreactor. Made of PVC pipes, the structure will be housed on the roof of IU Bloomington's Central Heating Plant and will convert emissions from the smokestacks into fertilizer via photosynthesis.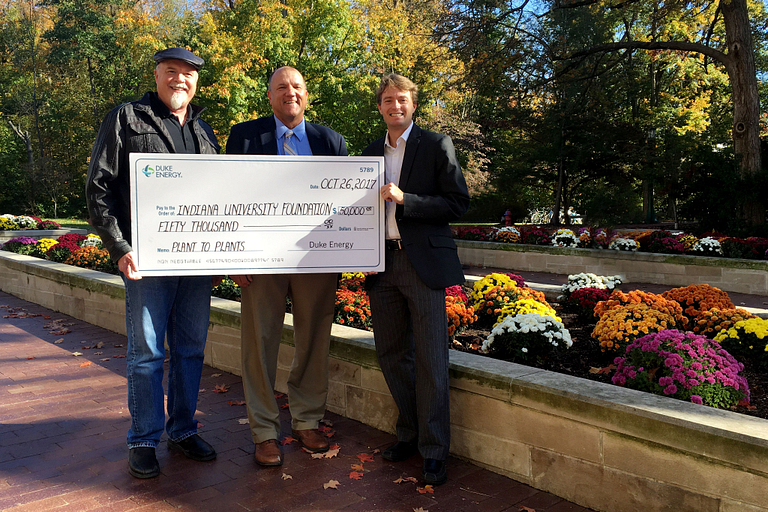 Water vapor generated from the heating plant's smokestacks will be condensed and pumped into the bioreactor tubes, which will house algae. Then, emissions from the heating plant containing carbon and nitrogen will bubble into the tubes to feed and suspend the algae. The transparent tubes allow sunlight to catalyze the photosynthesis process of the algae, creating a usable, sustainable, nutrient-rich fertilizer.
To start, the fertilizer will be used in the more than 200 flower beds across campus.
"With all of its measureable and novel contributions, this project has the potential to be an iconic symbol of IU's commitment to sustainability and education," said Stephen "Chip" Glaholt, an adjunct faculty member and researcher in the School of Public and Environmental Affairs at IU Bloomington, and a co-leader on the project.
Also co-leading the project is Mark Menefee, the assistant director for utility services at IU Bloomington's Central Heating Plant, who has been experimenting with similar projects for several years. SPEA students Darah Meister, Tucker Jaroll and Anna Groover also worked on different aspects of the project, including design and research. Students Maddie Corgiat, Nikhil Prasad, Bailey Kaplon and the late Megan Yoder of Net Impact, a sustainable business club in IU's Kelley School of Business, coordinated marketing and fundraising efforts and were heavily involved in the process to apply for the Duke Energy Grant.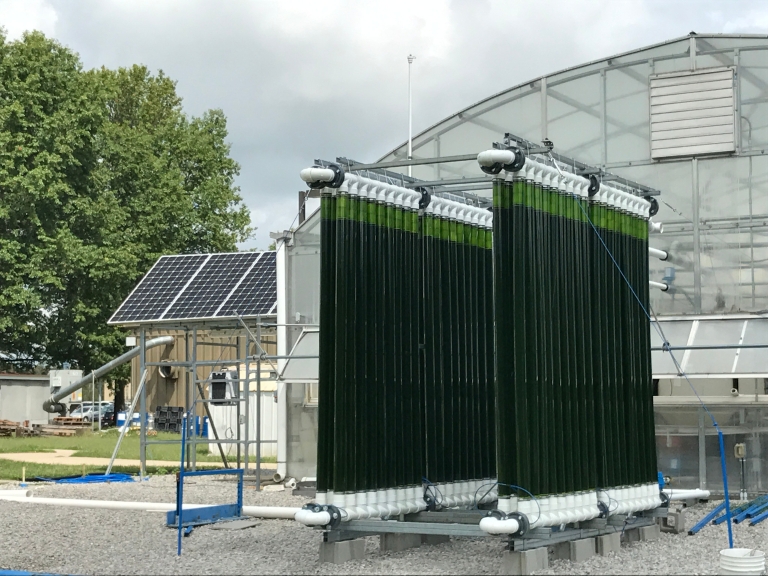 Funding of this project is in line with Duke Energy's support of IU's Prepared for Environmental Change Grand Challenge project.
"We're dedicated to addressing the environmental needs of the communities where our customers live and work," said Bruce Calloway, Duke Energy's Bloomington community relations manager. "We've lowered our company's carbon output by approximately 30 percent since 2005, and technology is key to solving these environmental challenges. This project betters the campus community while creating a living laboratory for IU students."
Other campus collaborators include university landscape architect Mia Williams and IU Bloomington manager of landscape services Mike Girvin.
The project leaders will utilize the Office of Sustainability's Energy and Built Environmental Working Group and Education and Research Working Group as their advisory boards as they move forward with the project.
"Planning for the photobioreactor system has already brought our students, faculty and staff together to make a tangible impact on our campus," said Vice President for Capital Planning and Facilities Thomas A. Morrison. "With the assistance of Duke Energy, we now can continue to grow the physical beauty of our campus while studying and utilizing new processes that benefit our environment and reduce costs."
In its first year of implementation, the system is expected to return 200 pounds of carbon back to the earth, as well as save the university nearly $4,000 in fertilizing costs.
The grant funding from Duke Energy will be used to build the system on campus. Once built, nearly no costs will be associated with production of the fertilizer, aside from annual maintenance.
In addition to making campus more green, the project will serve as an educational opportunity for students. Several courses in SPEA and the College of Arts and Sciences' Department of Biology will integrate studies of the photobioreactor and biofertilizer into their curriculum. Using the system as a living laboratory, students will research and monitor its function, collect data and expand its capabilities.
IU will be collaborating with the University of Kentucky's Center for Applied Energy Research group on the design of this project, as they already have a similar system constructed at Duke Energy's East Bend Coal Power Plant.
Construction on the photobioreactor system is expected to begin in February, with completion slated for spring 2018.
About Duke Energy
In Indiana, the Duke Energy Foundation invests approximately $2 million annually for community support and charitable contributions.