BLOOMINGTON, Ind. – In celebration of Indiana University President Michael A. McRobbie's 10 years as the 18th president of Indiana University, a $30,000 gift from 30 individual donors will fund an endowment at IU Cinema in McRobbie's name.
The Michael A. McRobbie President's Choice Film Series Fund will support an annual film series at IU Cinema featuring films specially chosen by McRobbie or future IU presidents. The series is a result of McRobbie's interest and engagement with IU Cinema from the very first days of his presidency.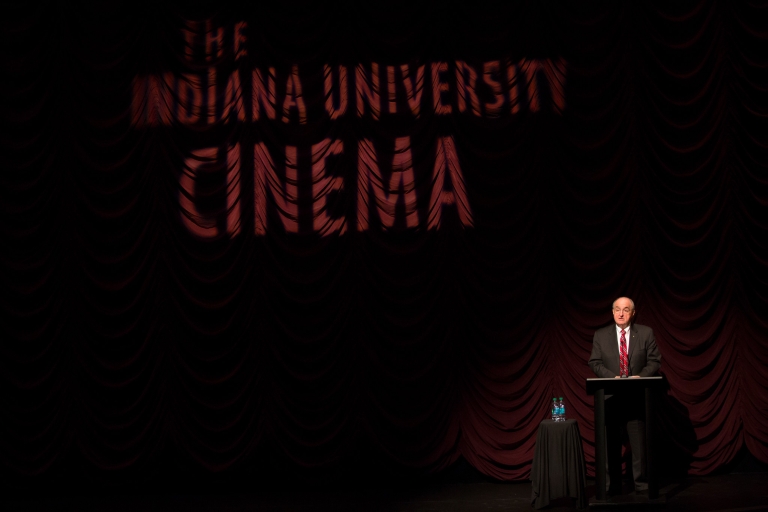 "I am deeply honored to receive this recognition and much moved by this gift," McRobbie said. "Since its opening in 2011, IU Cinema has been firmly established as one of the finest university cinemas in the nation and has greatly enhanced Indiana University's cultural influence and reputation as a world-class center for the arts. I am immensely proud of its success and its contributions to the presentation and study of film, and I am sincerely grateful for this honor."
Among the donors for the endowment was Jim Sherman, Chancellor's Professor Emeritus of Psychological and Brain Sciences, whose idea to honor McRobbie sparked the creation of the fund.
"I wanted to put together something that would honor Michael in a way that moved forward something at IU about which he was passionate," Sherman said. "Perpetuating the President's Choice Film Series seemed to do that."
Gifts to the endowment are still being accepted to support continuation of the Michael A. McRobbie President's Choice Film Series Fund. 
Support the Michael A. McRobbie President's Choice Film Series Fund at IU Cinema
In his inauguration speech 10 years ago, McRobbie vowed to convert the old University Theatre (affectionately known as the Little Theatre) into a state-of-the-art facility to support the study of film in traditional and modern forms. It was promised to become a vital tool for generations of students to explore the humanities, world cultures and social sciences through the lens of film. It would draw upon IU's remarkable cinematic collections in the Black Film Center/Archive, Lilly Library and IU Libraries Moving Image Archive.
"It did not take President McRobbie long to act upon this promise," said Jon Vickers, founding director of IU Cinema. "In less than two years, a committee had been formed, determining the feasibility of opening and sustaining a venue and program like this; design was completed for a multipurpose renovation of the spaces; and ground was ceremonially broken.
"It was very easy for IU Cinema to consider letting President McRobbie curate films each year – a modest gesture of thanks on our part," Vickers said. "Even upon my very first meeting, many things became clear. It was evident that he not only loved film but had a deep knowledge of film history and discerning tastes; he knew that the power of cinema traveled well beyond a venue's four walls and could deeply impact, even transform, students and a community at large; and that he was personally invested in the idea that IU Cinema's facility and program could become recognized as one of the best in the country – unique, robust, innovative and a benchmark for other university cinemas."
This inspiration is what IU Cinema is built on.
This fall's President's Choice Film Series celebrates Indiana University's newly established School of Art, Architecture and Design. The four films highlight the profound ability of art, architecture and design to affect how we perceive and experience the world and explore the complexities of the creative process. The screenings remaining in the series are:
3 p.m. Sunday, Oct. 8: "Berlin: Symphony of a Great City" (1927), with live musical accompaniment by Craig Davis
7 p.m. Monday, Oct. 16: "Russian Ark" (2002)
7 p.m. Monday, Dec. 4: "Last Year at Marienbad" (1961)
Learn about the next screening in the President's Choice Film Series