BLOOMINGTON, Ind. – Indiana University's world-class science facilities, laboratories and classrooms will open their doors to kids and adults of all ages for the fourth annual IU Science Fest on Oct. 21.
Led by the university's renowned science faculty and graduate students, IU Science Fest will feature more than 150 science-related activities from 17 areas across campus, with many activities strongly informed by the university's cutting-edge research in these areas.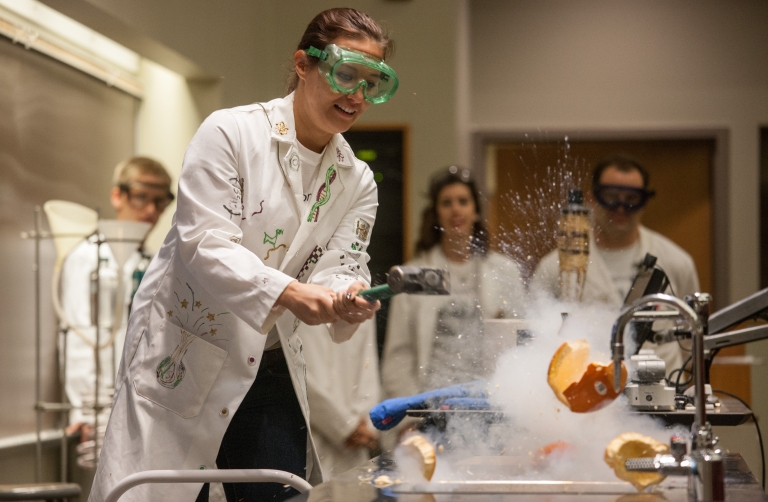 The free event is scheduled from 9 a.m. to 3 p.m. Activities will take place in Jordan Hall, Lindley Hall, the Chemistry Building, Ballantine Hall, the Fine Arts Building, Kirkwood Observatory and the Student Building.
Last year's event attracted over 2,000 visitors to campus. A small sampling of this year's activities includes a low-temperature physics demonstration; a volcano simulation; the chance to experiment with VR headsets, Snapchat glasses and 3-D printers; controlling electric cars with brain impulses; geode rock smashing; a guided trek through IU's beautiful campus woodlands; and tours of IU's world-class research spaces, including the IU greenhouse, solar observatory, electron microscope facility and scientific glassblower's studio.
This year also marks the return of the popular electric fish demonstration, which debuted at last year's event. The demonstration, which is hosted by IU Bloomington faculty member G. Troy Smith, uses special equipment to show how several species of fish native to South America use weak electrical fields and highly sensitive receptor organs in their skin to communicate inside the dark, murky waters of the continent's rivers.
"Science Fest is an excellent opportunity for us to show off some of the exciting work happening in our lab here at IU and to convey the enthusiasm that we have for science to others in our community," said Smith, an associate professor in the Department of Biology, who runs the demonstration with several graduate and postgraduate students in his lab. "This is our second year participating in the event, and we're really looking forward to it."
Smith said the scientific methods on display are based on his lab's research into how these electric fish evolved their unusual manner of communication, which is used to detect both the species and the sex of other fishes, as males and females often produce different types of electrical signals.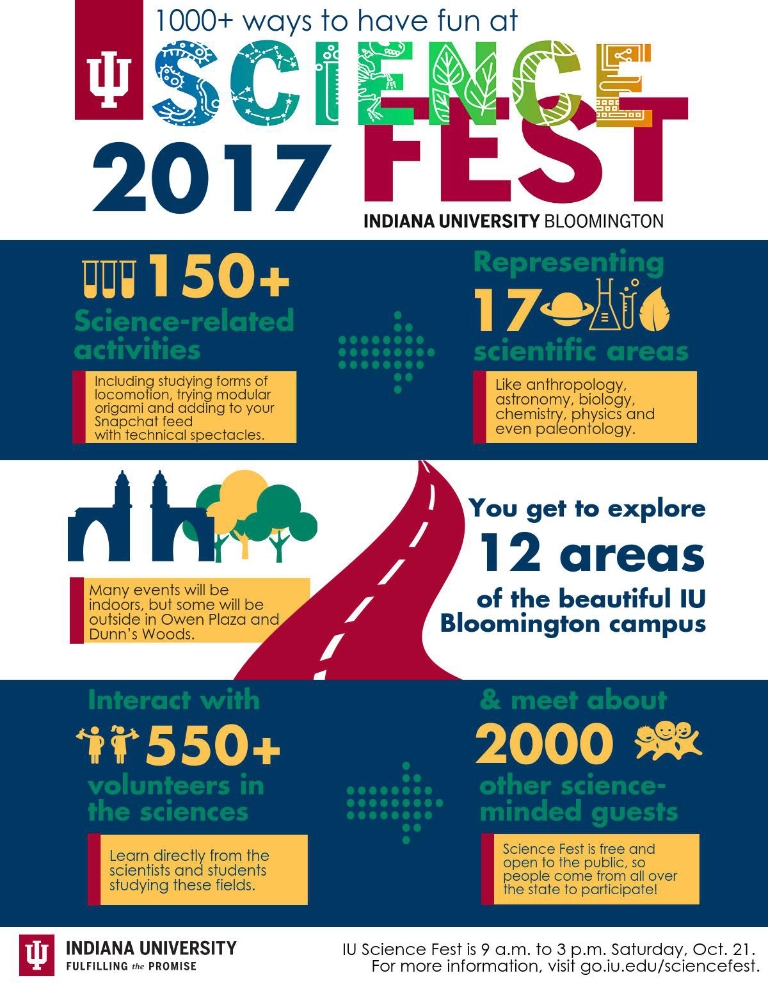 Other activities that draw upon IU's expertise in research include demonstrations on dung beetles, whose use in studying evolutionary development has been pioneered at IU; the use of florescent dyes to view microscopic bacterial structures, a specific method of which was invented by IU scientists; and hands-on experiments with data mining, a method used by numerous researchers in the new intelligent systems engineering program within the IU School of Informatics, Computing and Engineering.
Science Fest is hosted by the IU Bloomington College of Arts and Sciences and its Office of Science Outreach. This year's event includes the largest number of participating departments and units, including Department of Anthropology, Department of Biology, Department of Chemistry, Department of Earth and Atmospheric Sciences, Department of History and Philosophy of Science, Department of Mathematics, Department of Physics, Department of Psychological and Brain Sciences, Department of Speech and Hearing Sciences and the IU School of Art, Architecture + Design, all in the College of Arts and Sciences, and the IU School of Informatics, Computing and Engineering.
Additional IU-affiliated groups to present activities at the event include the Bloomington Urban Woodlands Project; the Center of Excellence for Women in Technology; the Environmental Science Program, part of the College of Arts and Sciences and School of Public and Environmental Affairs; Kirkwood Observatory; the IU Paleontology Collection; the Slocum Puzzle Collection, part of the IU Lilly Library; and WeDigBio, a global project to engage the public in digitally cataloging minerals and fossils.
Advanced registration is not required. Food will be available for purchase at locations across campus during the event.
For more information, contact Tina Gilliland, outreach liaison for the Office of Science Outreach, at mgillila@iu.edu or 812-855-5397.