BLOOMINGTON, Ind. – A delegation from the Indiana University Maurer School of Law recently completed a weeklong trip to Saudi Arabia, establishing a deeper relationship with the country's top universities and law schools.
The trip builds on a partnership agreement executed by IU President Michael A. McRobbie and King Saud University President Badran al-Omar in November 2014. The law school is negotiating an agreement that will bring LLM and SJD graduate students in law to Bloomington each year. Many of these students are King Saud University faculty members or will join the university's faculty once they complete their degrees.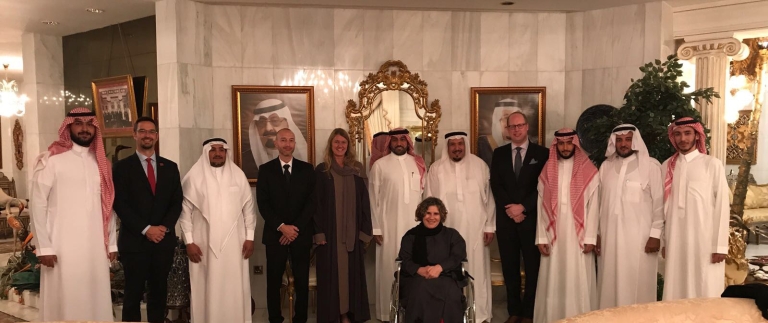 "We were honored by the hospitality of our Saudi hosts, especially His Royal Highness Prince Mansour bin Nasser bin Abdulaziz Al Saud, and their enthusiasm for Indiana University and the law school," said Austen L. Parrish, Maurer School dean and the James H. Rudy Professor, who headed the delegation. "I am especially grateful to the kindness of our alumni, particularly Professors Othman Talbi and Faisal al-Wazzab, who warmly welcomed us and went above and beyond to make this a productive trip."
Highlights from the trip included:
A dinner hosted by His Royal Highness Prince Mansour, a grandson of King Abdulaziz, Saudi Arabia's founder and first king. The prince visited Indiana University in 2016. Special guests at this dinner included HRH Prince Turki bin Abdullah bin Abdulaziz Al Saud and his brother, HRH Prince Sultan bin Abdullah bin Abdulaziz Al Saud, both sons of the late king; and the sons of Prince Mansour, HRH Prince Fahad bin Mansour bin Nasser Al Saud and HRH Prince Sultan bin Mansour bin Nasser Al Saud.
An alumni reception in Riyadh hosted by Faisal al-Wazzab, LLM '08, and Dr. Othman Talbi, SJD '14. Al-Wazzab is a member of the Maurer School of Law's Global Advisory Board and president of the IU Alumni Association's Riyadh chapter. Talbi is assistant professor of law and chair of King Saud University's private law department, College of Law and Political Science.
Meetings at King Saud University to explore collaborations such as the LLM and SJD programs. Honored to meet with a range of faculty and administrators, the delegation also met with Mufleh R. al-Qahtani, dean of the College of Law and Political Science, and Ahmed al-Aamer, vice rector for graduate studies and scientific research. (Dean al-Qahtani's son, Sultan, is a current student in the law school's SJD program.) The visit to King Saud University culminated in an epic ping-pong duel between Talbi and William Schaad, the law school's director of graduate admissions.
A meeting with Ahmed Dhaifallah al-Yousef, vice dean and legal counsel, and other leaders at Princess Nora Bint AbdulRahman University, the largest women's university in the world, to explore collaboration with their law department.
A warm welcome from a large number of faculty and administrators from Prince Sultan University, including Rimah S. al-Yahya, the vice rector of Prince Sultan University's Women's Campus, and Saad A. al-Mosa, the dean of the College of Business Administration. Prince Sultan University is Saudi Arabia's first private, nonprofit university.
A discussion with officials of the Islamic Development Bank, a U.N. General Assembly observer with membership of 56 countries. The bank's president, Bandar al-Hajjar, is a 1981 IU graduate with an M.A. in economics. McRobbie and a delegation visited him in 2014 when he was the Minister of the Hajj. Also present from the bank were Mansur A. Noibi, director of the bank's legal department, Abderrahman Beddi, manager of education initiatives, and Nedzad Ajanovic, senior partnership specialist at the bank.
Learning about the Awqaf Sulaiman AbdulAziz Al Rajhi Holding Co. from its CEO, Zeyad O. al-Hekail. The company was created by Sulaiman Abdul Aziz al-Rajhi, whose estimated worth of almost $8 billion makes him one of the world's richest people. He received the 2012 King Faisal International Prize for dedicating half his fortune to charity.
The school's visit attracted attention in the local media, including coverage of the dinner with Prince Mansour in the Riyadh Post, an interview led by students from Prince Sultan University, and an interview on Saudi Arabia Radio focusing on IU, its collaboration with King Saud University, and questions about social media and student learning.
In addition to Parrish, the IU delegation comprised Lesley E. Davis, assistant dean for international programs; Gabrielle L. Goodwin, director of graduate legal studies; and William Schaad, director of graduate admissions, all from the law school; Fredrick W. Perry, executive director of international advancement, Indiana University Foundation; and Shariq Siddiqui, visiting director and assistant professor of the Muslim Philanthropy Initiative at the Lilly Family School of Philanthropy at IUPUI.
Founded in 1842, the Indiana University Maurer School of Law is the oldest public law school in the Midwest. Ranked 30th in the nation by U.S. News & World Report, it is the highest-ranked public law school in Indiana and among the top 15 public law schools nationally. In addition to its research on the legal profession, the school also has top-ranked programs in tax (23rd); environmental and international law, (25th); and intellectual property law (27th). Last year, the law school's LLM program received an A+ rating from The International Jurist magazine, one of only two schools in the U.S. to achieve this distinction.