BLOOMINGTON, Ind. – Four alumni of the Indiana University Maurer School of Law received the school's Distinguished Service Award at an Oct. 27 luncheon at the Indiana Memorial Union. Established in 1997, the award recognizes alumni who have distinguished themselves in service to their communities and the school in ways far exceeding traditional business, professional and civic duties.
Through their hard work, passion and accomplishments, these alumni define the Maurer School of Law's ideals for community service and serve as accomplished role models for the law school and the greater community.
"We are truly honored to recognize these four outstanding alumni," said Austen L. Parrish, dean of the law school and the James H. Rudy Professor. "Their work in behalf of the profession and their communities is inspirational, and we are proud to claim that as part of our alumni community.
This year's recipients are: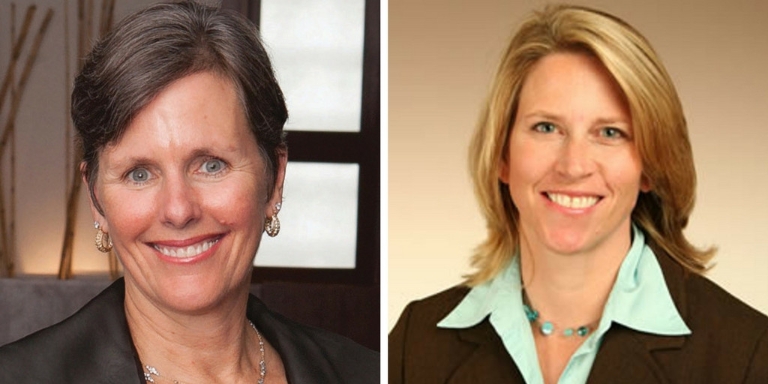 Jeffrey J. Kennedy, '67, retired partner, Kirkland & Ellis, Chicago. Kennedy was recognized for his service to the school as a long-term member of the Board of Visitors and to his community, including the Village of Oak Brook and the Diocese of Joliet.
Martín Montes, '95, director of regulatory affairs for Commonwealth Edison, Chicago. Montes was saluted for his long-standing commitment to the law school through service on the Alumni Board and as a leader of the Latino Alumni Advisory Board, for his continued mentoring of students, and for his volunteer efforts with the Hispanic National Bar Association and the Legal Aid Society.
Susan Blankenbaker Noyes, '83, founder of Make It Better Media, Wilmette, Illinois. Noyes was recognized for establishing Make It Better, a media company that has flourished; her service in furthering the concept of social entrepreneurship; and her leadership of the Make It Better Foundation, which identifies and amplifies the work of outstanding nonprofit organizations.
Courtney R. Tobin, '92, senior vice president and chief compliance officer, Sycamore Advisors LLC in Indianapolis and Atlanta. Tobin was recognized for her outstanding service to the school and her enduring commitment in leadership roles as immediate past president of the Alumni Board and for her volunteer work in behalf of education and the homeless.