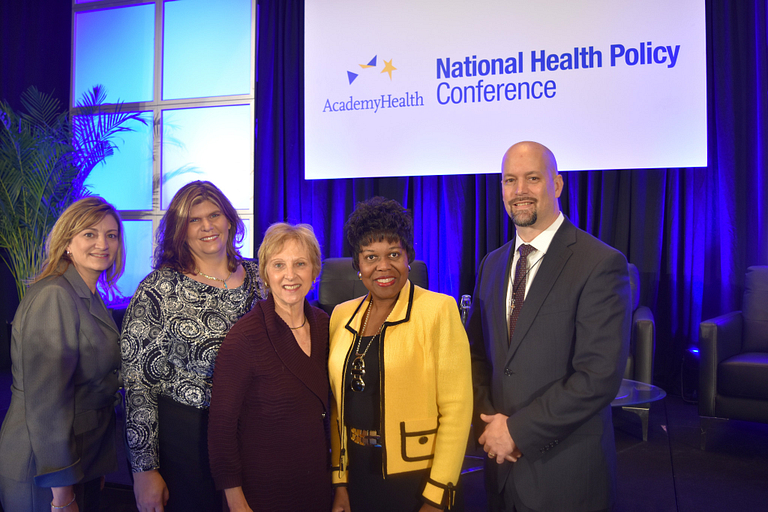 The AcademyHealth student chapter at IUPUI is reaching out to students from multiple disciplines to join the leading national organization for health services researchers, policymakers, health practitioners and stakeholders. The organization offers students professional development and employment opportunities.
Students and faculty members of Indiana University's School of Nursing and Richard M. Fairbanks School of Public Health founded the chapter in 2016.
"We wanted to bring opportunities for professional development and future employment to students," said Sharron Crowder, clinical assistant professor at the School of Nursing. "There are leadership roles available for students and the chance to engage with health care professionals, outstanding researchers and policymakers. These activities are available on state and national levels and even right here on campus with other students in related fields."
Crowder's goal in establishing the chapter was to encourage experiential learning and interprofessional interactions on campus. The chapter has created a community for students to work together on evidence-based decision-making and policy research while still in an academic setting, she said.
Along with Robin Newhouse, dean of the School of Nursing, Crowder partnered with Christopher Harle, associate professor of health policy and management in the School of Public Health, to recruit students to form the organization. Harle serves as the chapter's faculty advisor; Crowder is the co-advisor. Harle believes the chapter promotes multidisciplinary collaboration, enhanced learning, professional development and service opportunities.
"My goal is to help our students become excellent researchers who will contribute to scholarly work for many years, and one way to accomplish that was by providing a connection to AcademyHealth," Harle said. "I saw the chapter as an obvious vehicle to link students to a leading professional organization that they are likely to interact with throughout their careers."
Chapter member Liz Linden is currently working on her doctorate in nursing practice and is the associate chief nursing officer at Riley Hospital for Children. She said that one of the greatest advantages for students who join the chapter is interprofessional collaboration 
"It creates an opportunity to look at the diversity each discipline brings to the health care delivery system and to health policy," Linden said. "Students get the opportunity to be enriched with exposure and experiences outside of their own area of study."
Members receive a number of benefits by joining the organization, including up-to-date research findings, online resources, and invitations to student competitions and two national conferences where they will receive exposure to top practitioners in their fields. Crowder said that, in addition to chapter activities, AcademyHealth's national conferences are valuable extensions of the learning environment for the students.
The student members will have opportunities to take part in one of AcademyHealth's "Interest Groups," engaging in online discussion forums. They will also have access to over 400 nationwide scholarships, internships and fellowships, plus hundreds of research and policy job postings.
For more information on the AcademyHealth Student Chapter at IUPUI and how to join, contact Nate Apathy at natea@iu.edu.
About the Indiana University School of Nursing
For over 100 years, the Indiana University School of Nursing has been empowering leaders in practice, research, education and service. Ranked 14th among public schools and colleges of nursing for National Institutes of Health funding, the school is known for its robust program of research focused on quality of life in chronic illness, nursing education, and cancer prevention and control. Programs range from three undergraduate options to nine tracks in the master's program, post-master's options, a Ph.D. in nursing science, a leadership-focused DNP and continuing-education opportunities. The 2017 Best Graduate School rankings by U.S. News & World Report place the master's and DNP programs at #1 in the state of Indiana, with the master's in the top 10 percent and the DNP in the top 12 percent of all schools surveyed. See online for more information on the IU School of Nursing.
Rachel Leshinsky is a marketing and strategic communications writer with the IU School of Nursing.