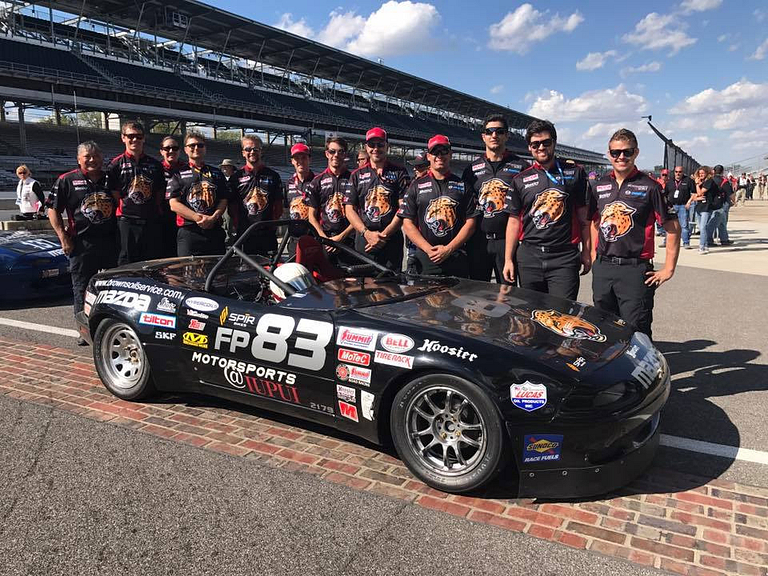 Nobody on the IUPUI Motorsports team wanted to finish second in the last race of the season. However, put into perspective, second was remarkable indeed.
The No. 83 1991 Mazda Miata, serviced and engineered by students from the School of Engineering and Technology at IUPUI, qualified for last week's Sports Car Club of America Runoffs, the championships of the nation's largest amateur racing association.
Getting to race there – in a virtual home game at the Indianapolis Motor Speedway – was impressive enough. Beating every car but one, given a wild week with an all-student team, proved even more so.
"Your objective is to win. But in the back of my mind, I always knew that we were going to go head-to-head and compete against the best in the nation," said Chris Finch, a lecturer in motorsports engineering who manages the SCCA program. "There are guys there who have been prepping for five, 10 years. We had basically a year and a half of preparation and no experience with the ins and outs of the SCCA.
"Coming back with a second place, from a program standpoint, is awesome."
The runner-up effort on Sept. 29 followed a week of obstacles in the garage at IMS. From being sidelined for a couple of days due to engine issues to tackling a baffling brake problem, the team persevered just to get onto the track and then to a fifth-place position in qualifying.
"Every time you thought you could sit down and relax, we were problem-solving," Finch said. "That made me so proud of the students, because that's how professional racers tackle every single problem. They never quit; they keep digging."
Once the green flag fell, it was up to professional driver Bob Perona to push the Miata to the front. That didn't happen right away, as a traffic jam at the first turn of the IMS road course shuffled the No. 83 back to 13th. But Perona battled back to the top five by the midway point of the 18-lap event and ultimately rose to second, 2.3 seconds behind the pole-sitting and wire-to-wire-winning Miata driven by Eric Prill of Topeka, Kansas.
"When we had worked our way up to fourth place, and the car running in second blew a motor and fell back, it occurred to me that we were on the podium," graduate student Andrew Jefferson said. "That's when I started to get really excited."
IUPUI Motorsports celebrated that top-three podium finish at the Indianapolis Motor Speedway, home to arguably the most cherished victory circle in racing. Jefferson, along with Class of 2017 mechanical engineering technology graduate Joe Legan and motorsports engineering undergraduates Tyler Bell, Eric Coletto, Miles Gunty, Jacob Hampton, Matt Hunt, Chase Wilderman and Helen Wilson, soaked it all up.
Then, like true racers, they started to look ahead.
"We're already talking about what we'll be doing in the next couple of weeks," Jefferson said. "We want to do some testing, to squeeze a little more horsepower out of the thing, and just clean it up and get ready for next season."