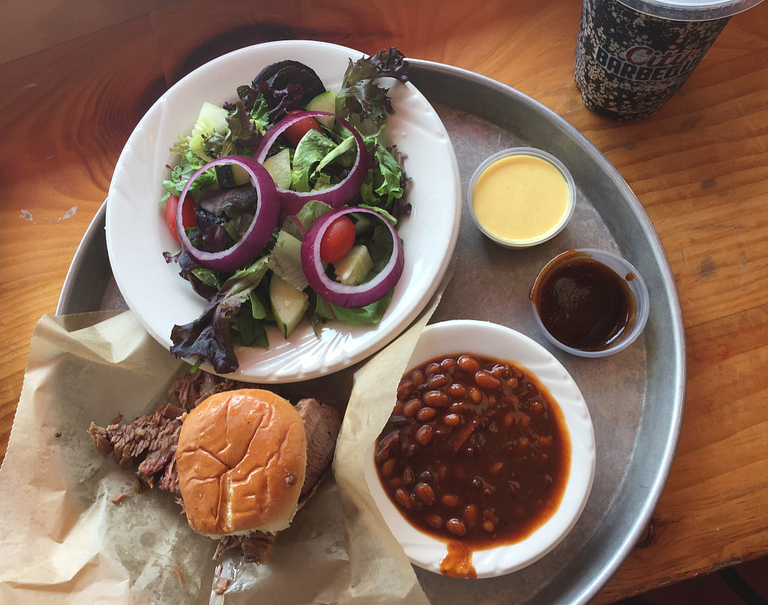 Now that the new academic year is in full swing, we hope you've had time to get your new CrimsonCard, which replaces the Jagtag.
The CrimsonCard is your key to a lot on campus – and off. When it comes to lunch, it can help keep your wallet filled while you fill your stomach. When you use your CrimsonCard as payment, there are many food discounts at restaurants near campus, with different deals for different days of the week. Here are just a few you should know about:
Monday
City Barbecue has locations all over the Indianapolis area, but the location at 621 W. 11th St. offers two free side dishes with the purchase of a regular sandwich on Mondays if you pay with your CrimsonCard. To go with your brisket or pulled pork, you can choose from down-home delicacies like green beans with bacon, corn pudding, baked beans with brisket, sweet vinegar slaw, collard greens with pork and much more. The sides rival the main entree here. Hours are 10:30 a.m. to 10 p.m.
Also on Mondays, the Pizza Hut at 617 W. 11th St. offers a $5.99 large, one-topping carryout special if you pay with a CrimsonCard. Hours are 10:30 a.m. to 10 p.m.
Tuesday
The Papa John's at 955 Indiana Ave. offers a $6.99 large, one-topping pizza for those who pay with their CrimsonCard. Hours are 10 a.m. to 12:30 a.m.
Wednesday
The Hardee's location at 710 W. 10th St. provides a buy-one-get-one deal to those who pay with a CrimsonCard for its bacon, egg and cheese biscuit or its large Thickburger. Hours are 5 a.m. to midnight.
Thursday
The Stacked Pickle family-friendly sports bar at 910 W. 10th St. gives a 15 percent discount on your total transaction. Hours are 11 a.m. to 1 a.m. 
Friday
Pita Pit's CrimsonCard deal consists of a free drink and chips with any pita sandwich purchase. The participating location is at 1 N. Pennsylvania St. downtown. Hours are 9 a.m. to 9 p.m.
Daily
Hot Box Pizza has the JagBag special of two bags of breadsticks for $5.99 for those who pay with a CrimsonCard. This Hot Box opens at 10 a.m. every day, but it closes at midnight Sunday through Tuesday, at 1 a.m. Wednesday, and 4 a.m. Thursday through Saturday.