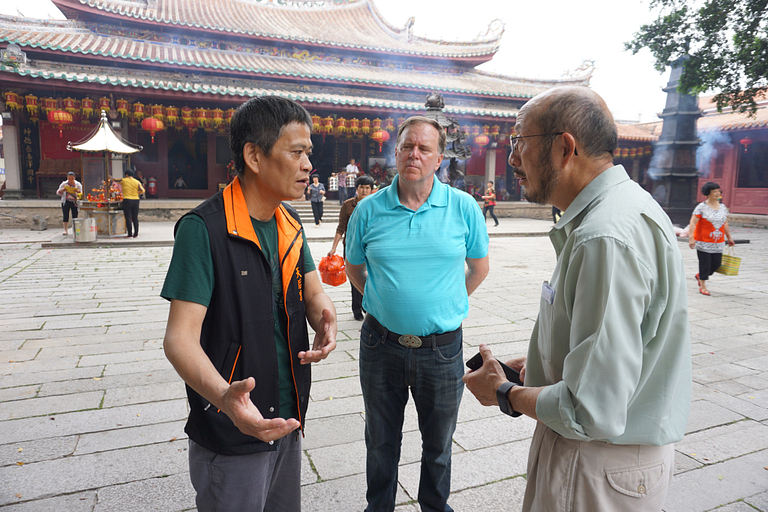 Ian McIntosh went 40 years between his first visit to China and his most recent. 
McIntosh's trip in April was as part of a Public Broadcasting Service crew shooting a 27-minute documentary on the Maritime Silk Road's history and current developments.
His first trip to China was in 1977. McIntosh was an undergraduate attending the University of Queensland in Australia, studying abroad in a then ultra-communist China. In 2017, he is the voice of the new PBS documentary "Waves of Fortune: China's Maritime Silk Road," which airs at 7:30 p.m. Thursday, Oct. 12, on WFYI 1. The documentary's premiere will be screened at noon Wednesday, Oct. 11, in the Campus Center, Room 450 A. "Waves of Fortune" will stream at wfyi.org starting Oct. 20.
While China is still a communist country, 21st-century capitalism has just as strong a presence, if not more. Then there are the thousands of years of history, religion and tradition mixed in. The juxtaposition of ancient temples and modern high-rises was a common sight during this trip.
"The change I witnessed over 40 years was extraordinary," said McIntosh, director of international partnerships for the Office of International Affairs and associate director of the Confucius Institute in Cavanaugh Hall, comparing his first and latest sojourns to China. "In 1977, militant atheism was the law, and China was a socialist state ruled by a dictatorship of the proletariat. The idea of private enterprise for personal gain was frowned upon in Marxist circles."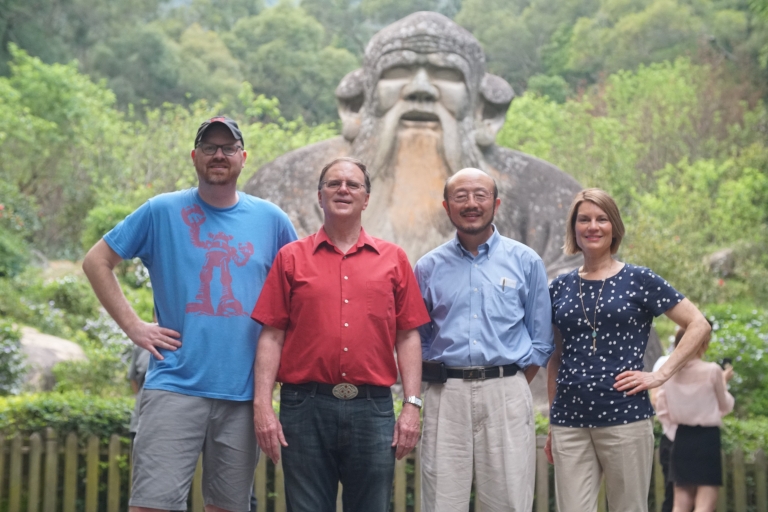 With producer Sandy Roob, videographer Vinnie Manganello and translator Dr. Zao C. Xu, director of the Confucius Center in Indianapolis, McIntosh did four different "stand-ups" in the Chinese cities of Quanzhou and Guangzhou. The two ports anchored the Maritime Silk Road. Most maps have this "road" stretching from Egypt to Japan, with numerous stops along coastal China. It also connects to Indonesia and Korea.
The "Waves of Fortune" team shot two days in Quanzhou, home to landmarks like the Tianhou Temple and Qingjing Mosque, and six days in Guangzhou, which holds the Hualin Buddhist Temple and the massive Canton import-and-export fair. McIntosh then recorded the voice-over at the WFYI studios in Indianapolis. 
The original Silk Road dates back thousands of years and consisted of a 4,350-mile land trek from Western Europe, the Middle East and Central Asia to eastern China. The Silk Road concept is being revisited in modern China with an investment of trillions of dollars into establishing six land "corridors" and the revamping of the Maritime Silk Road. Dubbed "One Belt, One Road," the strategy looks to unify and develop more trading with European, African and Asian countries.
The project concentrates on the oceanic version of the Silk Road. Most of the documentary looks at the history of the ancient trade routes that helped spread goods, culture and religion throughout China and to other parts of the world. The documentary is organized into five sections, or "waves" – "Ancient Trade," "Indian Influences," "Middle Eastern Golden Era," "European and U.S. Entrance" and "Current Commerce."
Chinese historians, scholars and entrepreneurs were interviewed while hours of beautiful B-roll were shot. The "Waves of Fortune" team saw a diverse array of Middle Eastern, Indian and African traders living in the port city of Guangzhou. At the Canton Fair, which drew 250,000 people per day, the crew met a mother and son who travel the Silk Road for business – much like their ancestors. They also met a Canadian businessman trying to get his line of hot tubs into big-box stores. The event ran two weeks and brought together manufacturers from around the globe.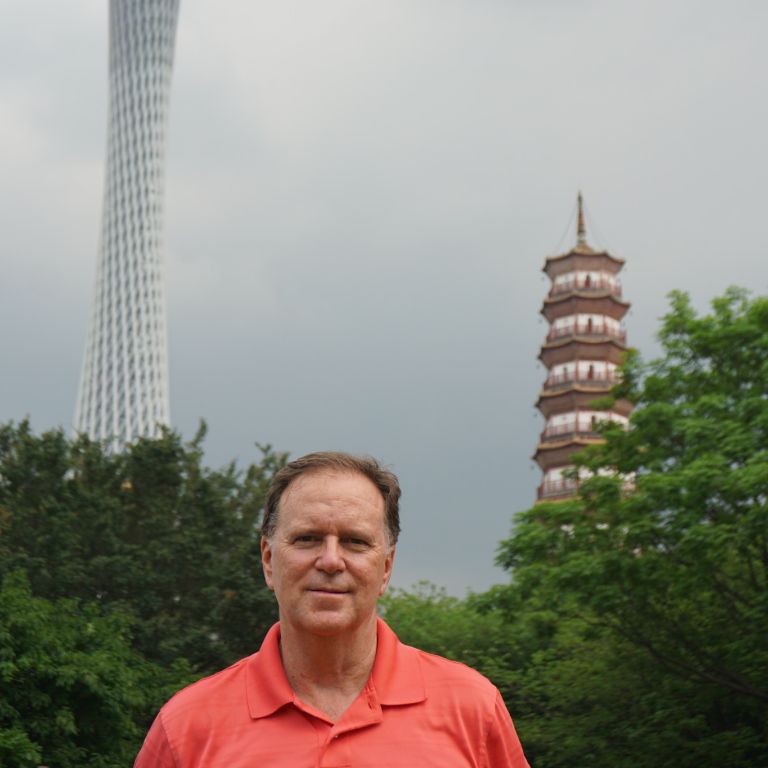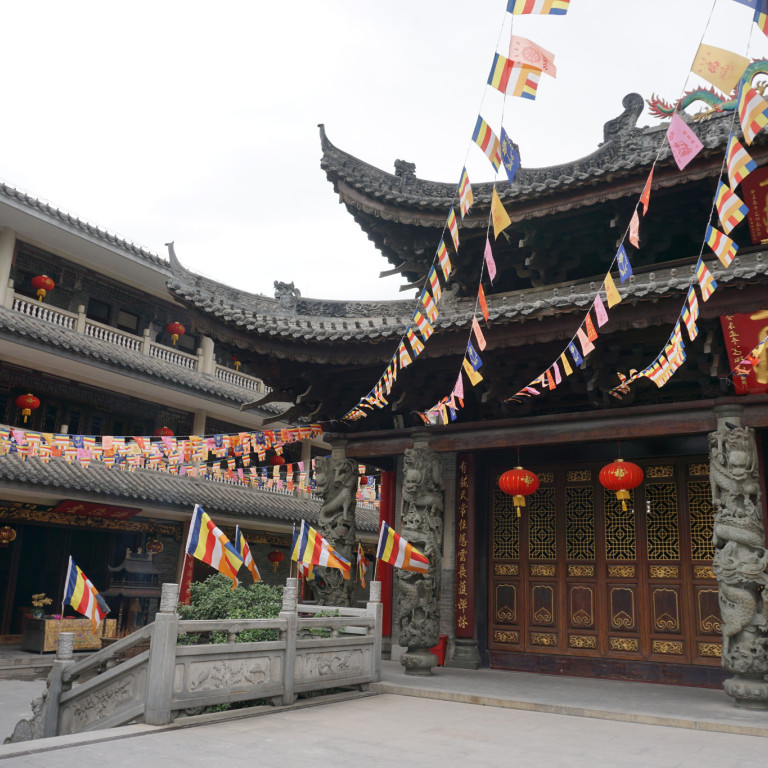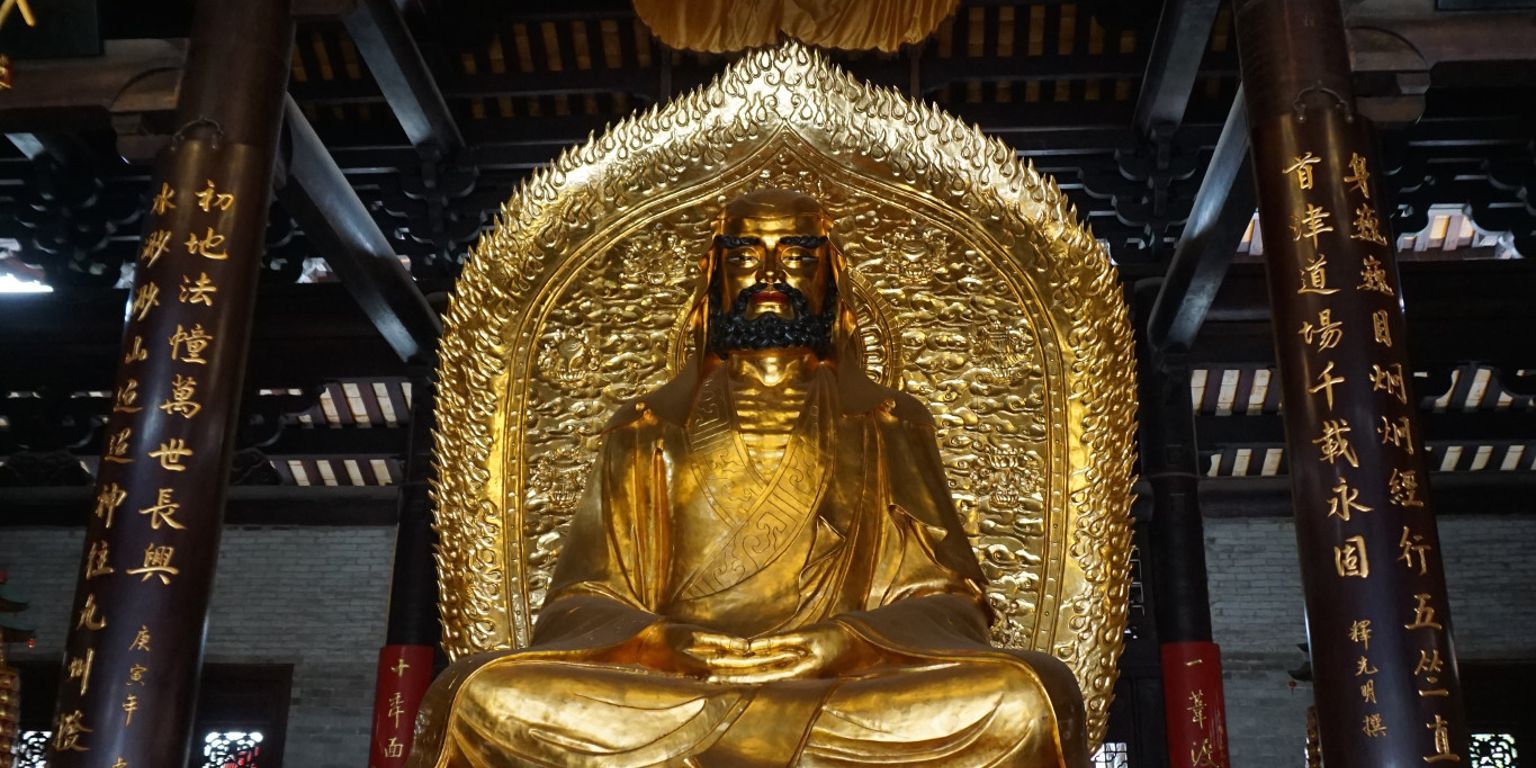 Photos courtesy of Sandy Roob
"The import-export complex was huge," Roob recalled. "It seemed like it was the size of maybe 20 of our convention center combined."
While they chose Guangzhou and Quanzhou for their roles in the Maritime Silk Road and their current status as active port cities, McIntosh and Roob were impressed with the temples and ancient monuments away from the ships. Traditional Chinese religion played a role in the Maritime Silk Road, and Roob was sure to get footage of the Tianhou Temple. With hundreds paying respects to Mazu, the patron goddess of sailors in Chinese beliefs, Roob discovered how revered the goddess still is in 2017. The city's link to the ocean is as strong as it was 1,000 years ago. Another shoot took the team to the Hualin Temple in Guangzhou, a landmark for Zen Buddhist practitioners.
McIntosh talk
During his studies for his Ph.D. in anthropology at Charles Darwin University, McIntosh became fascinated with 1,000-year-old African coins that were discovered in northern Australia, where he lived. He had studied the Silk Road before, but this discovery entrenched him in the study of the Maritime Silk Road.
McIntosh is set to return to China later this month, this time for a global pilgrimage conference in Beijing. While high-rises and a soaring economy are fixtures in Chinese development, the allure and blend of old and new still make the nation a fascinating topic for research and discussion. Being a part of the documentary gave McIntosh new energy for his decades of research. 
"It was a wonderful experience," McIntosh said. "I found it personally challenging and enriching."