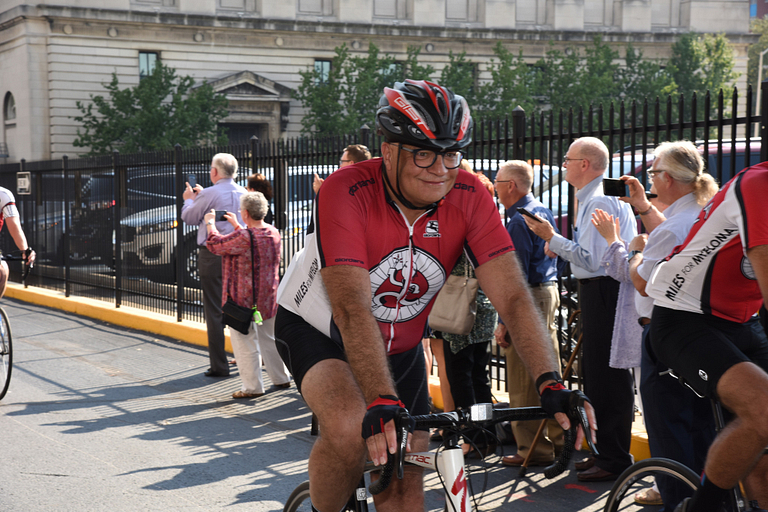 Abonour completes 13th running of Miles for Myeloma
Dr. Rafat Abonour, a professor of medicine at the IU School of Medicine and a member of the IU Simon Cancer Center, crossed the finish line Sept. 16 in Indianapolis after riding nearly 200 miles in the 13th annual Miles for Myeloma cycling event.
Over two days, Abonour and other cyclists biked from Indianapolis to Muncie and back, all to raise awareness of multiple myeloma and incurable blood cancer and to raise funds for myeloma research at the IU Simon Cancer Center and myeloma patient care at IU Health. To date, Miles for Myeloma has raised nearly $5 million.
Inside IUPUI to begin publishing on Thursdays
Beginning with next week's Oct. 19 issue, Inside IUPUI will start publishing on Thursdays rather than Tuesdays. You can still look forward to it arriving in your inbox weekly during the school year; the only change is which day of the week it will arrive.
"With all of the wonderful things happening on campus throughout the week and on the weekends, moving Inside IUPUI from Tuesday to Thursday allows us to better plan and prepare all of those great stories for the IUPUI community," said Amber Denney, assistant director of strategic communications at IUPUI. "Publishing Inside IUPUI on Thursdays will give all of us something great to look forward to near the end of the workweek."
Candidates needed for women in higher education institute

Executive Vice Chancellor for Academic Affairs Kathy Johnson has pledged funds to provide a match for three candidates to the 2018 HERS Summer Institutes for Women in Higher Education Administration. These are residential training opportunities that seek to improve the status of women in the middle and executive levels of higher education administration. The early submission deadline is Nov. 17. The deadline for campus applications is Oct. 20.
Candidates should send applications to Kathy Grove at ksgrove@iupui.edu by Oct. 20.
IUPUI has a long tradition of supporting candidates and has sent 53 female faculty and staff members to this prestigious institute since 1987.
Additionally, HERS has received a special grant from the Henry Luce Foundation to offer women in STEM fields a full scholarship to the 2018 institutes at Denver and Bryn Mawr. STEM fields included are physical and natural sciences, engineering, computing, and mathematics; excluded are medical, health and social sciences. Candidates must be U.S. citizens.
Applications are available now for the Luce scholarship, and the deadline for submission is Nov. 17.
For questions or to get guidelines, email Kathy Grove at ksgrove@iupui.edu.
President McRobbie to deliver State of the University address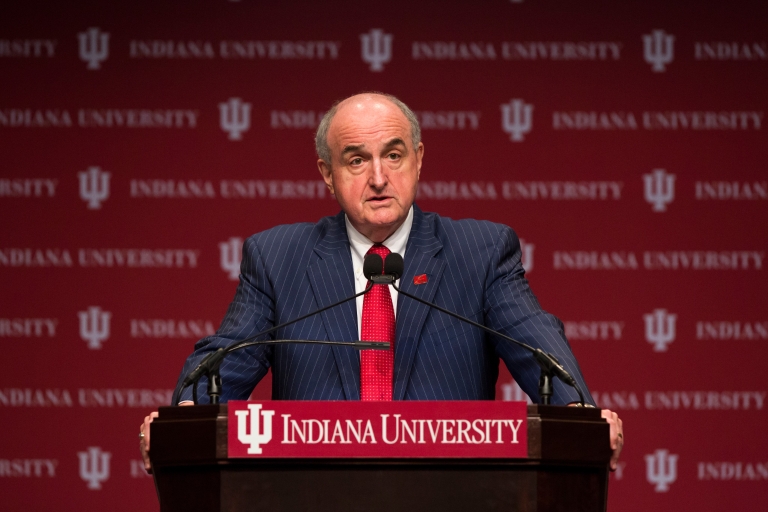 Today, Indiana University President Michael A. McRobbie will give the annual State of the University address. It will take place in IUPUI's Hine Hall at 2 p.m., and all members of the IU community, as well as the general public, are invited to tune in or attend.
President McRobbie is expected to speak on the university's Bicentennial Strategic Plan and progress toward IU's bicentennial celebration in 2019-20.
The address will be live-streamed at broadcast.iu.edu, shown live on IU Bloomington campus cable channel 32, and replayed at 7 p.m. and 11 p.m. on WTIU and other stations.
See the press release for more information.
IUPUI student showcased at Heartland Film Festival
IUPUI's own Hannah West, a senior in the School of Informatics, is being represented at this year's Heartland Film Festival. The prestigious festival runs for 10 days in October each year and includes over 270 screenings of films from around the world. The mission of the Heartland Film Festival is to "inspire filmmakers and audiences through the transformative power of film," and the festival gives out over $100,000 in awards every year. It is quite an honor to be included.
West's submission, "Not in Vain," is a short film that focuses on the relationship between real Hoosiers and opioids like heroin. It will play three times during the festival. The first two showings will be at the AMC Castleton Square theater at 2:45 p.m. Oct. 13 and at 12:30 p.m. Oct. 16. The final showing will be at the AMC Traders Point theater at 8:30 p.m. Oct. 17.
This year's festival runs Oct. 12-22 in theaters across the city. More information on the festival and how you can see award-winning films from around the globe is available online.