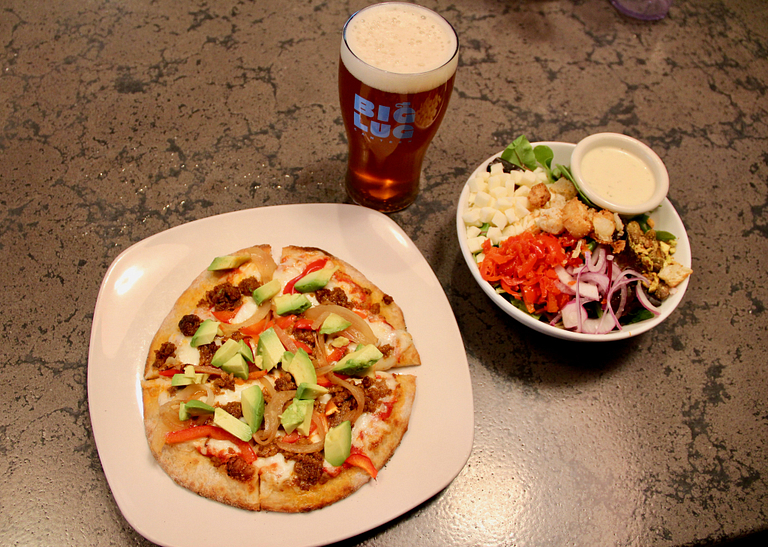 Fire, stone and wood combine as the elements of a delicious and affordable lunch at Rockstone.
The eatery, established in 2014, specializes in salads, pastas, sandwiches and brick oven-baked pizzas. The enormous oven is hard to miss. Bright flames are visible in the large mouth, where dozens of pizzas slide in daily. Pastas, sandwiches and dips are heated in there, too, to melt cheese on pasta and dips as well as to crisp sandwiches' focaccia. The oven cranks to almost 600 degrees to ensure quickness. 
Lunch bustles due to a few different combo deals available 10:30 a.m. to 3 p.m. Monday through Friday. Most lunch specials range from $7.95 to $9.50. 
For example, a six-inch Sassy Karl pizza – with chorizo, chili oil, pepperoncini and diced capocollo – is flanked by a soft drink and a breadstick for $9.50. Karl is one of Rockstone's house pies.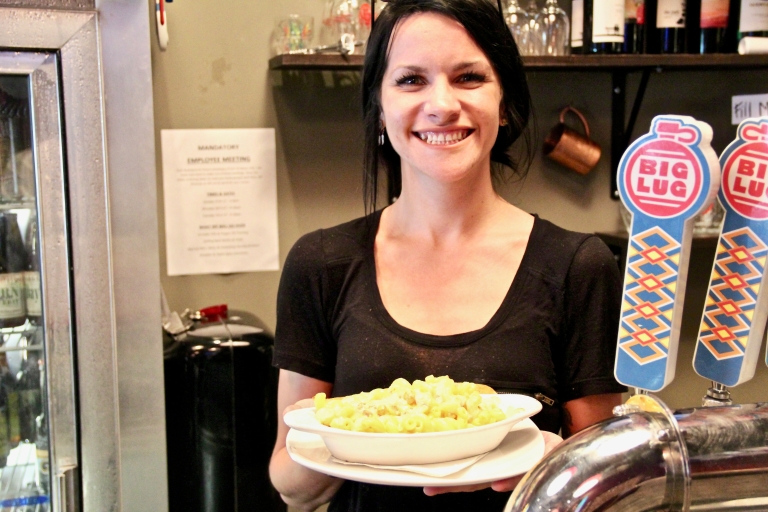 "It has a little kick to it," Rockstone bartender Maddy Picco reported.  
Other popular pies include Potato Bacon, with olive oil, herb ranch and scallions; Fun Guy, with mushroom truffle spread, roasted tomatoes, crimini mushrooms, ricotta, goat cheese and fresh basil; and Roast Pork with caramelized onions, peppadew peppers and Dijon mustard barbecue sauce. Most house pizzas can get the "Stickwich" treatment: The toppings are put onto a butterflied breadstick and turned into a hot pizza sandwich.
Rockstone uses cherry wood in the oven, delivering a unique flavor and crunch, Picco said.
Of the pastas, Picco highly recommends the Four Cheese al Forno – a blend of ricotta, fontina and asiago cheeses mixed with mascarpone cream over rigatoni – and the unique Shrimp Bisque, which boasts pistachios, tomatoes, ricotta and mozzarella over shrimp bisque sauce and cavatappi pasta.
For lighter fare, Picco suggests the Rockstone salad. The house specialty contains peppadew peppers, shaved red onions, mozzarella and pistachios over mixed greens. All dressings – from balsamic vinaigrette to Caesar – are made in the restaurant. 
Picco said Rockstone is extra-attractive to IUPUI faculty and staff because it takes CrimsonCard payments.
Rockstone's hours are 11 a.m.-10 p.m. Sunday through Thursday and 11 a.m.-midnight Friday and Saturday.