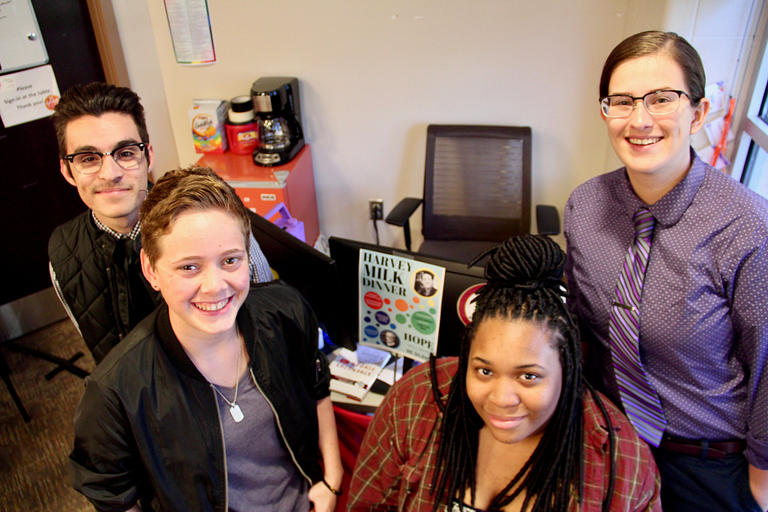 Harvey Milk's legacy and historic bravery still ring true to the IUPUI LGBTQ community.
Milk was the first openly gay elected official in United States history when he was named to the San Francisco Board of Supervisors in 1977.
Students like Lauren Hartlieb take inspiration from the activist and gay-rights crusader, even though she was born decades after Milk's 1978 assassination. 
"He encouraged visibility. People started coming out and being seen," said Hartlieb, a junior studying criminal justice policy. 
Hartlieb is the chairperson for the eighth annual Harvey Milk Dinner, set for 6 p.m. Sunday, Oct. 29, at the Downtown Marriott hotel ballroom. She, her committee and the LGBTQ Student Alliance are bringing in Cleve Jones as the keynote speaker. 
Jones was a mentee of Harvey Milk and went on to co-found the San Francisco AIDS Foundation and found The NAMES Project AIDS Memorial Quilt, a powerful visual reminder of the AIDS pandemic. More than 48,000 individual 3-by-6-foot memorial panels – most commemorating the life of someone who has died of AIDS – have been sewn together by friends, lovers and family members. 
Jones' activism also spread to labor unions. His work with Unite Here aims to build "a movement to enable people of all backgrounds to achieve greater equality and opportunity." His book "When We Rise" helped inspire the recent ABC drama miniseries of the same name.
Jones was portrayed by actor Emile Hirsch in the 2008 film "Milk," which starred Sean Penn as Milk. 
"Cleve worked right alongside Harvey – getting him in office and then afterward carrying on his legacy," Hartlieb said. "Harvey gave him the bullhorn that helped his activism take off."
The dinner will seat 750 IUPUI students, staff and faculty members as well as tables from community businesses and organizations including Salesforce and the Damien Center. The sold-out event nearly doubles last year's, which drew 420, and will be the largest Milk Dinner in the event's eight-year history.
Jones' presentation will come after IUPUI students, staff and faculty share their stories and experiences as members of the LGBTQ community. The evening is much more than a dinner.
"This is an event where we can celebrate our accomplishments and each other," explained Taylor Dooley, program coordinator for the LGBTQ+ Center and co-advisor for Sunday's event.
From San Francisco to the Circle City
Milk's work was centered in 1970s San Francisco, but it had national impact. Decades later, his efforts resonated with IUPUI's LGBTQ community. Milk's legacy was an easy rallying point to create an event to honor the campus's LGBTQ community members. Milk helped unite a community then, and he remains a major figure in LGBTQ American history. 
Anchoring the event to Milk's name and legacy is a reminder to younger LGBTQ people that society today may be more welcoming, but that wasn't always the case. 
"We can, as LGBT people, get together and celebrate our community and how far we've come," reflected Jordan Villarreal, a junior studying economics and the co-chair of sponsorships for the Milk Dinner. "That's not something we've always been able to do. We haven't always been able to gather in one area. It's really a significant night for a lot of us in recognizing how far we've come – where we've come from. It's important to not forget that history." 
The IUPUI LGBTQ+ Faculty Staff Council organized the first Milk Dinner. The growth has been steady since the 2010 and 2011 events, which drew 100 in the fourth-floor Campus Center ballroom. But the dramatic increase in attendance between 2016 and 2017 is eye-opening. 
High visibility
Ryan Smith, a religious studies senior, became aware of the LGBTQ community at IUPUI through the 2015 Harvey Milk Dinner. It was a powerful experience for the young woman.
Upcoming
"I was really nervous," Smith recalled about attending her first LGBTQ event at IUPUI. "But it was beautiful to see what students were doing for their campus and community. It was beautiful to be a part of that."
Smith is now president of the IUPUI Alliance and an LGBTQ+ Center ambassador. Through her efforts as well as those of dozens of other IUPUI students, staff and faculty members, the LGBTQ community's voice is louder than ever on campus. From the establishment and growth of the LGBTQ+ Center in Taylor Hall to the number of students participating in Indy Pride, drawing 750 people to the Oct. 29 event is perhaps not as surprising as first thought. The work, passion and unity are showing results. Villarreal's email inbox has been overflowing since the summer with messages of support for the Milk Dinner.
"It's really incredible to see that there is hope," Villarreal said. "Getting so many responses was a really emotional experience. This has been so powerful to me, and it's really powerful to a lot of people. This shows how supportive and behind us the campus is as a whole for the LGBTQ Alliance. It's been an emotional process."