INDIANAPOLIS – The Indiana University Lilly Family School of Philanthropy is introducing Generosity for Life, a new interactive platform and resource on charitable giving that offers users a multifaceted look at American families' generosity over time.
The website, GenerosityForLife.org, visualizes and analyzes data from the school's Philanthropy Panel Study, which tracks over 9,000 individuals' and families' giving, volunteering and factors that influence those practices – such as employment, health and marital status – throughout their lives. PPS is the leading and most accurate resource for measuring generational giving and volunteering in the United States.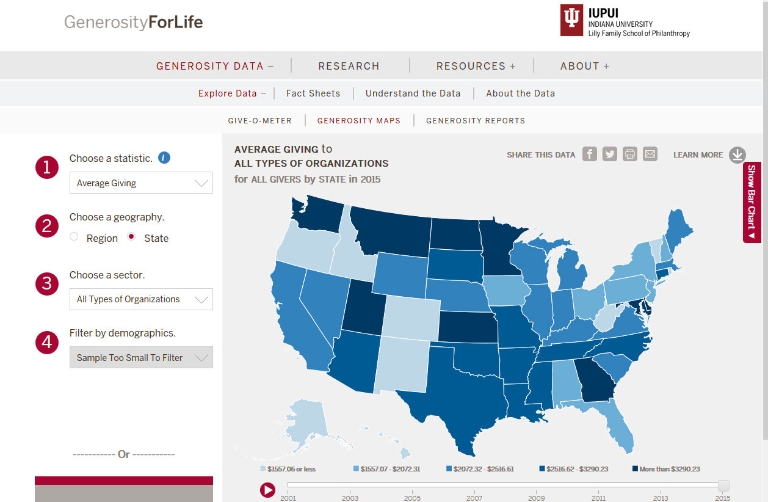 The newest PPS results, which have not been made publicly available until now, indicate a broad and consistent decline since the early 2000s in the percentage of households that give to charity. In 2014, the latest year for which data is available, 55.51 percent of American households gave, a decrease of nearly 11 percent compared to the share that gave in 2000. There are several reasons for this decline, including the great recession, a decline in American religiosity and demographic shifts.
In some notable areas, the percentage of households that give is holding steady – a similar percentage of wealthier and older respondents reported giving over time, for example. And unlike rates of participation in giving, the dollar amount donated, in 2016 dollars, has remained fairly constant over time. The website and the PPS data include additional breakouts, by a variety of demographic factors, of giving participation and amounts given.
Understanding these and other changes in how Americans are giving, encouraging additional giving, and helping to educate the public about generosity are key reasons the school is unveiling the new website.
"GenerosityForLife.org packages and compiles our PPS findings to make the data on giving accessible and readily available for use by the public, including families, teachers, donors, nonprofit organizations and scholars. We hope that GenerosityForLife.org – and its tools and resources – deepens understanding of American giving, lays the groundwork for greater altruism and inspires a new generation of philanthropists," said Una Osili, associate dean for research and international programs at the Lilly Family School of Philanthropy. "GenerosityForLife.org illustrates that philanthropy is for everyone – anyone can be a philanthropist."
The website offers a variety of new tools and resources, including:
Give-O-Meter invites visitors to input their own demographic information and compare their giving and volunteering habits to those of their peers, allowing visitors to recognize and think about their own behaviors and look for areas for growth.
Generosity Maps allow users to see how people give across the country and filter the findings via several lenses, including geographic region, type of charity supported, age and income.
Generosity Reports allow users to construct a detailed charitable profile of giving trends in the U.S., customizable by type of giving and geographic area.
Perspectives from real students offer parents and teachers the chance to review original storybooks and other school projects from children that convey the importance of generosity and show that philanthropy can take many forms.
Unique lesson plans provide teachers with ready-made lessons for teaching students generosity and conveying the importance of giving back.
Generosity for Life was made possible through support and funding from the John Templeton Foundation.
About the Indiana University Lilly Family School of Philanthropy
The IU Lilly Family School of Philanthropy at IUPUI is dedicated to improving philanthropy to improve the world by training and empowering students and professionals to be innovators and leaders who create positive and lasting change. The school offers a comprehensive approach to philanthropy – voluntary action for the public good – through its academic, research and international programs and through The Fund Raising School, the Lake Institute on Faith & Giving, and the Women's Philanthropy Institute. Follow @IUPhilanthropy on Twitter or "Like" us on Facebook. For more information, visit philanthropy.iupui.edu.