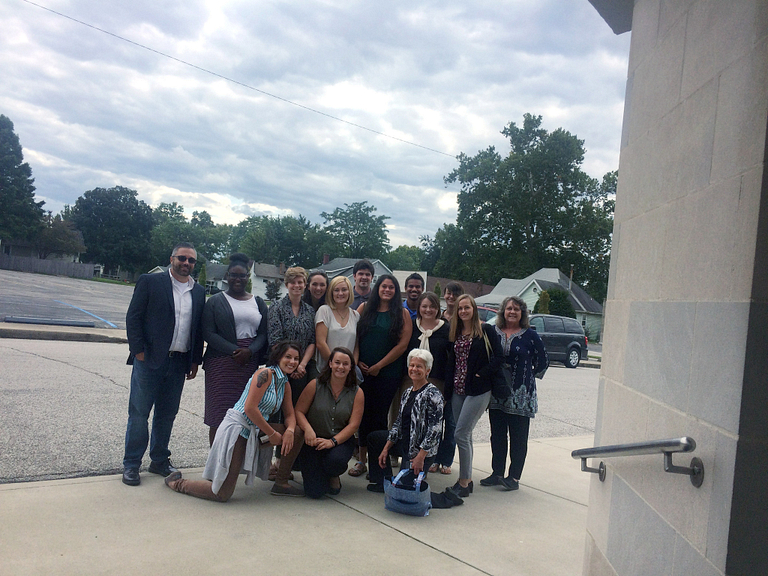 The Indiana University School of Social Work has designed a program for Master of Social Work students on the IU Bloomington campus that offers valuable real-life experiences as they assist a rural county in examining ways to deal with addiction problems.
The effort comes as part of an IU initiative called Sustaining Hoosier Communities, a program of IU's Center for Rural Engagement. Stakeholders in Lawrence County identified a number of projects they wanted help with, and faculty responded to the ones that fit their expertise. Among the issues the community wanted to investigate were mental health and addiction needs.
John Keesler, an assistant professor of social work at IU Bloomington, lives in Bedford, the county seat of Lawrence County. He met with the Lawrence County sheriff in August to find out more about what the community hoped to accomplish. The sheriff said the community wanted two things: a survey of attitudes and knowledge about mental health and addictions as well as information about types of integrated treatment models dealing with the complexities of mental health and substance use, particularly for rural communities.
"That really fit with the focus of our Master of Social Work program at IU Bloomington, which is mental health and addictions," Keesler said. He also realized that Kristin Hamre, an assistant professor and colleague in the social work program, would be a perfect partner to collaborate with. "I am teaching research methods. I thought, 'I have to develop this course anyway, so let's go ahead and integrate this into the class I am working on.' It makes sense for Kristin to take on the piece on effective treatment models because she is teaching the policy class."
"From a coursework perspective, it was exciting to us," Hamre said. "Students come into the program with a clinical bent. That's why they are getting an MSW degree, and it can be challenging to get them interested in the more 'macro' aspects of social work."
Keesler and Hamre have the same cohort of students, about 14, and their classes are back-to-back on the same day. The instructors have tried to present a united approach, and it is unique in some ways that policy and research are collaborating.
"I think students sometimes come in feeling intimidated about research and policy work or feel they don't have the skills or haven't interacted with it before," Hamre said. "So we were excited about offering real projects in our classes that would give them experiential learning, demystify the process, and let them get their hands in there and start doing the work."
The hope is that the students will feel empowered to do that kind of work when they are in the field, Hamre said, whether it's utilizing research to inform their practice, doing research to make their practice better and engaging in advocacy, or gaining tools to help their community and agencies they are in and conduct policy analysis-type work to improve community and agencies.
"It's exciting to show them they have more skills than they think they have, and also how to nurture and develop those skills," she said.
This is a real project helping a community, Keesler said. "This community came to IU identifying real needs. This community, like many rural communities, is really affected by the opioid epidemic and is also concerned about amphetamines and alcohol abuse."
The survey of Lawrence County residents is designed to assist with the development of sustainable projects.
"The survey will help us understand community attitudes," Hamre said. "It is so important moving forward with potential policies and programs to understand what the community would be supportive of."
The data can also be used to support grant funding, as the community – like many rural communities – is hard-pressed for resources.
After interviews with the stakeholders, Keesler identified key themes and then had the students break into groups and create survey items based on those themes. The students have been examining the literature to better understand how previous research has looked at mental health and substance use in rural communities.
"Not only are they learning about research from a textbook; they are learning from the literature – the published research that's been done – and taking that and applying it with the themes from the community to develop the survey items," Keesler said. The survey will be given back to the stakeholders to get their input before it is sent out.
Hamre pointed out that the project will by no means solve the opioid problem for Lawrence County. What it can do is have the students look at what integrated models work in other communities and provide that information to the Lawrence County stakeholders who don't have the resources or the time to gather that information. While the community has limited resources, it has strengths too, she said.
"They have a whole lot of people there who are ready to do the work," she said. "It is exciting to really help these stakeholders by providing information they can use."
Rob Schneider is the coordinator of external affairs for the IU School of Social Work.