This is an auspicious moment in the life of the IUPUI campus.
Our 50th anniversary is just a year away. Celebrations will begin in July 2018 and continue through June 2019.
As we reach milestones like this, it is more important than ever to remember and honor our history. That history, the city of Indianapolis, and the breadth and depth of our campus distinguish us from every other university in the world.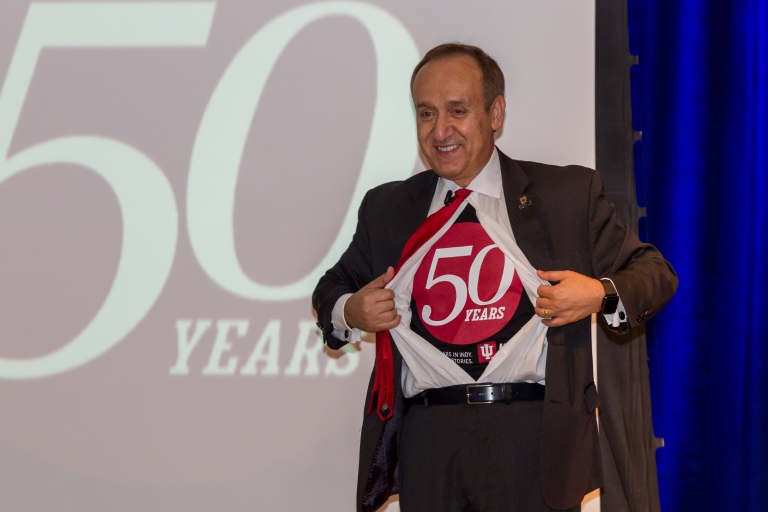 Many American colleges campuses started life focused on undergraduate programs, and they add graduate and professional programs over the years. IUPUI started with professional schools and then began building our liberal education core.
Our deepest roots go back nearly 130 years to IU's extension courses, but it was in 1903 that the IU School of Medicine was established here.
Indianapolis was the natural choice for the school's location because of the city's population. To teach people about the healing professions, students, doctors, nurses and therapists need people to heal. The 1900 census indicates that Bloomington's population was just over 6,000, and Indianapolis was home to nearly 170,000 people.
Soon after the School of Medicine found a home in Indy, the foundations for the School of Dentistry, the School of Nursing, the School of Law and the School of Education were formed here. The School of Social Work and the School of Physical Education and Tourism Management also had their roots in those early years.
Around 1940, in response to the start of World War II, Purdue University began providing more technical courses in Indianapolis.
Both IU and Purdue operations continued to grow here, especially in the aftermath of World War II as the GI Bill offered millions of former soldiers the opportunity for higher education.
In January 1969, the growth of IU and Purdue came together when leaders of the institutions, in collaboration with leaders at the city and state levels, officially established IUPUI, with IU having administrative oversight. As then mayor of Indianapolis Richard Lugar put it, "A great city needs a great university," and Indianapolis got just such a university when IUPUI was born.
In the 50 years since that remarkable moment, we have grown into the most comprehensive university campus in the state of Indiana. We have grown into an internationally ranked, highly competitive home to cutting-edge innovation in higher education.
Today's IUPUI has been ranked among the 20 most innovative universities in the United States by U.S. News and World Report.
We are partnering with the City of Indianapolis on a massive public works project that started with the conversion of New York Street into a two-way thoroughfare and includes a similar conversion of Michigan Street, which is underway. This project will conclude in spring 2018 and will make a visit to IUPUI even easier, especially for drivers.
That spirit of partnership also includes a $3 million sports district planning study we are undertaking with Indiana Sports Corp. Funded by the state legislature, the study aims to find ways to strengthen Indianapolis' position as a leader in the sports industry through collaboration of sports organizations with the IUPUI campus, co-location of sports facilities and incubation of sports innovation.
In these and other changes that are taking place across our campus – expansion of the School of Dentistry, renovation of University Library, construction of the Jaguar fitness center and more – we maintain our sharp focus on research, education and the success of our nearly 30,000 students.
Over the years, we have welcomed hundreds of thousands of students from across Indiana, throughout the United States and around the world. The education they received here has made an immeasurable difference.
They have grown into artists, health professionals, writers, historians, engineers, scientists, teachers, social workers and lawyers who, in turn, have inspired, counseled and transformed hundreds of thousands of lives both here in Indiana and around the world.
Their countless success stories suggest that the state of this campus has been – and continues to be – strong.
Our first 50 years were path-breaking.
Our 50th anniversary is going to be magnificent.
And our next 50 years will hold innovations we have yet to imagine.
Nasser Paydar is chancellor of IUPUI. This From the Desk column is part of a series featuring regional Indiana University leaders.