IU Southeast is celebrating its newest campus monument: the Veterans for Peace mural, which hangs in the University Center South.
The large-scale, original artwork combines veterans' portraits and keepsake photos with images of iconic monuments and events to honor the roles military service personnel have played throughout the 20th and 21st centuries.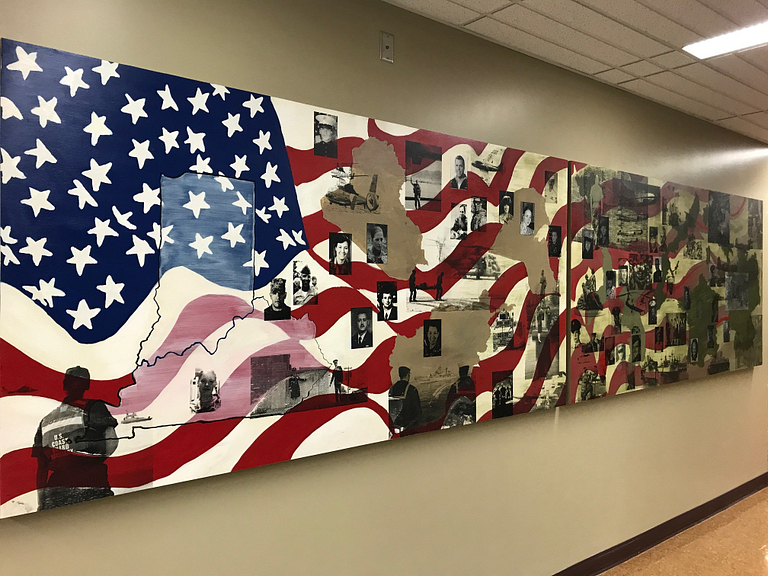 Local and student veterans worked with Susanna Crum, assistant professor of fine art, and Mariana Grohowski, an assistant professor of English whose research centers on veterans studies, to create the mural over the summer.
Last year, Grohowski contacted Ehren Reed, outreach programs manager at Louisville Visual Art, to explore possible collaborations around veterans themes. Coincidentally, Louisville Visual Art had been contemplating something similar.
Reed created a proposal for a crowd-funded ArtsMatch grant through the Fund for the Arts that would support a "Veterans for Peace" mural project. The proposal partnered IU Southeast student veterans with the Kentucky chapter of the National Association of Black Veterans and Peace Postcards.
"The addition of IU Southeast student veterans group to our project offers an exciting new opportunity for us to reach out to the greater veteran community," Reed wrote at the time. "The Veterans for Peace mural is a one-of-a-kind opportunity to engage local veterans in a hands-on visual art project to not only celebrate their service but also to depict their vision for peace."
The proposal garnered enough support from the community to enable two projects, one in Louisville and one that would become the Veterans for Peace mural at IU Southeast.
Grohowski – whose father is a veteran and who founded the Journal of Veterans Studies, the first scholarly journal dedicated to this field – reached out to veterans on campus and in the community to solicit stories, photographs and other artifacts of military service, and to invite veterans to participate in the mural's creation.
At brainstorming workshops, students and community members sketched out various ideas on whiteboards, and the concept of a timeline began to emerge as the central organizing principle.
Crum said these workshops were an integral part of the experience. The veterans began to relate maps and photos to their own stories, to share these within the group, and to weave them into the texture of the emerging print.
"Creating art in a collaborative setting can allow for a kind of open, relaxed conversation to take place, and the maps provided an opportunity for the veterans to point to, recall and share their experiences," Crum said.
Three local veterans stepped forward to design and complete the mural itself: Tony, Lonnie and Maurice Fetz of New Albany.
Tony (U.S. Army) and his cousin Lonnie (U.S. Marine Corps) served in Vietnam in 1967-68. Tony's brother Maurice saw peacetime duty with the Marines in the Far East during the late 1950s.
With Crum and Grohowski acting as facilitators, the three veterans hammered out a concept based on the American flag, overlaid with silhouettes of nations where other contributing veterans have been deployed and including their photographs. Moments and memories of those conflicts – helicopters taking off, comrades carried on stretchers, vintage tanks – are interspersed with the portraits and snapshots to fix the chronology and connect families, both veteran families and the larger family of the military, across generations.
The veterans suggested having the flag background fade as it moved back in time. They also wanted to make sure it was inclusive of all wars.
"We wanted to make sure that, whatever it was, it covered what all vets went through," Tony said.
Part of that inclusion found representation in the silhouettes of countries where vets had served. True to their wishes, the countries remained without names and dates.
"We wanted those people to be able to tell those stories themselves," Tony said.
Crum believes that screen printing, with its ability to blend and unify across media, helped to solve logistical challenges presented by the different types of materials. But it also helped to tell the story on a deeper level.
"The process of screen printing allowed us to incorporate photographic images from different eras, but present them each in a way that made them look like equal parts of the same whole," Crum said. "This is a great metaphor for how veteran support networks can be. No matter what experiences they've had, or where they've been, veterans are part of a unique inter-generational community that is larger and more diverse than we may think."
Grohowski is proud of the final product.
"What I love, and what I hope people take away, are the layers and stories," Grohowski said. "I hope it facilitates a dialogue and brings more community to the location."
Certainly the veteran voice has found expression, and a sense of place, in the mural.
Maurice Fetz sees the mural as one more opportunity to get involved, which he is doing more of.
"It should happen more often, so that more veterans can be recognized," he said.
His brother Tony shares the sentiment.
"I feel good about what we did, and I'm upbeat about what it expresses," Tony said. "I'd like to encourage more veterans to get involved in projects like this. We need more people to speak out. We don't talk enough. We don't understand enough."
Steven Krolak is the academic information officer for the Office of Academic Affairs at IU Southeast.