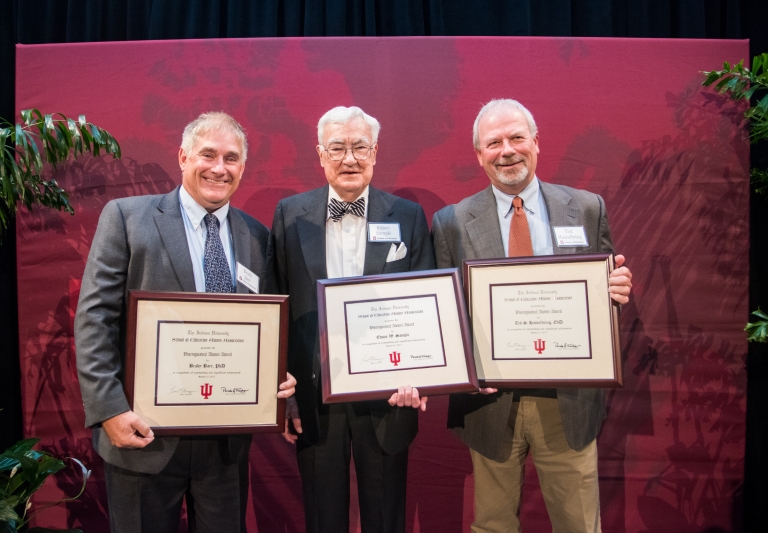 BLOOMINGTON, Ind. – Four alumni have been honored as distinguished alumni by the Indiana University School of Education. Brady Barr, Saisuree Chutikul, Ted S. Hasselbring and Edson W. Sample were named Distinguished Alumni Award winners for their achievements in a variety of areas, including wildlife education, women's rights, education for students with disabilities and financial aid.
"The contributions these alumni have made are a credit not only to the School of Education but to the field of education," School of Education Dean Terry Mason said. "We remain inspired by their work and the work of all our alumni worldwide."
The alumni were honored at the 41st annual IU School of Education Distinguished Alumni Award dinner Oct. 21.
Brady Barr
National Geographic reptile expert Brady Barr has dedicated his life to informing the public about the wonders of the natural world. In over 20 years, he's traveled to more than 80 countries for National Geographic Television to host over 100 wildlife documentaries – more than anyone else in National Geographic's history.
Barr received a Bachelor of Science in Education from Indiana University in 1987 and launched his teaching career at North Central High School in Indianapolis, teaching subjects like zoology, biology, and earth and life sciences. He went on to receive a Master of Science in 1994 and a doctorate in biology in 1997 from the University of Miami. He is married to Mei Len Sanchez-Barr, a marine biologist and educator; together they founded and run Ecoadventures, a hands-on learning center for children in Maryland.
Saisuree Chutikul
Saisuree Chutikul has dedicated her life and career to shaping global human rights policy. She was a member of Thailand's United Nations Committee on the Elimination of Discrimination Against Women and vice chair of the U.N. Committee on the Rights of the Child, and she represented Thailand for 12 years on the U.N. Commission on the Status of Women. She was also a cabinet minister responsible for Women's Affairs, Children and Youth and Social Development, and a senator who chaired the Senate Standing Committee on Women, Children and Youth from 1996 to 2000.
Saisuree serves on various national committees including Combating Human Trafficking; Women's Affairs; Children's and Youth's Affairs. She also serves as vice chair on Early Childhood Development and as advisor on the Law Reform in Compliance with the Constitution and the Convention on the Rights of the Child. She also was appointed by the U.N. secretary-general to be a member of the Board of Trustees for the U.N. Voluntary Trust Fund for Victims of Trafficking. Saisuree received her Master of Science in educational administration in 1957 and her doctorate in educational psychology, counseling and guidance in 1962, both from IU.
Ted S. Hasselbring
Ted S. Hasselbring is a professor emeritus of special education at Peabody College of Education and Human Development at Vanderbilt University. Over the past 35 years, Hasselbring has conducted research on the use of technology for enhancing learning in students with mild disabilities and those who are at risk of school failure. For 18 years he served as the co-director of the Learning Technology Center and conducted research on using technology for providing instruction in reading and mathematics. This research resulted in several widely used computer-intervention programs for struggling learners.
Hasselbring earned a Bachelor of Science, a Master of Arts in teaching with a major in biology and a doctorate in special education, all at IU. He has authored more than 100 articles and book chapters on learning and technology and serves on the editorial boards of several professional journals. He serves on the advisory board of the George Lucas Education Foundation.
Edson W. Sample
Edson W. Sample came to Indiana University in 1958 and started working in the Office of Scholarships and Financial Aids in 1961. Besides his work at that office, he also earned a Master of Science in higher education at the School of Education in 1971. After spending 29 years in the office, 22 of those as university director, he retired in 1990.
He is considered one of the founders of the National Association of Student Financial Aid Administrators, which now has an institutional membership of close to 3,000 and individual membership of 20,000 people. Sample served as its president from 1974 to 1975. He has received many honors and awards, including the national association's highest honor, the Lifetime Achievement Award. Although having been retired for 27 years, he remains active in professional activities, most recently hosting the president and past board chairman of the national association for a visit to Indiana University.